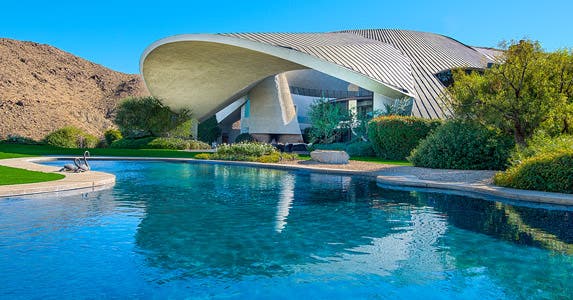 Here's how to spend your millions
When it comes to real estate, expensive doesn't always mean beautiful.
But these five estates have it all: gorgeous views, beautiful architecture and plenty of creature comforts. Even in the upper echelon of multimillion-dollar estates, they stand out.
All five homes feature unusual designs to make the most of their settings, regardless of their backdrops: the mountains of Montana, the hills of Hawaii or the desert in Palm Springs, California.
These houses have the extras found in a dream home: wine cellars, private movie theaters, sunken tubs, putting greens and lagoon-style pools.
Whether you can afford them or not, these five estates are over the top and out of this world.
Kilauea, Kauai, Hawaii
www.Aninivista.com
$38 million
This slice of paradise offers Zen harmony on a grand scale.
Set on 5.11 acres on Kauai's north shore, the 10,000-square-foot house resembles a cluster of pods, says John Ferry, president of Coldwell Banker Bali Hai Realty. "The architect wanted to create a village feel to it," he says. "It's an amazing piece of architecture."
The house sits atop an 80-foot bluff above the ocean. Glass walls reveal views "east to the Kilauea Lighthouse and west to the Na Pali Coast," Ferry says. The bedrooms are suites — each with its own bathroom, plus an outdoor beach shower, he says. The master bath has a sunken tub overlooking the ocean.
The house has a theater with wet bar, basement wine cellar and wraparound lanai with pool and hot tub. Solar panels provide a quarter of the estate's electricity, Ferry says.
The property also houses a dozen stone Buddha statues, including one at the outdoor yoga studio overlooking the ocean.
The ideal buyer: someone who "loves the ocean and wants privacy," says Ferry. "There's five unique beaches within 10 minutes."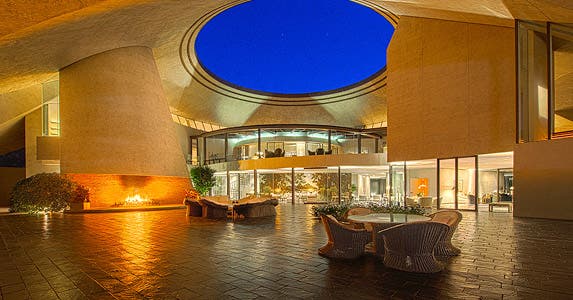 Palm Springs, California
Photo courtesy of Patrick Jordan, Patrick-Stewart Properties
$24,999,000
Call it a large home for living large.
Hollywood icon Bob Hope and his wife, Dolores, collaborated with their architect to create this dream home, started in the 1970s and completed in 1980.
The 23,000-square-foot abode looks like an ultra-modern auditorium and features an ingenious floor plan. The Hopes used the first floor "as their entertaining space" to host parties and fundraisers, while the upstairs served as their private retreat, says Patrick Jordan, broker associate/executive director with Patrick Stewart Properties, a division of Windermere Real Estate.
"People don't realize the pure scale of the property until they walk through," he says.
The main floor, with soaring concrete ceilings and floor-to-ceiling windows, has stunning views of the San Jacinto Mountains and the Coachella Valley, Jordan says. The adjacent covered patio area, with an oversize fireplace and an oculus, can accommodate "a sit-down dinner for 500," he says.
The contemporary castle "has roughly nine bedrooms, nine bathrooms and 2,500 square feet of staff quarters for staff to live on the property," he says. It has an indoor exercise pool, an outdoor lagoon-style pool, tennis courts and — as befits a man renowned for his love of golf — a putting green.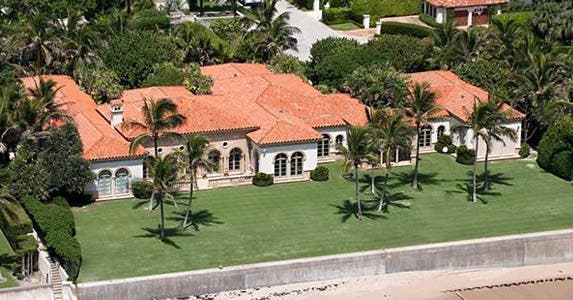 Palm Beach, Florida
Photo credit: Andy Frame
$47 million
The best of both worlds: a European-style mansion right on the beach.
Built in 1998 for a British aristocrat, this residence resembles an English manor home, "but all on one level" and more practical for everyday living, says Paulette Koch, senior broker associate for the Corcoran Group.
With 203 feet of beachfront on one side and a courtyard with a glass-tiled pool on the other, almost every room has a spectacular view, she says. That starts at the front door, where a wrought-iron gate opens to an entryway with groin-vault ceiling, limestone floors and french doors leading to an oceanside patio that draws visitors "like a magnet," she says.
With over 10,500 square feet, the house has six bedrooms and 6 1/2 baths and views "wherever you look," says Koch.
The 1 1/2-story great room has an oversize limestone hearth and intricately carved wood ceiling — both imported from England.
The "traditional English library" has leaded glass windows, imported linen-fold walnut bookshelves (one of which slides back to reveal a flat-screen TV) and an adjacent bar, she says.
The home has an elevator, a gym and, in keeping with its British provenance, a beautiful garden, says Koch.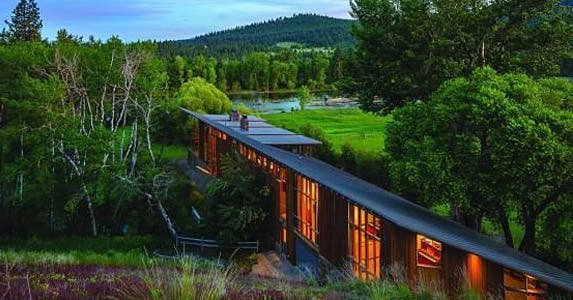 Missoula, Montana
Photo courtesy of Keith Lenard, Hall and Hall
$6.5 million
Luxury living in the great outdoors.
Situated in a meadow by the Bitterroot River overlooking the Grave Creek Range, "it's essentially a glass house," says Keith Lenard, partner with Hall and Hall. "All the structural elements are internal and wrapped with glass."
It conveys "a feeling of being outside all the time when you're in the house," he says.
Built in 2007, the house's train-like shape maximizes the panoramic vistas. And it faces west "for the most dramatic views," says Lenard.
The great room has wood floors with radiant heat, a floor-to-ceiling stone hearth and windows on three sides. In the master bath, a freestanding tub sits by a picture window surrounded by so much "lush vegetation that privacy is not an issue," he says.
The house sits on 71 acres, with four bedrooms, seven bathrooms and has 6,800 square feet, he says.
And while the design showcases the natural surroundings, things like electrical outlets, air vents and supports for the glass walls are virtually invisible, says Lenard. "All of the architectural elements disappear."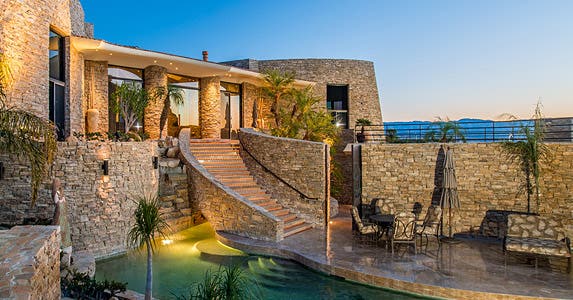 Palm Springs, California
Photo courtesy of Jenell Fontes, Windermere Real Estate
$7.99 million
When a house has a name, that means it's something special.
Dubbed "La Piedra," this stone mansion sits in the hills overlooking Palm Springs at the foot of the San Jacinto Mountains.
Originally completed in 1984, it was gutted in 2005 and rebuilt adding tons of handcrafted quartz, says Jenell Fontes, an agent with Windermere Real Estate.
It has "this amazing tranquility when you walk in," she says.
The round, open first floor has 1 1/2-story ceilings with exposed beams, a center oculus and glass walls offering 200-degree views, Fontes says.
Within the open great room, the design uses elevation to differentiate various areas, such as a sunken living room — complete with conversation pit, fireplace and retractable TV/theater system, she says. Another level features a rec area with a pool table.
The estate, which includes a guesthouse with kitchen, has five bedrooms, 5 1/2 baths and 7,500 square feet, she says. It sits on 2 1/4 acres.
The mansion has a wraparound patio with an outdoor kitchen, lagoon-style pool, putting green, shuffleboard court and fire pit. In the evenings, set above the twinkling lights of Palm Springs, it's a great place to "have a glass of wine and enjoy the view," says Fontes.