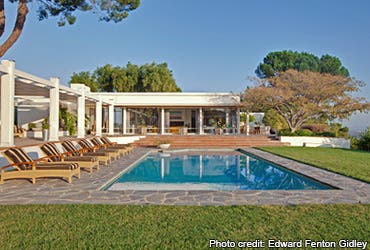 Movie homes for sale
If you've ever wanted to own a piece of Hollywood history, now's your chance.
Four homes that have had their own starring roles — as movie backdrops — are on the market. From the kitchen where Kevin Kline and Glenn Close danced to rhythm and blues classics to the mansion that was home to a fictional studio head (remember the infamous horse head scene?) in "The Godfather," these houses have had more than a brush with stardom.
And they run the gamut in cost. From the $12 million price tag for a hilltop mansion that has been featured in many movies and TV shows to a very middle-class affordable $132,900 for the south Philadelphia row house that Rocky Balboa purchased in "Rocky II," there really is something for almost everyone.
So whether you're browsing to buy or just want to see the real-life rooms from your cinematic favorites, here are four movie homes that are for sale.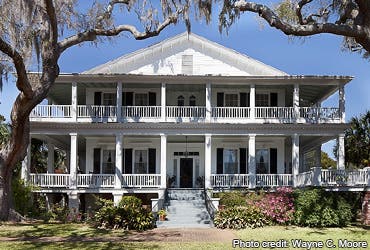 'The Big Chill'
Beaufort, S.C.: $3.5 million
It has to be the most famous movie kitchen of all time.
When a group of uber-cool baby boomers (who happen to include the likes of Glenn Close, Kevin Kline, Jeff Goldblum, Tom Berenger, William Hurt, JoBeth Williams, Mary Kay Place and Meg Tilly) started clearing dishes and dancing to classic R&B, this house earned a spot in cinema history.
And while it's been 30 years since "The Big Chill" hit theaters, that classic kitchen hasn't changed, says Catherine Donaldson, agent with Celia Dunn Sotheby's International Realty. "It looks exactly like it did in the film."
The house, dubbed "Tidalholm," was built circa 1853 on "The Point" — a peninsula that juts out into the Beaufort River. The wraparound porch overlooks the water, and the home has its own private dock. In the middle of Beaufort's historic district, it's included on the National Register of Historic Places.
Besides a kitchen that Hollywood made famous, the 5,868-square-foot home has seven bedrooms, seven full baths (plus two powder rooms), original plaster walls and molding, plus a dining room chandelier that is candles only, Donaldson says. "You don't find that anymore."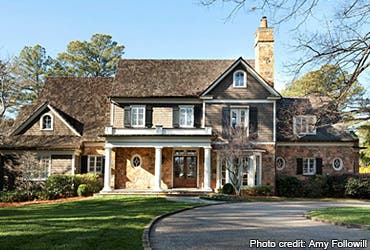 'The Blind Side'
Atlanta: $3.5 million
From the outside, it looks like your typical suburban house.
But, like the film family it hosted in "The Blind Side," it's only when you see what's on the inside that you realize it's anything but average.
With this house, it's the size that will surprise you. It clocks in at an impressive 11,000 square feet — enough room for a cast and crew to turn it into a sound stage for six weeks.
While the family who lived there decamped for the length of the shoot, they "loved meeting all the coaches and stars," says Debbie Shay, Realtor with Harry Norman Realtors (Buckhead North).
This home was used for interior shots only, she says. And for movie buffs, a few things will look different. In the film, the crew turned the living room into the dining room and vice versa, she says.
But that distinctive stairway — "the one that Sandra Bullock walks down so many times " — and the kitchen and family room area are instantly recognizable, she says.
The one item serious potential buyers take away from their tour? "I give them a copy of the movie," Shay says.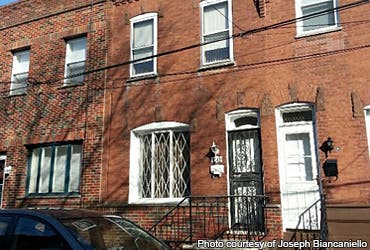 'Rocky II'
Philadelphia: $132,900
For sale: Rocky Balboa's piece of the American dream.
One of the first things the blue-collar hero-made-good does after he hits the big time — and marries his beloved Adrian?
He buys a house. Specifically, a 1920s brick row house in south Philly.
And the house actually exists.
This three-bedroom two-bath home was built in 1923 and weighs in at a fit 1,036 square feet.
While only the exterior and front hallway appeared in the movie, the cast and crew were on-site for three days, says Joe Bianco, co-owner and associate broker with Alpha Realty Group.
"The whole neighborhood went crazy to see what was going on and to see Sylvester Stallone," says Bianco, who grew up in the neighborhood.
"It was a pretty cool time — I was there the whole three days," he recalls. One memory: After shooting wrapped for the day, the home's owner served coffee and cookies to Burt Young and Talia Shire — "very nice people," he says.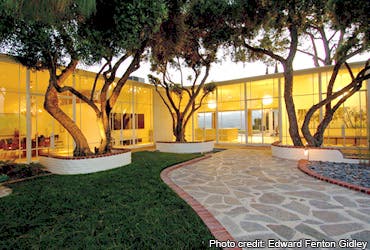 'Dreamgirls,' 'Savages,' 'Swordfish' and 'Ali'
Chatsworth, Calif.: $12 million
People who live in glass houses don't throw stones. But they do rent out their homes to Hollywood.
And this quintessential Southern California beauty has had more than a few starring roles.
Besides serving as the glamorous celebrity dream home in "Dreamgirls," and a ruthless drug lord's crib in "Savages," it's also had starring turns in "Ali" and "Swordfish." Equally well-known on the small screen, it's appeared in "Mad Men" and "Californication."
Dubbed the "Farralone Estate," it's served as the backdrop to numerous commercials and music videos, says Lynn Teschner, estates director for Coldwell Banker Previews Beverly Hills.
In addition to a glass home on an estimated 14-acre hilltop with killer views and a pool (plus a guesthouse with its own private pool), it boasts something few homes can: a parking lot that can accommodate 200 cars. Which comes in handy when Hollywood comes to call.
More On Movies And Lavish Homes: