Next time you're shopping and you accidentally leave your wallet at home, Samsung Pay has your back.
What is Samsung Pay? It's a free mobile wallet application that you can use with a compatible Samsung device to make payments online or within the app. With the use of Magnetic Secure Transmission (MST) technology, it's accepted as payment at any credit card reader. While you won't be able to make peer-to-peer payments, as with Venmo or Square Cash, you will be able to spend conveniently from your phone at millions of locations.
The app is available on the latest Samsung devices, making its debut on the Galaxy S6 in 2015.
How to set up Samsung Pay
The setup process will be slightly different depending on whether you use a phone or smartwatch. Regardless of your device, setup is quick and easy.
On a compatible Samsung phone, the app comes preloaded for your convenience. To begin, open the app and sign in to your Samsung account. If you don't have one yet, you can quickly create one within the app.
Next, you'll go through a few screens to enter your information, review terms and conditions and set up a verification method. The app supports fingerprint, iris scans and PINs as acceptable verification. For added security, you will also enter in a backup password for your account.
From here, all you'll need to do is enter your credit/debit card information. The app will reach out to you to confirm the added payment method, but if you've done so successfully, you're good to go!
Setting up Samsung Pay on your smartwatch has only a couple of more steps. You must have the app already set up on your phone, so once you've followed the steps above, your synced smartwatch is prepared for setup.
From any screen, hold the "Back" button on your smartwatch to launch the app. Your watch will then show you several information screens before displaying a blue arrow, which may be the final step in your setup when selected.
You'll have to follow the steps shown, as setup can differ depending on which Samsung smartwatch you own. The app will launch on your phone to verify and complete your setup, but as long as your Samsung account is synced between your watch and phone, you're good to go.
For online payments, Samsung Pay has partnered with Visa Checkout. If you have a Visa Checkout account, link it to your app and you'll be able to shop online at participating sites.
How to use Samsung Pay
Once you've entered all your information, using Samsung Pay on your phone or watch is a piece of cake.
In-store purchases
When you're shopping and you're ready to pay, swipe up from the bottom of your screen. This will bring up your most recently used card in the app, but you can swipe through to other cards you've linked if you prefer to switch your payment method. On the next screen, you'll have to provide whichever verification you selected during setup.
If you plan to use your smartwatch at the counter, press and hold the "Back" key to bring up Samsung Pay. You will then be able to rotate through your linked cards and verify your identity, just as you would on your phone.
When making a payment, the steps you take from here are the same for any type of device but depend on the type of credit card reader.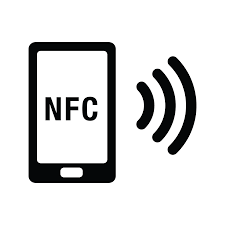 For a tap-and-go credit card reader with no place to swipe your card, look for the Near Field Communication (NFC) logo. Once you've verified your identity in the app, hold your device close to the logo so that they are almost touching. NFC technology is then used to transfer your card information and you'll see a check mark appear on your screen to confirm your payment.
At a store with a magnetic stripe reader, MST technology is what facilitates your transaction. When you're ready to pay, align your device with the magnetic stripe card reader rather than a provided logo. Again, your device should be very close to the machine and payment reception is signaled by a checkmark on your screen.
Regardless of the reader your store has, you may still be required to enter your PIN when using a linked debit card. Other than that, you're all done and checked out!
In-app purchases
When making an in-app payment on your Samsung device, look for the option to use Samsung Pay at checkout. Select the app as your form of payment.
Online purchases
If you're shopping online with your device and looking to pay with Samsung Pay, keep an eye out for the Visa Checkout logo. Compatible sites will have this option at checkout, so as long as your app is linked to your Visa Checkout account, payment is quick and easy.
Who uses Samsung Pay?
Merchants and financial institutions in at least 25 countries support the use of Samsung Pay. Look for that number to continue growing.
Retailers
Thanks to MST technology, Samsung Pay can be used at essentially any store with a credit card reader. This gives you nearly unlimited choices when it comes to shopping with the app in-person.
The partnership with Visa Checkout allows for payment with the app at over 350,000 online retailers but does require the separate account. In-app payments are currently limited to Samsung applications, but there are plans to expand soon.
Credit card issuers
Most top credit card issuers, such as American Express, Visa, Chase and Discover have partnered with Samsung to be compatible with the app.
Rest assured, with hundreds of these financial partnerships across the world, most credit and debit cards are accepted in the app. To see if your cards are compatible, check out the full list on Samsung's website.
Users
Who out there is using the app? To put it simply, anyone with a compatible Samsung device looking to add some convenience to their purchases and less clutter to their wallet. As easy as it is to set up, even the not-so-tech-savvy spenders can take advantage of the free service.
How does Samsung Pay compare with other mobile wallets?
They may sound like they'd have the same functionality, but Samsung Pay, Apple Pay and Google Pay do have their differences.
Apple Pay and Google Pay offer more flexibility with how you can spend. With peer-to-peer payments and more options when it comes to shopping online or in apps, these apps provide options you won't get with Samsung Pay.
Although, Samsung Pay does have a leg up on the other major players in a couple of ways. The use of MST technology when checking out adds millions of more options to your catalog of in-person shopping. Additionally, Samsung Pay will show you discounts at nearby stores, a feature not yet available with Apple Pay and Google Pay.
How secure is Samsung Pay?
The app will only work when you provide verification, protecting you from others using your phone to make purchases. You can disable Samsung Pay remotely if your device gets lost or stolen.
For additional protection, the app uses a method known as tokenization when transferring your credit card information. Rather than passing along the actual numbers on your card, your data is shared as a random series of numbers when making a payment.
Samsung Pay is only a channel connected to your bank for cases dealing with fraud, so be sure to reach out to your card provider if there's an issue.
What to watch out for with Samsung Pay
There are no fees associated with using the app, but it does have a couple of limitations.
You'll have to use another app on your phone to manage any payments you want to make between family and friends. In addition, the app's partnership with Visa Checkout opens a lot of doors to where you can shop online but may limit your abilities in the app depending on your card's compatibility with the service.
What's best about Samsung Pay?
If you're set up with a card earning rewards, including cash back, airline miles or other benefits, you'll still earn your deserved points with every Samsung Pay purchase you make.
One of the app's biggest perks is that you'll earn points toward free gift cards with every purchase you make. The cards will become available within the app and you can track your progress along the way. You can also store your gift cards in the app, making it easier to keep organized no matter how you'd like to pay.
With the bonuses, convenience and security of mobile wallets, leaving your wallet at home might not be an accident anymore.
Learn more with Bankrate.com