Many Americans are finding it easier to get access to health care in the era of Obamacare, but millions still have no health insurance. And even if you are insured, you may not have full coverage for every service. You'll face deductibles and other out-of-pocket charges, and your plan may exclude dental and vision care and elective procedures.
Health care costs continue to rise, and when you're on the hook for medical expenses it can be nothing short of a challenge to figure out how to pay. But there is a financing option that might quickly grab your attention: a medical credit card.
"For people who don't have health insurance or the ability to pay for medical treatment … (the card) takes care of the problem most immediately," says Pamela Banks, senior policy counsel for Consumers Union, the policy and advocacy arm of Consumer Reports.
Find affordable health insurance coverage today.
Similar to other credit cards
Though use of these cards is limited to medical expenses, a health care credit card is similar to a regular credit card in a few ways: You receive monthly statements, you have a monthly minimum payment, and, in most cases, your usage of the card is reported to the major credit bureaus.
And like more conventional credit cards, medical credit cards usually offer new users an enticing break on interest charges, such as zero percent interest for the first year. But if you don't pay off the entire balance before the promotional period ends, you will be charged accrued interest retroactively — going back to when you made your first purchase.
"It can be a trap for the unwary," says Chi Chi Wu, staff attorney for the National Consumer Law Center.
Interest rates can be steep
Plus, the interest rate can be shockingly high, says John Ulzheimer, credit expert at Credit Sesame.
"Some of these cards, if you read the details as far as their interest rates go, you could pay up to 27 percent interest," he says. That's more than 10 percentage points higher than the average annual percentage rate for cards reported in Bankrate's weekly survey of interest rates.
The federal government is taking notice. In December 2013, the Consumer Financial Protection Bureau ordered GE Capital Retail Bank and its CareCredit medical credit card to pay $34.1 million in consumer refunds.
The watchdog agency said more than 1 million people fell victim to what it described as "deceptive credit card enrollment tactics," including an inadequate explanation of CareCredit's deferred interest.
Just what the doctor ordered? Not always
The CFPB required the company to enhance its disclosures to consumers and its training of health care professionals who market the card. GE Capital did not admit any wrongdoing.
Consumers using health care credit cards often sign up not fully understanding the terms, and the health care providers that offer them as a financing option likely aren't the best ones to give an explanation, Banks says.
"Unfortunately, consumers go to a doctor's office or a hospital, and they see these offerings for credit cards and they assume that if the doctor is behind it or the hospital is behind it, they must be good," she says, "and that may not always be the case."
Alternatives to health care credit cards
Ask health care provider for financial assistance.
Negotiate with doctor or hospital to reduce medical bills.
Seek charity care from nonprofit hospital.
Use regular credit card with lower interest rate.
Source: Credit industry experts
Think twice before applying
Even with the CFPB crackdown, Ulzheimer says medical credit cards are still around because they fill a void for many who have health care costs not covered by insurance.
"They're really not that different from any other type of extension of credit," he explains. "You treat it properly and it will work out for you; if you mismanage it or abuse it, then it's not going to be a pretty picture, and it's going to get expensive."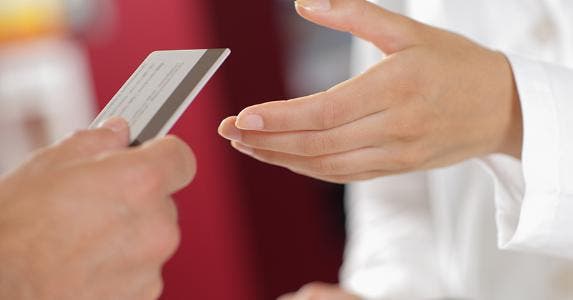 Using a health care credit card to cover medical expenses should be your last resort, experts say.
Instead, use a card "that's already in your wallet" to save money, Ulzheimer says. "You truly deserve a much more competitive interest rate."
Banks adds: "Try to exhaust all possibilities of getting the money that you need." Then, if you still must opt for a health care credit card, avoid high interest charges by transferring the balance to a card with a lower rate.
Consider every drawback
Also keep in mind that with a medical credit card, you lose your ability to make more favorable payment arrangements with your doctor or hospital, Banks cautions.
"They're getting their money immediately … but then you're left with the bill, and they are not going to be in the mood to renegotiate or to reduce the bill in any way," she says.
You could easily wind up paying more than other patients. If you're uninsured and choose to use a health care credit card, you may have to pay the "chargemaster" price for your care, Wu says. That full price can be considerably higher than the discounted rates negotiated by health insurance companies.
"It's an anomaly and it's really ironic," she says. "Those with the least means end up being charged the most."
If you're not having much luck coming up with money to pay for your care, try applying for financial assistance through a local nonprofit hospital, Wu advises.
"Part of that nonprofit status is supposed to be that they offer charity care," she says.