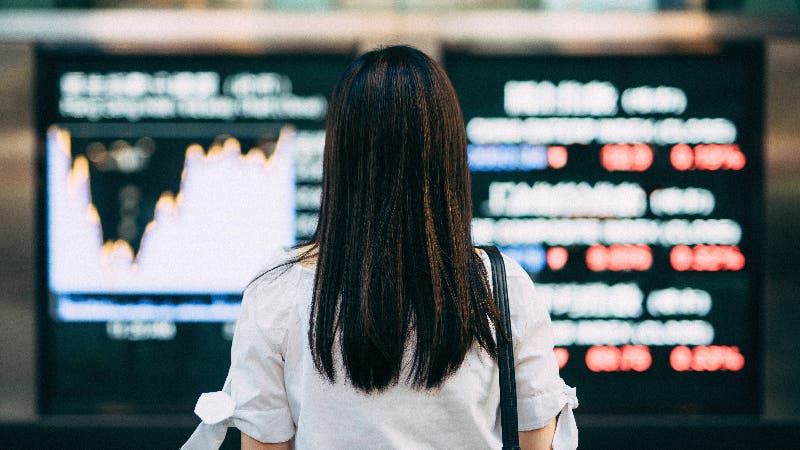 Credit card debt is never a good thing — if you have hundreds or even thousands to pay off, it's going to be difficult no matter the circumstances. Sometimes the effects of a recession can add to the problem and make it harder to tackle debt.
According to Bloomberg economists Eliza Winger, Yelena Shulyatyeva and Andrew Husb, there's a 27 percent chance that recession will hit the U.S. within the next year. What's more, a recent Bankrate survey found that if a recession were to hit within the next six to 12 months, two in five Americans wouldn't consider themselves to be ready.
If the economy does take a downturn, it helps to be prepared. Paying off your credit card debt is one way to make you more financially resilient.
Debt payoff timeline
First and foremost, put together a rough timeline based on how much you can afford to pay off each month; the more you can put towards credit card debt payoff, the better.
Take into account any necessary spending (i.e., house and car payments, grocery staples, childcare) and determine where you can afford to cut back.
Cut out unnecessary spending
"In any economy, consumers should pay off their debt as quickly as possible," says Kayse Kress, financial planner at Physician Wealth Services. "… take a hard look at your finances and make some adjustments. Analyze your fixed expenses first, and then decide what you can downsize or eliminate."
The first things to go should be unnecessary subscriptions like streaming services, meal prep boxes or monthly clothing/jewelry deliveries. You can also arrange for cheaper versions of plans or subscriptions you just can't live without.
"Cancel or renegotiate the cost of your cable or find a cheaper cell phone plan. This type of budgeting can help you apply more of your income to paying off debt rather than paying for fixed living expenses," says Kress.
Applications that can make it easier
Debt payoff planning can be stressful and even confusing, but there are a few free options that can help you ease your worries.
Mint
Mint can be a great application for tracking and planning your finances.
The app not only allows you to set budgets but goals from a built-in list, including "get out of debt", "retirement", "buy a home", "save for college", "buy a car" and "emergency savings." All you need to do is link your credit card account and set a savings goal and date. Mint can help you track your debt payoff progress and even send email summaries.
Tally
Tally is a mobile app with the main focus of helping users pay off credit card debt. It doubles as a credit card manager and automated debt tracker.
Each month, Tally will provide you with a detailed payoff plan based on your credit card balances, due dates and interest rates. The month-to-month flexibility helps with any unexpected payments that may come your way.
Credit card options
You may be reluctant to consider credit cards as a solution to your problem considering you may have accumulated debt on a credit card in the first place. However, balance transfer credit cards can be an excellent financial tool to consolidate and pay down credit card debt with a period of zero-interest. These cards can help you save a significant amount of money on interest and fees and give you headstart at tackling the principal debt (or even paying it off completely).
The Citi Simplicity® Card offers one of the longest interest-free periods available with an introductory 21-month zero percent APR on balance transfers (16.24 percent — 26.24 percent variable APR thereafter). Besides this, the card has a "no late fees ever" policy, meaning you won't be charged a fee for making a late payment nor a penalty rate for doing so. The icing on top is the card's lack of an annual fee.
One notable drawback of the Citi Simplicity is it's $5 or 5 percent balance transfer fee (whichever is greater), which is more weighty compared to the typical $5 or 3 percent balance transfer fee of similar cards. You also won't earn any rewards or welcome bonus with the card, but it's the price you pay for an exceptionally long welcome offer. When evaluating balance transfer cards, include the balance transfer fee into your calculations along with the amount you will be saving on interest payments throughout the introductory zero percent APR period to determine the best option for you.
If you're interested in earning rewards while paying off your debt, the Chase Freedom Unlimited® offers an introductory 15-month zero percent offer on purchases and balance transfers (16.49 percent — 25.24 percent variable APR thereafter) for a $5 or 3 percent balance transfer fee (whichever is greater) on transfers completed in the first 60 days and 5% on future transfers ($5 minimum).
The Freedom Unlimited earns you an unlimited 1.5 percent cash back on all purchases, plus a $150 bonus once you spend $500 on purchases in your first three months. On top of all this, you won't pay an annual fee. Just be careful to only spend what you can afford to comfortably pay off each month with this card so you make sure not to add to your debt burden.
For help choosing the right balance transfer card, you can utilize Bankrate's credit card balance transfer calculator. Simply enter your current credit card balances and interest rates and compare them with any potential new card details and fees.
The bottom line
No matter what, building up an emergency savings and continuing to follow a solid budget after debt payoff can help prevent going into credit card debt in the future. In the meantime, keep these tips in mind to speed up the process:
Put together a budget and cut out unnecessary spending.
Utilize apps like Mint to track your debt payoff process.
Consider a balance transfer credit card to consolidate your debt and pay it off, interest-free.