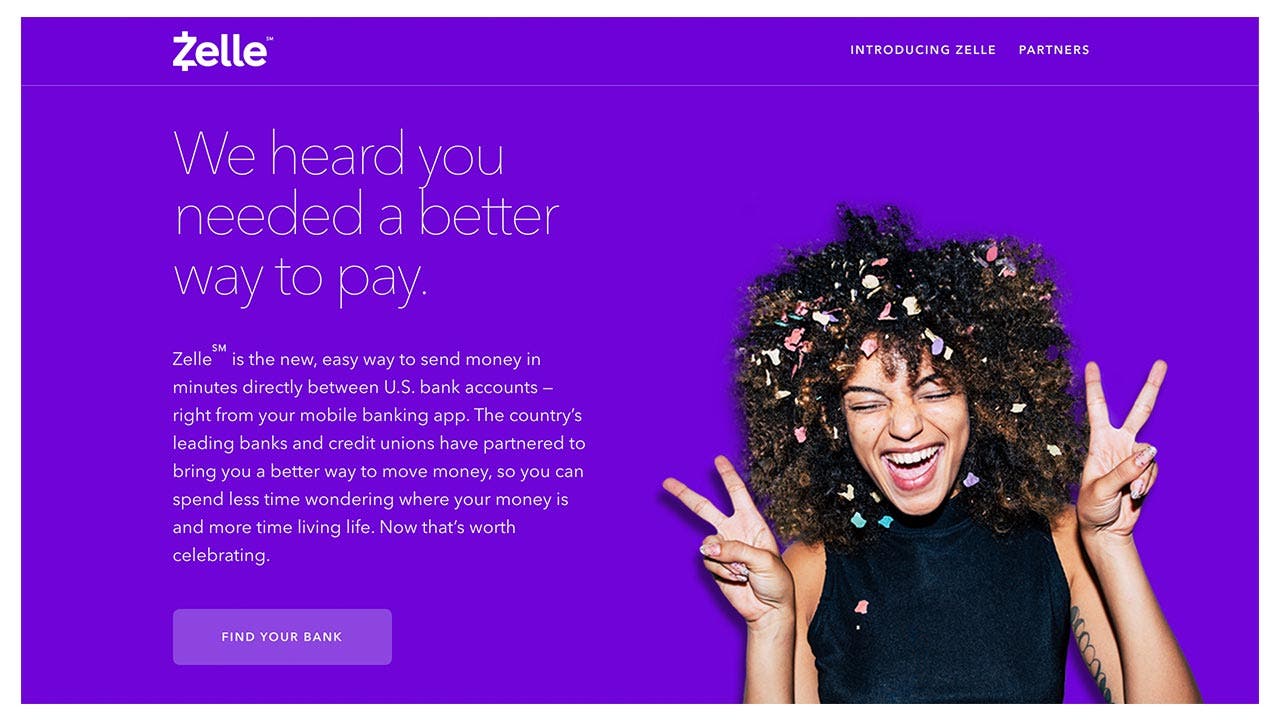 Watch your back, Venmo. Banks large and small are making it easier to pay friends and family through their own mobile apps.
More than 30 banks and credit unions have agreed to let their customers send and receive funds through Zelle, a new person-to-person payment network. It's available now if you have a bank account with one of the biggest banks, including Capital One, Chase and Bank of America.
The other participating financial institutions will launch Zelle on their apps over the course of the next year. More than 86 million consumers will be able to use the service, according to developer Early Warning, a payment and risk management firm owned by a consortium of banks and credit unions.
An easy way to transfer funds
Zelle offers bank customers several benefits.
Many users won't have to download a new application. If your bank is on the list of partners, you can send money straight from its mobile app.
"We're able to leverage that security that banks are already offering to their consumers because it's through the same app that they already trust," says Melissa Lowry, vice president of marketing and brand at Early Warning.
With a cell phone number or email address, Zelle users can instantly transfer money into the bank account of almost anyone in the United States.
That's not the case with Venmo. The mobile payment app requires users to manually move funds to their bank accounts. Then, you have to wait a business day or two for the money to become available.
"It goes direct into your bank account within minutes," Lowry says of Zelle transactions. "So there's none of that awkwardness of, 'OK I sent you money,' 'Well keep looking,' 'Well maybe it'll be there in a couple of days.'"
Early Warning is marketing Zelle as a service for everyone, not just millennials. Besides using it to split drink costs or rent, Lowry says consumers can split housing costs during weekend getaways or buy gifts for a child's teacher.
Bank not on the list?
If your bank isn't in the Zelle network, maybe it's time to take a closer look at its mobile features. Check out the app's ratings online.
Never used your bank's app before? Consider giving it a try. Only 31 percent of consumers have done that, according to the 2017 J.D. Power U.S. Retail Banking Satisfaction Study.
"Our research shows that only 32 percent of bank customers say that they trust mobile banking," says Jim Miller, J.D. Power's senior director of banking. "This clearly varies by age and many customers use mobile apps for banking in-spite of this, but it is an obstacle for higher adoption."
Switching banks can be a hassle, but it's important to find one that meets your financial needs. Besides finding a bank or credit union that offers a great digital experience, make sure it's a member of the Federal Deposit Insurance Corp. or the National Credit Union Administration. That way, your deposits will be safe if your bank closes.
Don't forget to compare rates across multiple financial products, including CDs and savings and money market accounts.
Wait for the Zelle app
If you're happy with your bank but it doesn't offer Zelle, don't worry. Zelle is planning to roll out a standalone app. Soon, you'll be able to use that to transfer funds.
Until then, you'll have to visit clearxchange.com — which is becoming Zelle — to register and receive money. Completing your transaction could take one to three days rather than minutes.