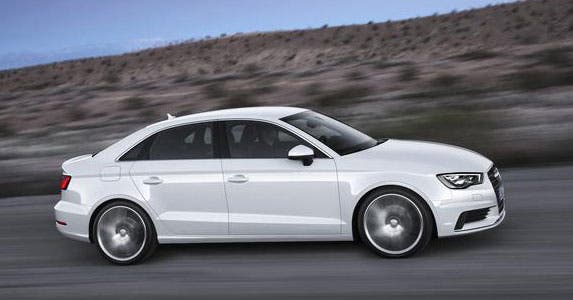 Family cars to replace your sports car
Coming to grips with abandoning a sports car in favor of a more sensible sedan is as common as adding a family member or changing jobs. Bankrate put together a list of the seven best small and medium sedans for sports-car owners to lessen the pain.
These are four-door cars that will help ease the transition from a go-fast car to a people hauler. Will they make you forget that Chevrolet Corvette, Nissan Z or Ford Mustang GT? Nope, but they will make leaving them behind a little easier.
Compare auto loans from lenders in your area.
Because making the change from sporty to functional often signals the need to carry more people, Bankrate only considered four-door sedans earning a Top Safety Pick or Top Safety Pick+ from the Insurance Institute for Highway Safety.
Otherwise, the only other qualifiers Bankrate used were that each pick must retail for less than $30,000 and be fun to drive.
Fuel economy didn't really influence the picks, but the EPA estimates that all deliver gas mileage above 20 mpg.
Prices are for the specific sedans chosen and don't include delivery charges, but they do include power windows, power door locks, power outboard mirrors, trip computers, air conditioning and at least six air bags.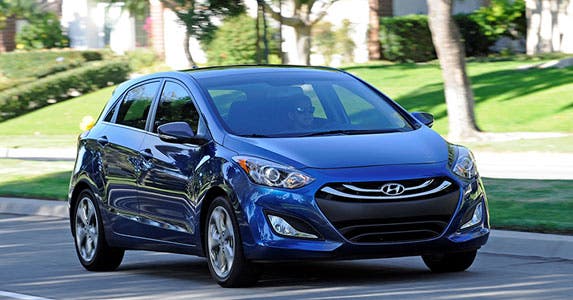 Hyundai Elantra GT
Price:

$18,750

Gas mileage:

24 mpg city/34 mpg highway
The most affordable of Bankrate's picks, Elantra might not pop into your head when mulling over fun-to-drive cars, but it may surprise you. It cruises effortlessly on the highway, yet it easily masters the twisties. To add to its performance credentials, Bankrate would pony up an additional $2,550 over the price listed here for the "style package" with sport-tuned suspension, leather seating, aluminum pedals, push-button start, and 17-inch tires and alloy wheels.
New for 2014 and more potent, the 173-horsepower 2-liter four-cylinder engine hustles output through a six-speed manual transmission to the front wheels.
A chiseled exterior wrapper provides plenty of appeal for this four-door hatchback. Standard gear includes a six-speaker audio system with iPod interface and Bluetooth connectivity.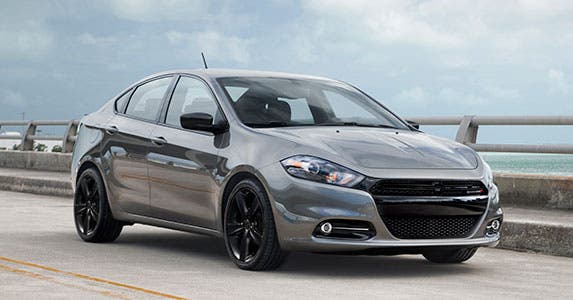 Dodge Dart GT
Price:

$20,995

Gas mileage:

23 mpg city/33 mpg highway
The Dart GT earns high marks for its behind-the-wheel fun. Its 2.4-liter, four-cylinder engine generates 184 horsepower that transfers to the 18-inch front wheels through a six-speed manual transmission. Dodge dialed in the GT's suspension for aggressive cornering.
Owners who really want to make a car their own will appreciate the wide range of dealership-available add-ons to personalize their Dart.
Despite the GT's better-than-expected performance, it still rises to its role as a sensible four-door sedan. Its roomy cabin features Nappa perforated leather seating, 10 air bags, dual-zone automatic climate control, an 8.4-inch color touch screen with rearview camera, Bluetooth connectivity and a six-speaker audio system with Uconnect interface, satellite radio and iPod interface.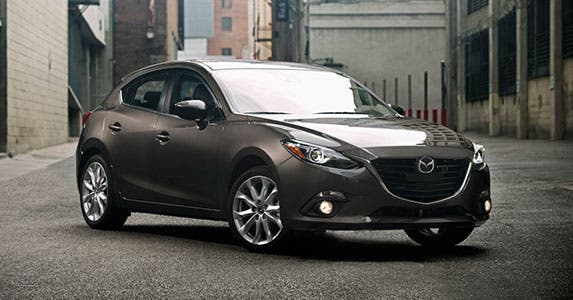 Mazda3 Touring Hatchback
Price:

$25,095

Gas mileage:

28 mpg city/38 mpg highway
Redesigning the Mazda3 from the ground up for 2014, Mazda not only dramatically altered the styling of this five-door sedan, but packed the roomy cabin with better quality materials and more standard content.
A product of Mazda's SkyActiv technologies, the 184-horsepower, 2.5-liter, four-cylinder engine mated with a six-speed, driver-shiftable automatic transmission delivers spirited acceleration and remarkable fuel economy. The shifting is timely and precise, which contributes to performance and efficiency. Well-balanced, the Mazda3 delivers spirited performance and confidence-building handling.
Standard equipment includes lane-departure warning, rear cross-traffic alert, Bi-Xenon headlights, push-button start, Bluetooth connectivity and Mazda Connect infotainment system with 7-inch touch screen, rearview camera, navigation system and nine-speaker Bose audio system with iPod interface.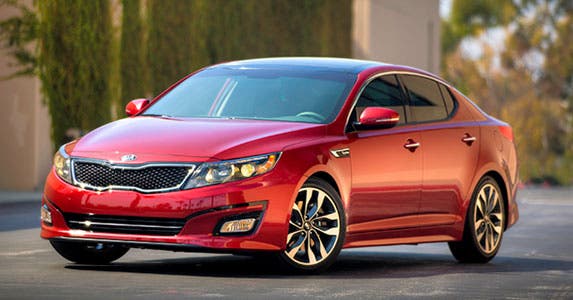 Kia Optima SX Turbo
Price:

$27,500

Gas mileage:

20 mpg city/31 mpg highway
Kia has earned its reputation for packing a lot of value into its cars, and the Optima SX Turbo adds weight to the argument. You get a lot of bang for your buck. But the SX Turbo offers much more than just value. It's an impressive performer off the line and in the curves.
Go comes from a 274-horsepower, 2-liter, four-cylinder turbocharged engine. A six-speed, driver-shiftable automatic transmission with steering wheel-mounted shift paddles ushers engine production to the front wheels. A sport-tuned suspension boosts confidence levels in the turns.
Dual-zone climate control, leather seating, metal pedals, cooling glove box, Bluetooth connectivity and a six-speaker audio system with iPod interface and satellite radio capability are all standard.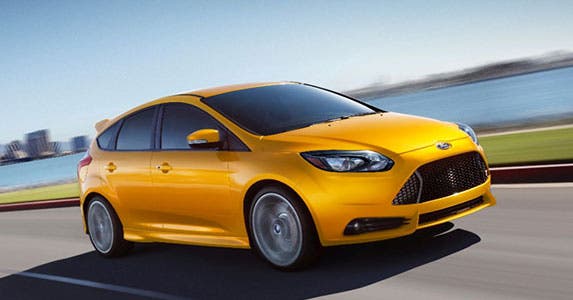 Ford Focus ST
Price: $26,020
Gas mileage: 23 mpg city/32 mpg highway
If you were blindfolded until you got behind the wheel, you might think you were in a sports car rather than the Focus ST. Its smaller dimensions help sell the sports-car idea, but really its performance, agility and cockpit-like cabin seal the deal.
Its 154-horsepower, 2-liter EcoBoost engine is fairly impressive for such a small car, but it's the 270 pounds-feet of torque (the grunt turning the wheels) that pins you back in the seat. A slick-shifting six-speed manual transmission changes the cogs.
The regular ST comes nicely equipped, but Bankrate added the 201A option package to get the Recaro sport seats, leather seat trim, 10-speaker Sony audio system and MyFord Touch interface with 8-inch touch screen.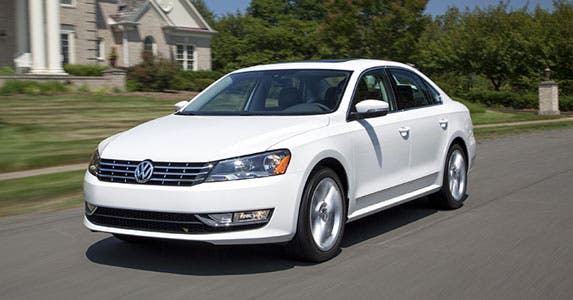 Volkswagen Passat TDI SE
Price: $26,675
Gas mileage: 31 mpg city/43 mpg highway
Costing roughly $2,000 more than the similarly equipped gasoline-fueled SE, the TDI delivers the best fuel economy among Bankrate's picks. The 140 horsepower generated by its 2-liter, four-cylinder turbo diesel doesn't sound particularly potent, but the whopping 236 pounds-feet of torque gets this sedan up and moving in a hurry. A six-speed driver-shiftable automatic with steering wheel-mounted shift paddles is available, but Bankrate stuck with the fun-to-drive six-speed manual.
A spacious, nicely finished cabin hosts a bevy of standard features, such as its eight-speaker touch-screen audio system with iPod interface, Bluetooth connectivity, heated front seats and a rearview camera.
Volkswagen firmly believes in the connection between driver and car, and Passat expresses that passion for driving.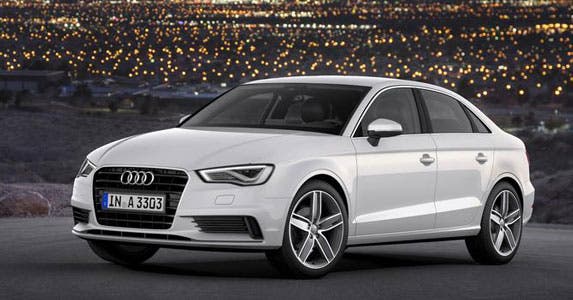 Audi A3 Premium
Price: $29,900
Gas mileage: 23 mpg city/33 mpg highway
A3 reinvented itself as a sedan rather than last year's hatchback, and it's actually listed as a 2015. As Audi's entry-level sedan, it isn't big — about the size of a Honda Civic sedan inside and out — but it is every inch an Audi with all the sporty characteristics expected from this premium brand.
This A3 uses a 170-horsepower, 1.8-liter, four-cylinder turbocharged engine. Two other more expensive engine choices are available. Still, all engines are mated to a six-speed, driver-shiftable automatic transmission.
A panoramic sunroof, leather seating, 10-speaker audio system, Bluetooth connectivity and a rain sensor for the wipers and headlights are all standard.