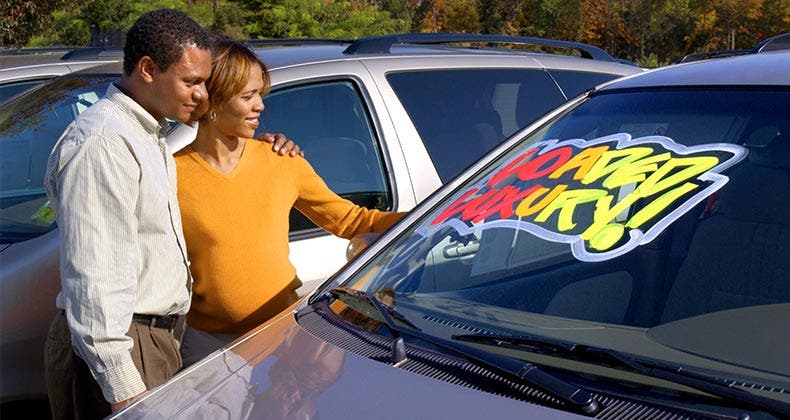 Best family cars
Let's face it, a first baby on the way means shifting decision making into high gear. Amid looking at paint chips for the nursery and boning up on the mechanics of strollers, finding the best baby-friendly replacement for that 2-door fun-mobile sitting in your driveway may be the last thing you want to tackle. But tackle it you must.
For most first-time parents on a budget, the top priorities for a family sedan include safety, price and fuel economy. With that in mind, Bankrate identified 7 picks that fulfill all 3 priorities to help begin the search.
Each car on this list earned the Insurance Institute for Highway Safety's rating of "Top Safety Pick." That means it received high marks in the full battery of IIHS crash tests and meets its requirements for available frontal crash-avoidance technology.
Each of these picks has a manufacturer's suggested retail price below $23,500 before taxes and delivery fees; yet, it comes with an automatic transmission, multiple air bags, power windows, power door locks, power outboard mirrors, cruise control and air conditioning.
Each also provides solid fuel economy, posting 28 mpg or better in combined city-highway driving, as estimated by the Environmental Protection Agency.
RATE SEARCH: Find the lowest auto loan rates in your area.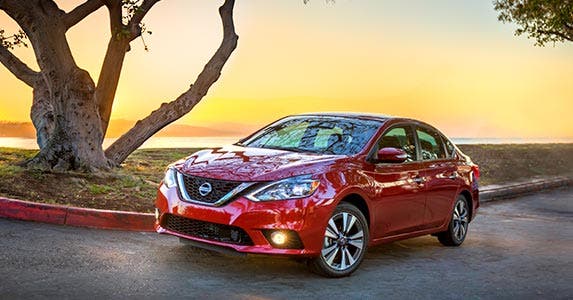 Nissan Sentra SV
Nissan
Price: $18,550
Fuel economy: 29 mpg city/ 38 mpg highway/32 mpg combined
You can get into a base Sentra for about $2,000 less than the SV, but the SV comes standard with automatic transmission — a continuously variable transmission in this case, or CVT — as well as some other popular features, such as a rearview camera, a 5-inch touchscreen, Bluetooth connectivity, Siri Eyes Free and hands-free text messaging. It's still the most affordable on this list.
Where Sentra shines is its relatively low price, solid mileage and standard content. Its rear-seat legroom is about average for this group, and sufficient for sub-6 footers. Safety-conscious families can add blind-spot warning and rear cross-traffic alert, among other features in the $1,020 driver's assist package. Sentra's 130 horsepower comes from a 1.8-liter 4-cylinder engine.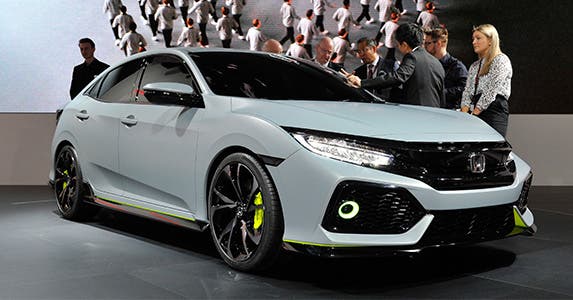 Honda Civic LX with Honda Sensing
Honda
Price: $20,440
Fuel economy: 31 mpg city/41 mpg highway/35 mpg combined
Honda offers the LX with a CVT for about $1,000 less than the version with Honda Sensing. But the $1,000 premium for Honda Sensing is a steal as it includes the added safety features of forward-collision warning, lane-departure warning, frontal emergency braking and lane-departure mitigation.
Honda redesigned Civic for 2016, significantly sharpening its styling. Quieter and sporting better driving dynamics than the Civic it replaces, the 2016 LX provides loads of standard goodies, like automatic climate control, multi-angle rearview camera, electric parking brake, 5-inch color touchscreen, trip computer and Bluetooth connectivity.
Go comes from a 158-horsepower 2-liter 4-cylinder engine. Legroom in the back seat and trunk space are about average among the cars on this list.
RATE SEARCH: Find the best rates on car loans today at Bankrate.com.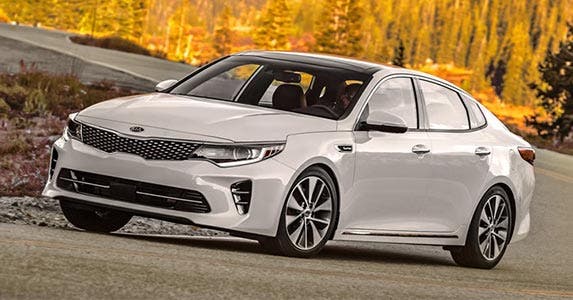 Kia Optima LX
Kia
Price: $21,990
Fuel economy: 25 mpg city/37 mpg highway/30 mpg combined
One of the midsize sedans among these picks, the Kia Optima remains a value choice. The LX is its base version and yet it comes standard with features like rearview camera, hill-assist control and auto-on headlamps, as well as Bluetooth connectivity. It has a little less backseat legroom than some other picks, but about as much cargo-carrying trunk space.
Although the exterior styling changes are subtle, Kia redesigned Optima for 2016. Built in the U.S., it's Kia's best-selling nameplate. Kia carried over the 185-horsepower 2.4-liter 4-cylinder engine that motivates the front wheels. An all-new 1.6-liter turbocharged 4 that delivers 32 mpg in combined driving is available in the LX for another $2,000. Ponying up $1,850 for the convenience package adds rear-parking assist and blind-spot detection with cross-traffic alert, among other upgrades.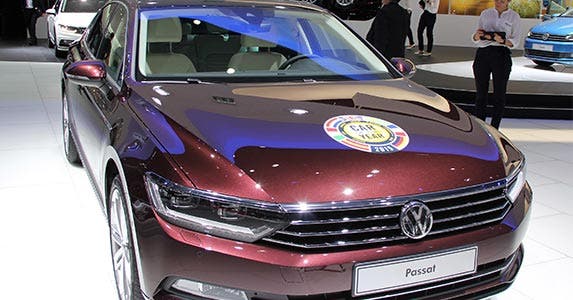 Volkswagen Passat 1.8T S
Volkswagen
Price: $22,440
Fuel economy: 25 mpg city/38 mpg highway/29 mpg combined
Second-priciest of these picks, the Volkswagen Passat also claims the most rear-seat legroom. For 2016, VW freshened both the front and rear styling of its midsize sedan. Also receiving some attention, the instrument panel and center stack sport a new look.
Assembled in Tennessee, this season's Passat S is priced the same as last year's model, but boasts about $1,300 in extra standard equipment. In addition to the must-haves required to make this list, the Passat features dual-zone automatic climate control, infotainment interface with a 5-inch color touchscreen, Bluetooth connectivity, rearview camera and automatic post-collision braking.
A 170-horsepower 1.8-liter turbocharged 4-cylinder engine turns the front wheels by way of a driver-shiftable, 6-speed automatic transmission. Midsize convenience and German-engineered driving dynamics in an affordable package highlight Passat.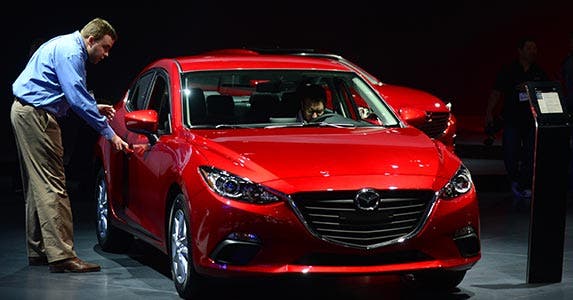 Mazda3i Sport
Mazda
Price: $18,895
Fuel economy: 30 mpg city/41 mpg highway/34 mpg combined
If you want to shift gears yourself, you can get into the entry-level Mazda3i Sport for $1,050 less than the price listed here. However, even when pricing in the automatic tranny, the 3 is the second-most affordable entry on this list. Yet, it boasts great mileage and a host of standard content, like push-button start, trip computer, Bluetooth connectivity, rearview camera, 7-inch touchscreen, and the Mazda Connect infotainment interface with Pandora, Stitcher, Aha and voice recognition.
Blind-spot monitoring and rear cross-traffic alert, among several other extras, can be added in the preferred equipment package for $1,000. A 155-horsepower 2-liter 4-cylinder mated to a 6-speed automatic transmission drives the 3's front wheels. Posting the least amount of cargo space among these picks, the 3 shines in its spirited handling and fun-to-drive character.
RATE SEARCH: Find the best rates on car loans today at Bankrate.com.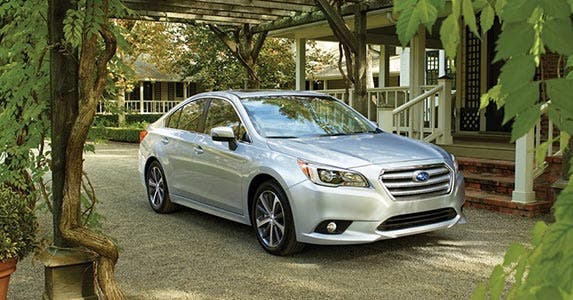 Subaru Legacy
Subaru
Price: $21,745
Fuel economy: 26 mpg city/36 mpg highway/30 mpg combined
Subaru's Legacy is the only one of these picks with standard all-wheel drive. Even at that, it still delivers better fuel economy than 2 of the front-wheel-drive entries. It's not even the most expensive! Subaru's decision to use a continuously variable transmission to deliver the 2.5-liter 4-cylinder engine's 174-horsepower to the wheels is one reason for the solid mileage. Its active front shutter system is another.
Legacy's styling won't win a beauty contest, but its grocery list of standard features more than makes up for its bland looks. Standard goodies include hill-start assist, and Subaru STARLINK system interface with a 6.2-inch touchscreen, Bluetooth connectivity, as well as Pandora, Stitcher and Aha.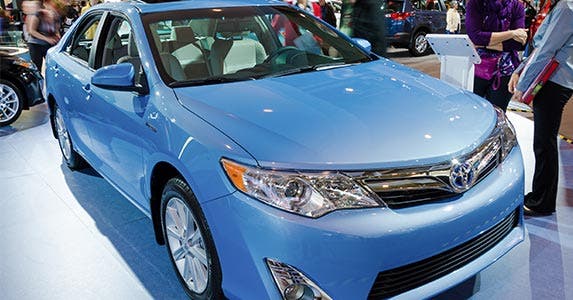 Toyota Camry LE
Toyota
Price: $23,070
Fuel economy: 25 mpg city/35 mpg highway/28 mpg combined
The priciest among these picks, the American-built Camry LE also comes with the most airbags: a total of 10. A midsize sedan, it offers the second-most rear-seat legroom and about the same amount of trunk space as the others on this list. A 178-horsepower 2.5-liter 4-cylinder engine drives the front wheels via a 6-speed automatic transmission.
In addition to some upscale touches like the faux wood-grain interior accents, the LE arrives with other standard features including rearview camera, Bluetooth connectivity, 6.1-inch touchscreen and Siri Eyes Free. Although Toyota heightened its driving dynamics with last year's upgrading, Camry is still basically a solid, safe, reliable sedan that goes quietly about its business of moving people from point A to point B, instilling confidence rather than passion.