SUVs with space and power
Owning a sport utility vehicle doesn't mean you have to be prepared to spend a boatload on gas. It doesn't mean you have to be driving a sluggish car that can't get out of its own way, either.
Fuel-efficient SUVs and crossovers can still perform heavy-duty tasks, thanks to a variety of new technology advances. Those technologies range from advances that improve the fuel efficiency of the engine — such as in the Ford Edge and Mazda CX-5 — to those that shut down a portion of the engine — such as in the Chevrolet Suburban — to alternative-fuel vehicles — such as the Lexus RX 450h, the Volkswagen Touareg and the Toyota RAV4 EV.
Here's a closer look at some fuel-efficient SUVs that don't compromise on space or power. All SUVs are for the 2013 model year, except the 2014 Madza CX-5.
2013 Ford Edge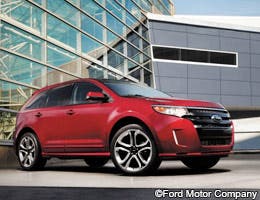 While the Ford Edge may be a five-passenger crossover SUV, it has the gas mileage akin to a sedan, thanks to Ford's EcoBoost technology. Combining a turbocharger with gasoline direct injection, EcoBoost improves fuel economy by up to 20 percent without sacrificing power.
The 2013 Ford Edge with the 2-liter EcoBoost four-cylinder engine produces less horsepower overall than the other two traditional gasoline engines that are available — 240 horsepower versus 285 horsepower and 305 horsepower with the other two engines — but substantially more horsepower for its size.
The EcoBoost engine provides substantial torque as well — 270 foot-pounds versus 253 foot-pounds from the 3.5-liter V-6 and 280 foot-pounds from the 3.7-liter V-6. As a result, the EcoBoost engine has the best fuel economy of all Edge models — 21 mpg city and 30 mpg highway.
The 2013 Ford Edge offers such features as the latest edition of Ford's voice-activated technology with Wi-Fi and text-to-voice capability as well as voice-activated navigation, tilt-telescopic steering, air bags, blind-spot alert system, Roll Stability Control and 32.2 cubic feet of cargo space behind the second-row seat.
2013 Lexus RX 450h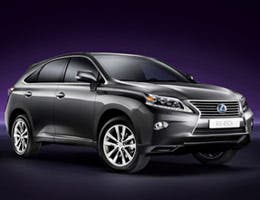 Toyota's luxury brand Lexus offers its RX crossover SUV in hybrid form. Both the gasoline models and the hybrid version utilize a 3.5-liter V-6 engine, but the 2013 Lexus RX 450h pairs it with an electric motor for 295 horsepower. It has V-8-like performance, yet it gets 32 mpg city and 28 mpg highway in front-wheel-drive models and 30 mpg city and 28 mpg highway in all-wheel-drive models.
As a full hybrid, it uses extended electric-mode operation during stop-and-go driving situations or during low-speed driving to further improve fuel efficiency. Front-wheel-drive models use two motor generators — one to drive the front wheels and the other to charge the battery or power other electric motors when needed. All-wheel-drive models add a separate rear electric motor generator to power the rear wheels when necessary due to driving or road conditions.
The 2013 Lexus RX 450h features keyless entry with push-button start, a power tilt-telescopic steering column, 10-way power front seats, voice recognition and Bluetooth compatibility, 10 air bags, and stability and traction control.
2014 Mazda CX-5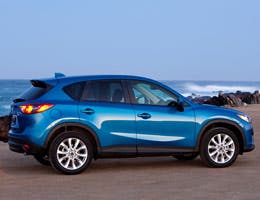 Introduced as a 2013 model, the Mazda CX-5 features Mazda's new SkyActiv technology, which uses engineering and manufacturing changes to improve fuel economy as well as performance. To achieve this, SkyActiv combines direct-injection gasoline engines with more advanced transmissions as well as a lighter-weight, more rigid body and chassis.
The five-seat compact SUV is available with a choice of two SkyActiv engines. All models come standard with a 155-horsepower, 2-liter engine that gets 25 or 26 mpg city and 31, 32 or 35 highway, depending on the type of transmission and whether front-wheel or all-wheel drive is selected. Touring and Grand Touring models also can get the optional 184-horsepower, 2.5-liter engine, which has 19 percent more horsepower and 23 percent more torque than the base engine and gets an Environmental Protection Agency-estimated 25 mpg city and 32 mpg highway in front-wheel-drive models, and 24 mpg city and 30 mpg highway in all-wheel-drive models.
The 2014 Mazda CX-5's standard features include power sideview mirrors, automatic headlight shut-off, cruise control, power windows with driver's side one-touch auto up/down, tilt-telescopic steering wheel with audio and cruise control functions, push-button start, and six air bags as well as stability and traction control.
2013 Toyota RAV4 EV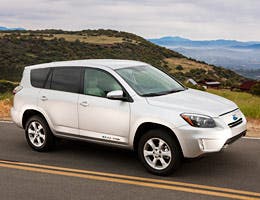 The purely electric version of Toyota's RAV4 combines SUV space with sporty performance that requires absolutely zero gas in an automobile package that is nearly identical to its gasoline counterpart.
While the electric motor produces just 154 horsepower compared to 176 horsepower with the gasoline model, the RAV4 EV's performance comes from its 273 foot-pounds of torque. Further improving the performance is the RAV4 EV's lower center of gravity due to the weight of the electric battery, which is located under the floor, making the crossover SUV feel very secure in the turns, unlike the tippy feeling of many similar models.
Driving range is 103 miles, and a full charge takes about 12 hours with a 240-volt outlet, according to EPA estimates.
The 2013 Toyota RAV4 EV seats five in two rows with 36.4 cubic feet behind the rear seat. Standard features include dual-zone climate control, integrated backup camera, hands-free phone capability, heated seats, six-speaker audio system, cruise control, tilt-telescopic steering wheel with audio, voice command and hands-free phone controls, remote keyless entry with push-button start, power door locks, mirrors and windows, and six air bags as well as stability and traction control.
2013 Volkswagen Touareg TDI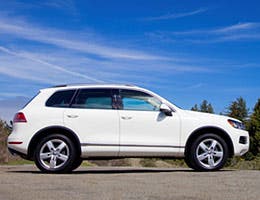 While clean-diesel technology has been around for ages overseas, it has only been gaining in popularity in the U.S. in the last decade. Volkswagen is one of the leaders in this technology, offering seven of its models with clean-diesel engines — the most of any automaker.
The Turbocharged Direct Injected, or TDI, engine in the Volkswagen Touareg has been significantly revised for 2013. The 3-liter V-6 TDI now produces 240 horsepower and a whopping 406 foot-pounds of torque while getting an EPA-estimated 20 mpg city and 29 mpg highway.
The 2013 Volkswagen Touareg TDI seats five and includes a split rear seat that can slide fore and aft to provide additional cargo space or legroom for rear-seat occupants.
Standard features include all-wheel drive, bi-xenon headlights, light-emitting diode daytime running lights, front fog and cornering lights, dual-zone air conditioning, an eight-speaker sound system, heated front seats, split-folding rear seat, remote open-close tailgate, six air bags, rollover sensor, and electronic stability control.
2013 Chevrolet Suburban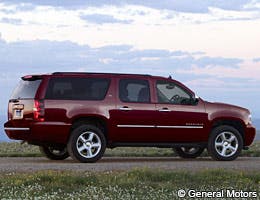 For those who truly need a large SUV, the Chevrolet Suburban provides a terrific package with seating for up to nine, depending on the seat configuration, plus 45.8 cubic feet of cargo space behind the third row.
Two V-8 engines are offered in the Suburban, and both utilize Active Fuel Management to improve gas mileage by about 6 percent in federal government testing. The system deactivates four of the eight cylinders when less power is needed, such as when cruising on the freeway or traveling downhill. When additional power is required, the four cylinders are seamlessly reactivated in less than 20 milliseconds.
As a result, fuel economy for the 320-horsepower, 5.3-liter V-8 logs in at 15 mpg city and 21 mpg highway for two-wheel-drive and four-wheel-drive models, while the more powerful, 352-horsepower, 6-liter V-8 gets an EPA-estimated 12 mpg city and 16 mpg highway for two-wheel-drive models, and 12 mpg city and 15 mpg highway for four-wheel-drive models.
The 2013 Chevrolet Suburban also offers leather seating, heated and cooled front seats as well as a heated second row, dual-zone climate control, power-adjustable accelerator and brake pedals, touch-screen radio, electronic stability control, six air bags, and side blind-zone alert.