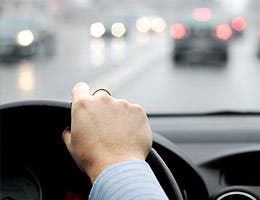 Best rides in traffic
Whether you commute 10 blocks or 10 miles, the car you drive in rush-hour traffic doesn't have to be insufferable. Traffic is an unavoidable evil for many, but the cars driven by commuters can make a big difference in whether they are comfortable and stress-free when they reach their jobs.
Commute to work in a gas-guzzling, loud and clunky car, and chances are you'll be gripping the steering wheel and cursing to the heavens. Go with a car that's easy on the wallet, fun to drive and one that blocks out all the noise in the cabin, and it's a safe bet you'll be humming all the way to your desk.
Great miles per gallon and in-car entertainment also make a difference when rush hour is part of your work-week routine. With that in mind, here's a look at five cars that will make your daily commute through rush hour a more palatable experience.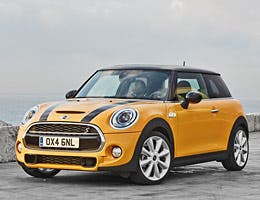 Mini Cooper
Price:

$21,450

Gas mileage:

City – 29 mpg
Highway – 37 mpg
Not only does the 2013 Mini Cooper coupe get an impressive 488 miles per tank, but it is easy to maneuver in rush-hour traffic and fun to drive, if and when the road opens up. You'll want to conserve your gas when sitting in traffic, but when you're free to roam, pop the Mini Cooper's Sport Button and enjoy your ride. The Sport Button, which comes standard, adjusts various settings for you to provide quick acceleration and tighter steering when you need it.
Zipping in and out of traffic also will be a breeze with this 1.6-liter, four-cylinder sedan, thanks to the front and rear anti-sway bars that come standard in all Mini Cooper models.
Driving the Mini Cooper is fun, but when you are in standstill traffic, it can still be enjoyable, thanks to HD AM/FM radio and six-speaker CD system that also comes standard. You won't have to worry about the noises outside, thanks to the speed-sensitive volume control, which automatically makes the audio quieter when you slow down and louder when you speed up.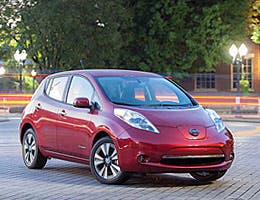 Nissan Leaf
Price:

$21,480 (after federal tax savings)

Gas mileage (equivalent):

City – 126 mpg
Highway – 101 mpg
Nothing can be worse in rush-hour traffic than sitting in the car watching your gas gauge fall. To give your bank account some relief, consider the Nissan Leaf, which doesn't run on gas, meaning you'll save money and time avoiding the gas pump.
The Nissan Leaf doesn't come cheap, but it will pay for itself in the lack of gas you would use. It doesn't hurt that the Nissan Leaf qualifies for a special HOV sticker in some states, including California and New York, which means single-occupant cars can use the HOV lane to get to work and cut down on their commute time.
The electric 2014 Nissan Leaf has no tailpipe, which means there are zero emissions. It has an average range of 84 miles on a single charge, which, according to Nissan, takes about five hours. Even the interior is eco-friendly, with its cloth seats that are made partially from recycled bottles. While the Nissan Leaf may not be the fastest or zippiest car to drive, the fuel savings will alleviate a lot of the pain of sitting in rush-hour traffic.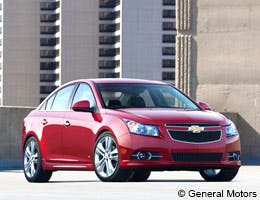 Chevrolet Cruze LS
Price:

$17,520

Gas mileage:

City – 25 mpg
Highway – 36 mpg
Whether rush hour means standstill traffic or going slow, you want to be in a vehicle that is comfortable and one that blocks out all the noise on the road. That's where the 2014 Chevrolet Cruze comes in. What you give up in size with this compact car, you get back in a smooth ride. That will be of great importance if you are stuck in rush-hour traffic morning and night.
Standard in the 1.8-liter, four-cylinder Cruze is a triple-sealed, laminated windshield designed to keep outside noise out. That's only one of the 30 acoustical treatments bestowed on the Cruze.
While the Cruze is a compact car, it boasts more passenger room than the Ford Focus or the Toyota Corolla. While you're sitting in the spacious cabin, you can listen to its AM/FM stereo radio with CD player and MP3 playback six-speaker audio system.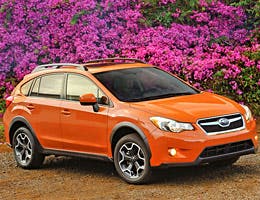 Subaru XV Crosstrek
Price:

$21,995

Gas mileage:

City – 25 mpg
Highway – 33 mpg
For some people, even a long commute in rush-hour traffic won't make them give up driving a sport utility vehicle. SUVs are larger than cars on the road, which means they are going to require more gas to get from point A to point B. That can be hard on your wallet.
But not all SUVs are created equal. There are those that have gas mileage that rivals some of the sedans on the market. One that falls into that category is the 2014 Subaru XV Crosstrek, which boasts mileage of 25 mpg on city streets and 33 mpg on the highway.
It's not the good gas mileage alone that makes this SUV a smart choice for people with tough commutes. The Crosstrek is packed with interior technology, including Bluetooth, HD Radio and voice-activated GPS navigation that will let you forget, if only for a few minutes, that you are in standstill traffic. If you're sick of staring at the cars in front of you, open the power tilt/sliding moonroof and glimpse up at the sky.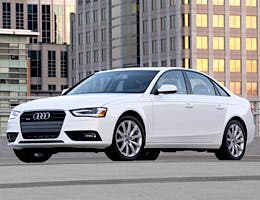 Audi A4
Price:

$33,800

Gas mileage:

City – 24 mpg
Highway – 32 mpg
Some people can patiently sit in traffic, while others have to do their best to beat it by constantly zipping in and out of lanes. If you fall into that category, you'll want a ride that is agile yet pleasant.
The Audi A4 will give you both, and it's not going to break the bank too much. This 2-liter, four-cylinder car sports automatic climate control, a tilt-and-telescopic manually adjustable steering column, sunroof, eight-way power front seats and four-way lumbar adjustment for the driver.
Technology and infotainment are in abundance with the Audi, including its 10-speaker CD player with MP3 playback capability, satellite radio and rain/light sensors for automatic windshield wipers and headlights.
Since the main reason to purchase the Audi A4 is performance, drivers should be pleased with the 220 horsepower the engine produces.