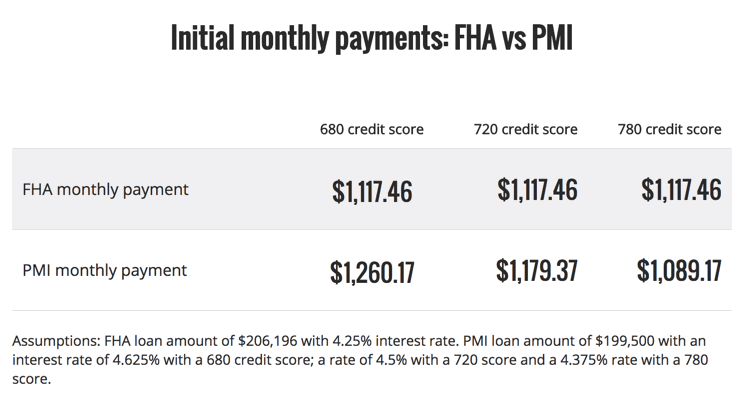 Federal Housing Administration-insured mortgages are a good deal, and they're about to get better.
The agency is cutting its annual mortgage insurance premiums for loans that close on or after Jan. 27. For a $200,000, 30-year mortgage, the premium reduction amounts to savings of $41.67 a month, or $500 a year.
SEARCH RATES: Shop FHA-approved lenders today.
The Department of Housing and Urban Development says it's cutting the premiums because FHA-insured loans have performed well in recent years, and its reserve fund has grown sufficiently. Let's compare the FHA and private mortgage insurance, or PMI.
In the scenarios below, I'm assuming that the borrower is buying a $210,000 single-family house. The borrower is making a 3.5 percent down payment on the FHA-insured loan and rolling 1.75 percent upfront premium into the loan amount. On the conventional loan with private mortgage insurance, the borrower makes a 5 percent down payment.
Try Bankrate's mortgage calculator.
Benefit of mortgage insurance
Note that the interest rates are higher on the conventional loans with mortgage insurance.
Fannie Mae and Freddie Mac pay lenders less for riskier loans, and lenders raise the interest rates to compensate. FHA-insured mortgages don't have these so-called Loan Level Price Adjustments, so interest rates on FHA loans often are lower.
I'm expressing myself incompletely when I say that FHA-insured mortgages are a good deal. Private mortgage insurance is a good deal, too.
When you're ready to buy a home, it's OK to make the minimum down payment, especially when home prices are rising faster than you can save money.
Where PMI has an edge
And private mortgage insurance has one important advantage over the FHA. When you get an FHA-insured mortgage, the monthly mortgage insurance premiums last for the life of the loan. You can't cancel it. The only way to get rid of FHA monthly insurance premiums is to refinance the mortgage.
On the other hand, you can drop PMI premiums after you have about 20 percent equity. You don't have to pay closing costs on a refinanced loan. Over the long haul, private mortgage insurance costs less than getting an FHA-insured loan and keeping it for years and years, long after amassing 20 percent equity.
On the third hand, many people sell their first home before they accumulate 20 percent equity. If you're a first-time homebuyer, making a minimal down payment, and you believe you'll sell it and move up in just a few years, you might as well just go with the loan program with the lowest monthly payment.
RATE SEARCH: Find a low-down payment mortgage today.
There's one other thing to consider: The Obama administration announced the FHA premium cut, but it's not scheduled to go into effect until the Trump administration is in office. It's possible that the new administration could cancel the reduction. I doubt that will happen, but the chairman of the House Financial Services Committee wasn't happy about the announcement.
Mortgages go in right direction
Yay! Mortgage rates have gone down for the second week in a row. There was never a week-to-week decline in mortgage rates in the fourth quarter of 2016, so this is welcome news.
SEARCH RATES: Found a home, even in a seller's market? Comparison-shop mortgage rates today.
RTI comment of the week
Every week, Bankrate posts the Rate Trend Index, in which loan officers predict whether mortgage rates will go up, down or stay about the same in the coming week. Here's the comment of the week:
Vote: Unchanged. Mortgage rates have been remarkably stable over the last couple of weeks as the market seems to have taken a wait-and-see attitude until the Trump inauguration. I think this will continue in the coming week and we won't see much movement in interest rates. Rates will be flat in the coming week.
— Michael Becker, branch manager, Sierra Pacific Mortgage, White Marsh, Maryland
It runs downhill
A woman named Denise bought a house, and then discovered that the seller had run an illegal sewer line into a neighbor's property without telling anyone. The puns and wisecracks write themselves! But, really, it's a serious matter, because Denise doesn't want to be blamed for the illegal things her home's former owner did. See what our Real Estate Adviser recommends.
SEARCH RATES: Compare at least two mortgage lenders.