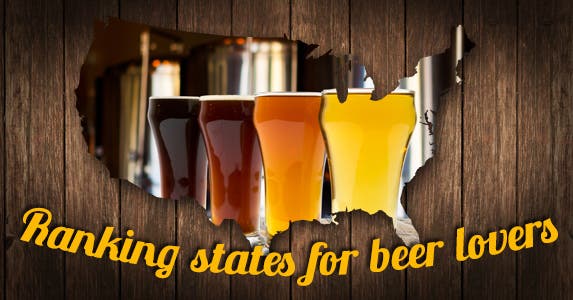 Best states for beer
Beer tourism is as much about sipping on something exotic as it is exploring new places, meeting the brewers and learning how the whole operation works. And while beer lovers can tour a brewery or pick up a growler of their favorite label any time, the start of football season and Oktoberfest celebrations make this an especially good time of year to enjoy a cold one.
See the top 10 airline credit cards
The number of U.S. brewery permits has climbed from under 1,000 in 1995 to more than 4,500 in the first half of 2014, according to the National Beer Wholesalers Association. Here at Bankrate, we decided to turn our money goggles on the world of beer to figure out which waypoints are worth the airfare.
We built our "Best States for Beer" list by tallying up breweries and retail locations, beer prices and how much beer the locals drink. To do that, we gathered statistics from the Brewers Association trade group, the Council for Community and Economic Research, and the National Institutes of Health. This should be a given, but we'll say it anyway: Please drink responsibly.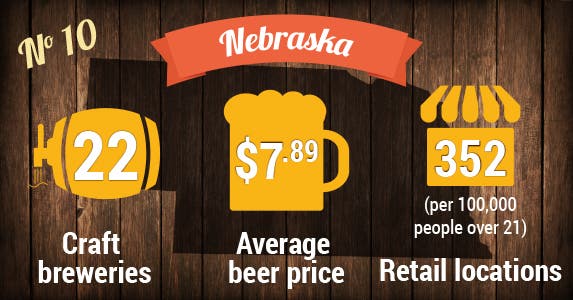 No. 10: Nebraska
Craft breweries:

22

Average beer price:

$7.89

Retail locations:

352 (per 100,000 people over 21)
The bulk of Nebraska's breweries are clustered around two of its major cities — Omaha and Lincoln. And that's good news for beer-minded tourists: It only takes about an hour to drive from one city to the next. The state made its way into the top 10 largely because it boasts the third-cheapest average beer price in the country. Nebraska also has more retail locations per capita than 85 percent of the country.
Omaha has a history of attracting German immigrants and has been the home of the German American Society since 1883. In Sidney, the locals celebrate Oktoberfest during the first full weekend of October with live bands, dancing, a parade, lots of food and, of course, beer. Other big events, such as the Great Nebraska Beer Fest, Brew Haha and Lincoln Beer Week, are held during the summer months.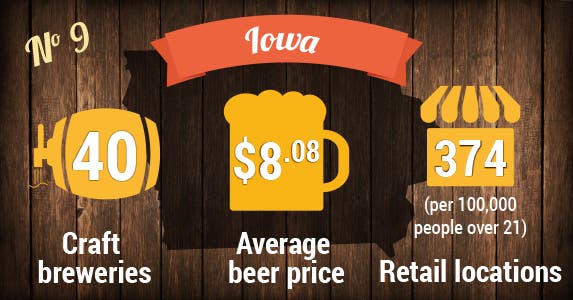 No. 9: Iowa
Craft breweries:

40

Average beer price:

$8.08

Retail locations:

374 (per 100,000 people over 21)
Look no further than the Iowa Brewers Guild motto to get a sense of how seriously the locals take their lagers, stouts and ales: "Drink beer, make friends."
And so they do. Iowa ranked as one of the top states for beer for a variety of reasons. Per capita, Iowa ranks high in the number of breweries and retail locations in the U.S. Residents also have a strong beer culture — measured by the amount of consumption in the state — and beer prices are relatively low.
Iowans love their beer so much that a proprietor group behind some of Des Moines' favorite bars and restaurants is planning an Iowan Craft Beer Hall that would serve more than 75 of the state's beers. And during the first weekend of October, there's an Oktoberfest celebration at Millstream Brewing Co., which will feature local beers, bands and bratwursts in an outdoor biergarten.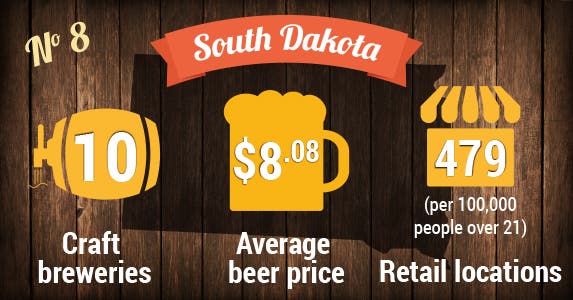 No. 8: South Dakota
Craft breweries:

10

Average beer price:

$8.08

Retail locations:

479 (per 100,000 people over 21)
The Mount Rushmore State has been in no rush to add craft breweries to its ranks. As of 2013, there were 10 throughout the state, five of which are members of the recently formed South Dakota Craft Brewers Guild.
What puts South Dakota on the map for beer lovers is the availability of everything else.
It's second only to Vermont in terms of bars and other beer-friendly retail locations per capita. This state's an ideal destination for someone looking for cheap beer, plenty of places to buy it and lots of drinking buddies.
In September, South Dakota residents can hitch a ride on the Oktoberfest Express, a two-hour round-trip train ride complete with beer and food aplenty. And if trains and beer don't mix well for you, there's always Rapid City's first microbrewery, Hay Camp Brewing Co. It's housed in a former creamery's mechanics garage.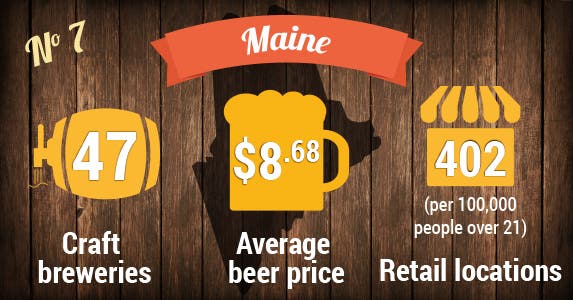 No. 7: Maine
Craft breweries:

47

Average beer price:

$8.68

Retail locations:

402 (per 100,000 people over 21)
Get your travel documents ready. The Maine Brewers' Guild has started issuing "passports" that beer lovers can have stamped at each brewery and brewpub they visit throughout the state. The swag awaiting adventurous drinkers includes trucker hats, T-shirts and other Maine brewery gear.
The strong beer culture is one reason the Pine Tree State made Bankrate's top 10 list. Maine ranks fifth in terms of breweries per capita and fourth for retail locations per capita.
Anyone looking to sample beers from the state's breweries would do well to stop by Acadia's Oktoberfest for its 19th annual Beerfest in early October. Portland also was one of the seven cities celebrated by a traveling craft beer festival organized by Sierra Nevada Brewing Co.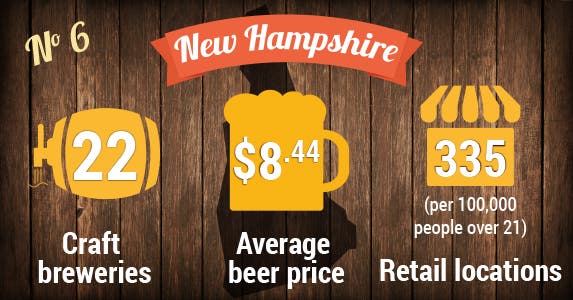 No. 6: New Hampshire
Craft breweries:

22

Average beer price:

$8.44

Retail locations:

335 (per 100,000 people over 21)
If you're looking for a small New England state where the locals see the bottom of more beer glasses than your average drinking-age American, then New Hampshire is your place. The locals consume more beer than the rest of the nation, drinking almost 48 gallons per capita in 2012.
The state also beats most others for the availability of retail locations. If you're looking for a reason to share a toast with New Hampshirites, try visiting the 17th Annual Oktoberfest celebration at the Attitash Mountain Resort for a weekend of beer tastings, keg tosses, a Bavarian band and awards for the best brews.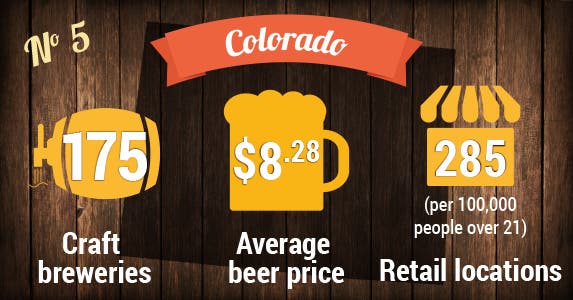 No. 5: Colorado
Craft breweries:

175

Average beer price:

$8.28

Retail locations:

285 (per 100,000 people over 21)
Colorado is a major destination for beer lovers. It's not just Coors' home state; Colorado also has more craft breweries and breweries overall than all but three states in the country. The price is right, too: Residents pay about a quarter less for their beers than the U.S. average of $8.54.
Many of those breweries are concentrated in and around Denver, which celebrates its heritage with the annual Great American Beer Festival. The event, billed as the premier U.S. beer festival and competition, has been held in the city since 1984. Other events, like the What the Funk!? Festival, showcase more than 30 "barrel-aged, sour and funky beers."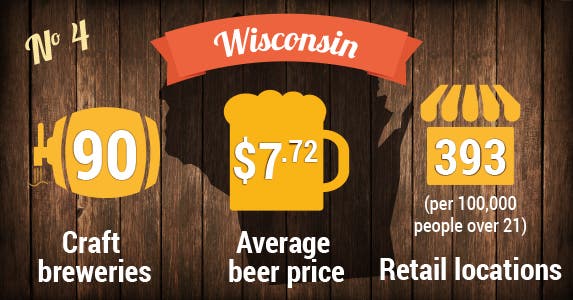 No. 4: Wisconsin
Craft breweries:

90

Average beer price:

$7.72

Retail locations:

393 (per 100,000 people over 21)
The beer is cheap and plentiful in Wisconsin. A six-pack of Heineken, for example, costs about 84 cents less in Wisconsin than the national average, according to the Council for Community and Economic Research. Folks also have an easier time than most finding a place to drink, thanks to an especially high bar-per-resident ratio in Wisconsin. According to the Beer Institute, there are 393 places to buy beer in the state for every 100,000 residents of legal drinking age. That ranks as the fifth highest in the country.
The Wisconsin Brewer's Guild celebrates Oktoberfest a little early, kicking off the festivities at the end of September. But there's still time to tour breweries in and around Madison in October. Travel by bus for the Fall Brewery Tour and the Oktoberfest Brewery Bus Tour, or by bike for a Hop Head Beer Tour.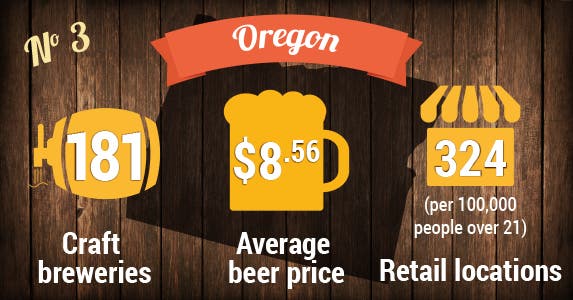 No. 3: Oregon
Craft breweries:

181

Average beer price:

$8.56

Retail locations:

324 (per 100,000 people over 21)
Oregon sits at the top of the list for breweries per capita and is third in the nation for craft breweries. There are nearly 300 brewpubs, breweries, beer bars, beer stores and homebrew stores in and around Portland — each doing its part to help keep the city as "weird" as the famous bumper stickers demand. For example, one bar gives free house-smoked bacon to every customer who orders a craft brew on every second Monday of the month.
It's safe to say that Portland would be a wise starting point for anyone traveling to the Beaver State to raise a glass of local beer. During the first weekend in October, beer lovers will gather at Oaks Amusement Park to partake in the Portland Fresh Hop Beer Fest.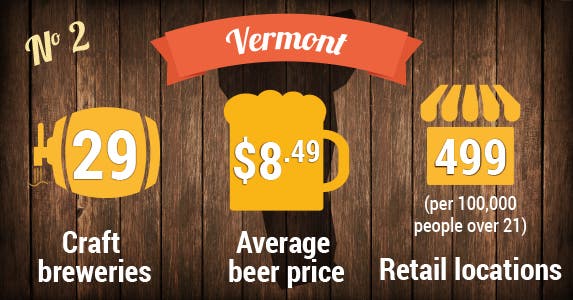 No. 2: Vermont
Craft breweries:

29

Average beer price:

$8.49

Retail locations:

499 (per 100,000 people over 21)
You would have to try really hard to keep from bumping into places to buy beer in Vermont. The state tops the list for retail locations per capita. It's second only to Oregon for breweries per capita and, don't let it go unsaid, the locals like to drink. Residents in the Green Mountain State consumed 38 gallons of beer per capita in 2012.
The Magic Hat Brewing Co., one of the state's more well-known breweries, holds its Oktoberfest celebration early in October, and the event unites local brews and bites in one place. And here's a bonus: Proceeds from the event benefit the Vermont Foodbank.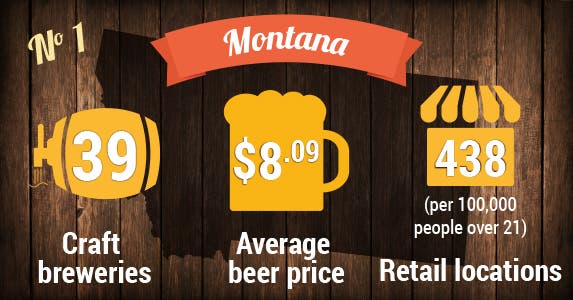 No. 1: Montana
Craft breweries:

39

Average beer price:

$8.09

Retail locations:

438 (per 100,000 people over 21)
The Treasure State gets top honors as the best beer-loving state. The state offers some of the cheapest beer prices in the nation, and that may foster a particularly strong beer culture.
Top 10 Airline Credit Cards — Easily Find Your Card & Apply!
Montana ranks in the top 10 for beer consumption, breweries per capita, price and retail locations. Better yet, there's still time to snag a ticket to the Sixth Annual Montana Brewers Fall Festival, where beer lovers can enjoy over 100 different local brews.