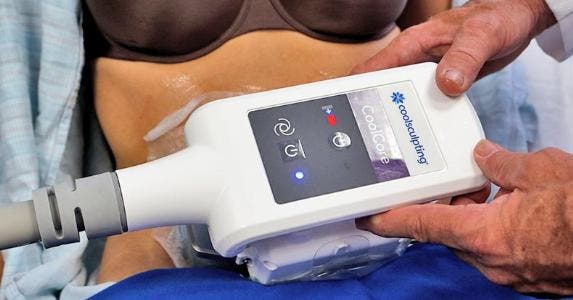 You diet, you run, you work out. You live a healthy, positive lifestyle, and yet you still have some areas of stubborn fat that refuse to firm up or fade away.
If you are in this situation, you may consider cosmetic surgery for removing the fat, including the CoolSculpting brand treatment.
This process, approved by the U.S. Food and Drug Administration (FDA) in 2010, is a noninvasive, nonsurgical skin-care treatment with proven results for reducing fat in key areas of the body.
So how much does CoolSculpting cost?
Prices for the procedure vary, especially as you may require more than one treatment; and as health insurance does not cover CoolSculpting, it is important to understand what costs are involved.
How much does CoolSculpting cost?
The cost of CoolSculpting varies between regions, and factors such as the number of applications play a significant role in the final price. The cost for treatment on multiple body areas averages $2,250, according to statistics from RealSelf.com in October 2016.
An important factor determining price is the size of the applicator for treating the area. Mini applicators cost approximately $750 to $900, medium applicators cost around $600 to $800, and the large applicators cost approximately $1,200 to $1,500.
For example, a single treatment of the lower abdominal area requires a large applicator and costs up to $1,500, while treating the upper abdomen with a small applicator is closer to $900.
What is CoolSculpting?
CoolSculpting is a fat removal procedure. Treatment involves the application of a handheld device to precisely freeze fat below the surface of the skin. During the treatment, the fat cells freeze and crystallize, and after the cells die, the body processes and eliminates them naturally.
Results usually become apparent after three weeks, with the most noticeable changes within two months, but the body continues to process and expel the fat cells for up to six months.
The procedure specifically targets stubborn areas of fat in key areas:
The abdomen.
Flanks (or "love handles").
Inner thigh and outer thigh.
The chin.
CoolSculpting is not suitable for significant weight loss in obese people or people who are more than 20 pounds overweight. For some areas of the body, alternative treatments such as liposuction are necessary.
Other cost considerations
When determining if you have the funds for CoolSculpting, bear in mind that more than one treatment may be necessary to see the best results. So, there is the potential for costs to increase rapidly.
Furthermore, as CoolSculpting is cosmetic, your health insurance will not cover the treatment.
It is usually worth trying other ways to lose fat first, such as diet and exercise.
If all else fails, budgeting for CoolSculpting is usually more cost-effective than procedures such as liposuction. Even so, many CoolSculpting practices offer flexible payment plans so you don't have to pay for everything at once.
Are you a suitable candidate?
Not everybody is a suitable candidate for CoolSculpting. The procedure is only for removing fat in targeted areas and does not provide all-over fat loss. It is not a weight-loss solution for people who are obese and is not a substitute for more drastic weight-loss options, such as gastric bypass surgery.
The most suitable candidates are healthy individuals with a few noticeable bulges around the abdomen, flanks and thighs.
Avoid CoolSculpting if you suffer from cryoglobulinemia or paroxysmal cold hemoglobinuria, or if you have an existing hernia that the treatment may exacerbate.
Always consult with your health care provider first to ensure you are not at any risk of complications.
Conclusion
For stubborn fat deposits that seem to resist your best efforts to exercise and diet, CoolSculpting is a reasonably priced, nonsurgical option.
The process has FDA approval, and while it is not a suitable alternative to a dedicated weight-loss program, it has the potential to tone and tighten problem areas. Just be aware that health insurance does not cover this type of cosmetic process, so you must settle the bill out of your own pocket.
Always consult your health care provider first, and discuss payment plan options with your CoolSculpting practice before committing to treatment.
RELATED: How much does Botox cost?