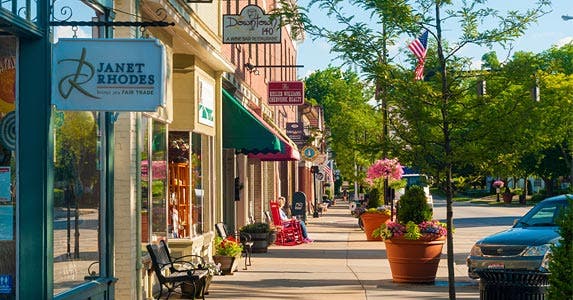 Does it pay to shop locally?
Editor's note: Each week, 1 of Bankrate's personal finance reporters is describing a new way to save and chronicling the savings journey. This week, I investigated whether I could save money by supporting local shops. See what happened.
I've rolled my eyes at people who are adamant that big-box stores are the "bad guys" while local retailers are the "good guys."
Now that I've spent time researching the "shop local" movement, I see things differently. I still like the big-box stores, but now I appreciate the ideology better. During the online research stage of this challenge, I kept coming up with the same reasons I should buy locally:
Creates community character.
Provides more money to nonprofits.
Keeps money locally.
Reduces unemployment.
Better customer service and a more personal connection.
Your opinion matters more than it would to a corporate chain store.
But what exactly constitutes shopping local?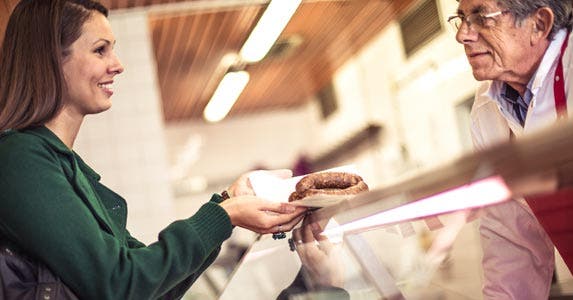 Figuring out what it means to shop local
I found a few differing opinions on what it means to shop local. Some sources were strict, saying it is considered shopping local only if ALL the money stays in that particular community. That rules out a small family business with a family member who might live in another state. It also rules out the local, independent businesses that give profits to help family members out of state. These strict definitions miss the point of what shopping locally is about.
Here's how I defined it in my own research and experiments.
Shop small.

It's an independent business (i.e., a non-chain business).
This can include shopping online at sites such as Etsy. (Do a search for sellers in your area.)

Spend locally.

The independent business supports other small businesses in the area.
According to the American Independent Business Alliance, this "multiplier effect" means that a higher percentage of local revenue — 48% — is recirculated, compared with 13.6% for locally owned franchises.

Eat locally.

Support your local butcher, farmers markets and independent restaurants.

Enjoy local.

Check out events with the chamber of commerce, school and community calendars, as well as your local library.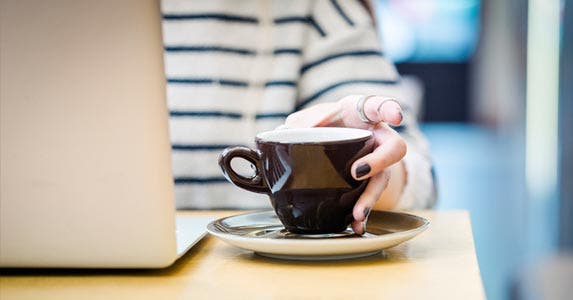 Local coffee shop: Subculture Coffee
I kept hearing about Subculture Coffee in downtown West Palm Beach, Florida, and wondered whether it could replace Starbucks for me.
As I found out, this non-chain coffee shop is popular for many reasons:
It's one of the first microroasters in the area, which means it roasts small amounts of coffee at a time.
It has great-tasting coffee.
It offers wine, fruit and pastries, too.
It's open late — until either midnight or 2 a.m., depending on the day.
It has free Wi-Fi.
One of my favorite features at Subculture Coffee is the varied seating. My favorite is the long, wooden table where several people can sit and get work done. I even got to know some new people, which I never do! The casual and cozy atmosphere somehow makes me more open to meeting other hipster coffee drinkers.
But could it save me money? Nope.
| | Starbucks | Subculture Coffee |
| --- | --- | --- |
| Iced classic chai tea latte, 16 oz | $3.50 | $5 |
Because of Subculture's location, I have to use a paid parking garage, where the rate is $1 an hour.
I enjoy Subculture's atmosphere and coffee, so I've decided to split my time. For every 3 times I frequent Starbucks, I'll go to Subculture to get my hipster fix.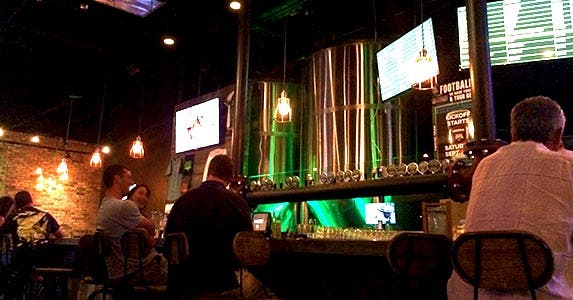 Local brewery: Twisted Trunk
I'm not a big drinker, but I do enjoy the camaraderie that comes with drinking hard cider alongside fellow Miami Heat fans during the NBA season. Enter the Twisted Trunk in Palm Beach Gardens.
This non-chain brewery has captured my attention, wallet and heart with its atmospheric bar, incredible customer service, quality beer and good prices. It makes me want to watch the 11 seasons of the iconic sitcom "Cheers," where "everybody knows your name."
The taproom manager at Twisted Trunk, Alex Ioannides, gave me a tour and took the time to answer all my questions.
Why should it matter where your money goes, as long as you get good beer? Ioannides gave the example of Bud Light, now owned by the Belgium-owned company Anheuser-Busch.
"The actual business itself is located overseas," he says, "and so all the money that you're putting into it is actually going overseas, rather than staying here in the U.S. where we would want it to be."
As for cost, it breaks down to about the same price, so why not pour my money into a local bar?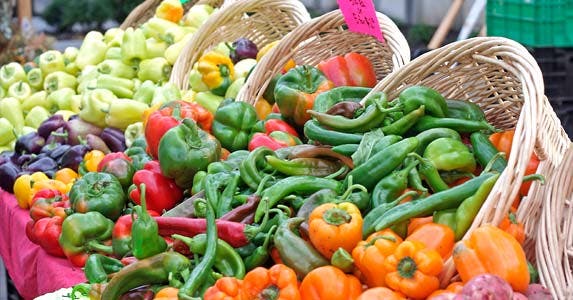 Local farmers market: GreenMarket
I went to a nearby farmers market. But like the coffee shop experiment, I have to say I was a little disappointed by what I found.
$8 for 1 cup of gourmet goat cheese
$8 for 1 cup of chocolate gourmet goat cheese (So good!)
$3 for 1 bundle of 6 organic carrots
$2.30 for 2 zucchini
Total: $21.30
To be honest, at the time, I regretted spending money at the farmers market, instead of at a nearby Trader Joe's. There, I usually get a colorful bag full of groceries for around $17. I next compared prices at 4 stores so I could better weigh my options, and now I have fewer regrets.
Even though I can get lower prices at Trader Joe's, Publix or Wal-Mart — but never at the farmers market — I realized a couple of things over breakfast.
For my omelet, I used a very small scoop of the gourmet cheese but felt more satisfied (and it tastes so much better). The Trader Joe's stash of crumbled cheese seemed like a good deal, but it took less than a week to run out. Furthermore, my $8 cheese purchase at the farmers market was on par with what I would have paid at Publix.
As for the carrots and zucchini, I prefer shopping at Trader Joe's or Publix.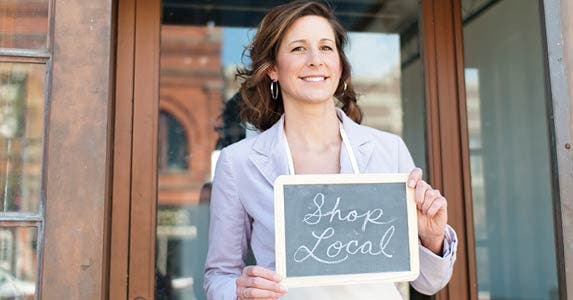 What the experts say
Chris Sands created Totally Locally, a UK nonprofit devoted to promoting the buy-local movement. He says there are some serious consequences to not supporting your town. "When a high street becomes boarded up, people don't want to live there, so house prices drop and social problems start to creep in," he says.
He also suggests comparing like items. "The big myth is that the supermarket is always cheaper," Sands says. "On some things yes, but not on everything." Big supermarkets will highlight discounted staples to make you think the rest of their stock is inexpensive, but it often isn't, he says.
Jennifer Martin, executive director of Shop Local Raleigh, says it is inaccurate to call the big-brand stores "bad guys."
"We understand that it's hard to always go local or find the things you need for daily essentials at local independent stores," she says.
Martin suggests consumers "shift just 10% of their shopping to locally owned and independent businesses each year." Doing this would have a significant impact on the local economy.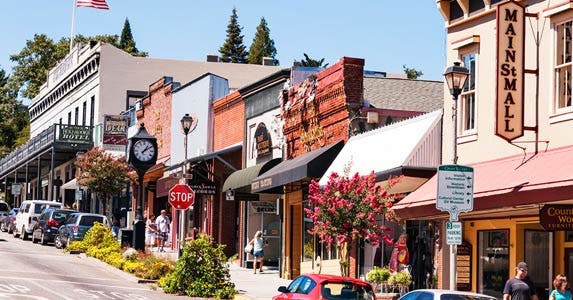 Does it make sense for you?
I broke even and didn't really save any money. At times, I might even have spent more money.
But I'm happy with my results because I feel more connected to my community. I've learned some great compromises, I have better food options and I'm ready to help pour some money back into my community.
Even though I came up with mixed results, I will take Jennifer Martin's advice to shift 10% of my spending to my own community.
For this challenge, I enjoyed meeting business owners and small-business patrons. I have no intention of giving up all my Starbucks-going ways, however, nor will I switch exclusively to farmers markets and such. Still, I am excited to become more involved in my community and help the local economy with my new spending choices.