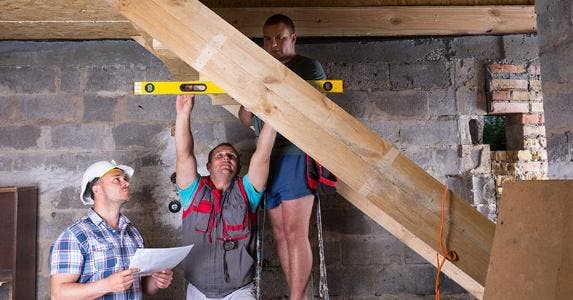 Transforming a basement into a second living room, workshop or playroom for the kids is a clever way to improve the value of a property, expanding the usable square footage and making your home more versatile. However, this is a serious undertaking, and it is essential to understand how much it costs to finish a basement to the necessary standard to meet building codes.
What is a finished basement?
Before calculating your budget for a basement project, it is important to know how building codes define the term "finished." Local codes vary, so research is essential; however, as a general guideline:
Make habitable rooms at least 70 square feet, and no less than 7 feet in any direction
Resolve any dampness or water leakage
Insulate walls and then trim or paint them
Install adequate ventilation
Enclose electrical wiring and plumbing behind finished walls
Provide accessible electrical panel boards and plumbing shut-offs
Add an emergency exit for a habitable room
Overview of costs
The average cost of remodeling a basement in the United States is $18,618, according to figures published by HomeAdvisor.com. However, many factors affect the cost of finishing a basement, and as a result costs range from as low as $5,000 up to as much as $40,000. Most homeowners spend approximately $10,579 to $36,972.
The size of the basement is a strong indicator of what the cost is likely to be. Small basements could cost anywhere from $5,000 to $15,000, while large basements in excess of 1,000 square feet could cost anywhere from $30,000 to $40,000.
Costs to consider
Remodeling or finishing a basement incurs a range of costs, from demolition work to new electrical wiring. Every job is different, and in some cases you may be able to do some of the work yourself to minimize expenses, but common costs include:
Permits: A permit is essential for projects that include the addition of electrical services or plumbing. Fortunately, permits are generally inexpensive, and only add approximately $50 to the budget.
Contractors: To ensure your basement meets the necessary building codes, contractors are necessary for installing electric points, ventilation, and plumbing. In general, electricians charge $40 to $100 per hour, plumbers charge $45 to $150 per hour, and painters charge $15 to $20 per hour.
Demolition: It could cost up to $2,000 to demolish existing structures as part of a remodel.
Flooring: The use of the room may dictate the type of flooring. For a comfortable living space, carpet is a good option, while wood flooring may work for a study, and ceramic tiles would be an ideal option for a laundry room. Each type of material incurs a different cost, plus associated installation charges.
Foundations: In some cases it may be necessary to repair existing foundations. This is a skilled task that requires a professional, and could add $10,000 to the cost of the project.
Waterproofing: Waterproofing a basement is an essential step for eliminating dampness and future structural issues. It costs approximately $7,000.
The value of a finished basement
A basement project has the potential of a 75% return on investment, according to reports by Remodeling magazine, making it one of the best ways to add value to your home. In addition to added value, it also provides functionality, as it creates a new space for use as anything from a guest bedroom to a workshop. However, finishing a basement can come at a significant price, and it pays to research your options carefully before calculating a workable budget. Bear in mind that the size of the room, its purpose, and your local building codes all play a part in determining the costs.
RATE SEARCH: Ready for a new basement? Compare loan rates today