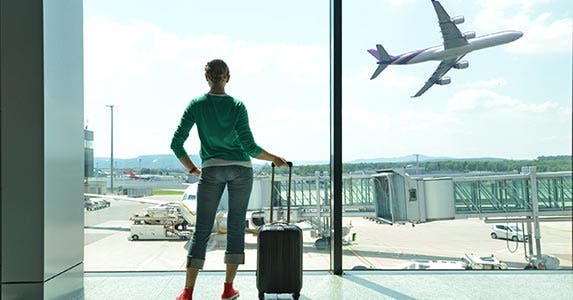 Now departing
From overzealous security to inflated luggage fees, flying can be such a hassle these days. But for many people, it's unavoidable. Luckily, there's a way to make it a little more pleasurable: scoring a free or super-cheap upgrade to business or first class.
So, how do you land a seat in the most coveted part of the plane? Our experts offer a few tips and tricks that could see you traveling more comfortably without sacrificing your next paycheck.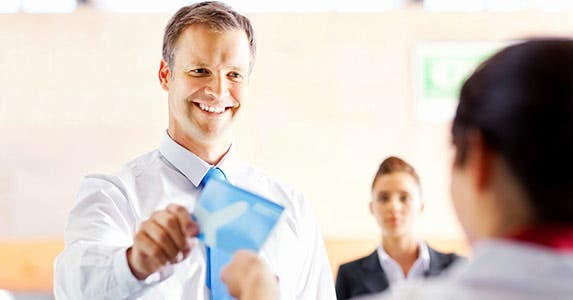 Act the part
iStock.com
Want to fly first class? Be a first-class act. A smile and a kind word go a long way toward landing an upgrade, says former flight attendant Carolyn Paddock, who is now founder and CEO of In-Flight Insider. "Be nice to everybody from the moment you walk on airport property," Paddock says. "You're talking to people who are decision-makers."
John DiScala, editor in chief of travel website JohnnyJet.com, agrees. "I'm amazed at how poorly (travelers) treat gate agents and flight attendants."
DiScala, who visits about 20 countries each year, sweetens the pot — literally. "Every time I fly, I bring a box of chocolates," usually given to a gate agent or a superintendent.
Upgrades are sometimes a case of "who you know," DiScala says. If a gate agent recognizes you, the chance of an upgrade takes off, DiScala says. So get to know one or two. "A gate agent can do anything," he says.
If it doesn't happen before you board, then be a good sport about being in coach, says Paddock. Your upgrade request to harried flight attendants preparing for takeoff will be "the biggest turnoff ever."
RATE SEARCH: Need to get a personal loan? Find the best loan rates at Bankrate.com today!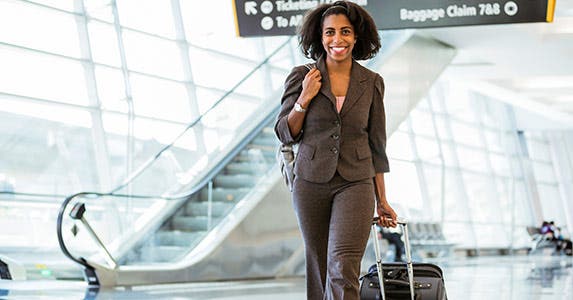 Look the part
iStock.com
When it comes to upgrades, the way you dress can lead to success. Paddock says that many of the decision-makers at airlines today took to the skies decades ago, when airline travel was something people got decked out for.
If coach is overbooked but there are empty seats in first class, some passengers may receive an upgrade. It's only natural the crew would turn to someone who looks like they belong there.
"No crew member is going to want to upgrade you if you're dressed in your pajamas or yoga wear," she says. "It can make other people resentful" if they paid big bucks to travel in first class or business class.
That doesn't require women to hike down the ramp in spike heels or guys to don a Windsor knot. Just dress nicely and neatly, as opposed to the "super casual or sloppy" manner common today, Paddock says.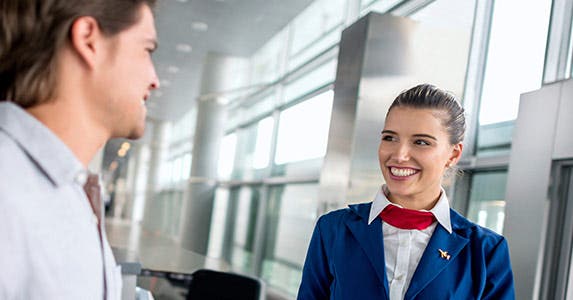 Get your timing right
iStock.com
While many flights are stuffed to the gills, there are still days and times when empty seats can be found. Typically, that is more likely on flights that rise before the sun, or on off-peak travel days such as Tuesday and Wednesday, says Joel Frey, director of communications with FareCompare.com and formerly a spokesman at Travelocity.
Gate agents tend to feel less pressured early in the day, says Lauren Sullivan, managing editor of content strategy at NBC's Today Show who previously worked at CheapFlights.com. They may be more inclined to dole out upgrades if available.
DiScala always checks his flights 24 hours before departure to gauge how full they may be. If a flight is completely oversold and the airline is looking for volunteers to catch a later flight, that's a perfect time to negotiate for an upgrade, he says. Furthermore, a weather delay can work to your advantage if you're rebooked on another flight and the only seats available are at the front of the plane.
And don't forget to play an emotional trump card. Let the airline workers know if you're celebrating a special event like your honeymoon, Sullivan says.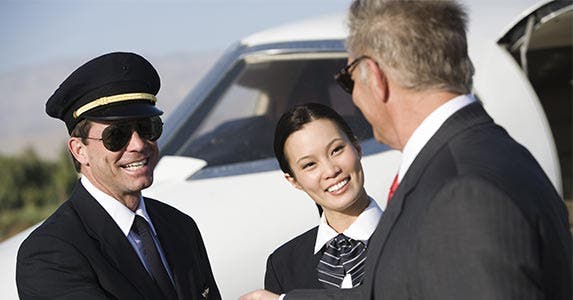 Be a loyal customer
© bikeriderlondon/Shutterstock.com
Having a frequent-flier membership can earn you more than just free flights on your airline of choice. If you fly often enough with a particular airline, you can earn elite status, which often starts at 25,000 miles and can bring you a wide range of perks. Frequent-flier credit cards are another way to add miles, too.
Travelers with "status" are more likely to receive a free upgrade than the average frequent-flier member, says Sullivan.
By being loyal to a particular airline, your odds of being upgraded by that carrier gain altitude, says Sullivan. She encourages travelers who want to earn elite status to stick with the main carrier or carriers at the airport they most often use.
"The reward will work both ways. The people who fly the most are rewarded the most," she says.
RATE SEARCH: Looking for a rewards credit card? Find, compare and apply for credit cards from Bankrate's partners now!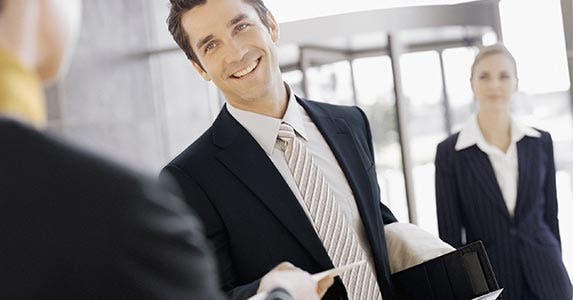 Be willing to pay a little
© Oleksandr Liesnoi/Shutterstock.com
If you're willing to cough up a bit of cash or use your frequent-flier miles, you also may be able to get upgrades at cut-rate prices.
If seats in business or first class are vacant, they may be offered to economy-class travelers at check-in, according to Frey.
"You have to be on the lookout when you check in," he says.
Another option is using frequent-flier miles. While you may encounter turbulence booking a flight using miles, it's often easier to book an upgrade, Frey says. The miles are "almost like currency."
Whatever your strategy for trying to earn an upgrade, Frey says the most important thing to keep in mind is, "There's just not as many seats to go around these days."