How does a boring paper check become a 21st century technological marvel?
Answer: When you can deposit it through your phone.
Mobile check deposit, or "remote deposit capture" as it's known to banks, lets you deposit a check into your bank account by taking a picture of it with your smartphone or tablet.
How popular is this feature?
One Bank of America study of 1,300 adults found 63% of those who used a smartphone to do their banking had used mobile deposit.
And a November 2014 survey from The Pew Charitable Trusts found that 37 of the nation's 50 largest banks offer consumers mobile deposit.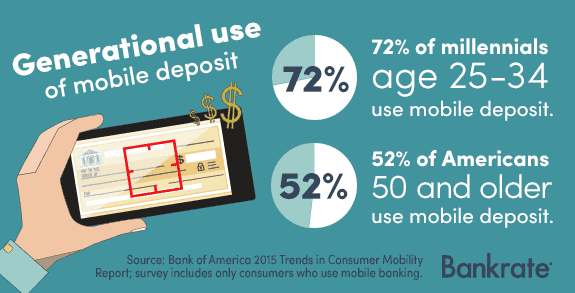 What's the big attraction?
Convenience, says Betty Riess, a Bank of America spokeswoman in San Francisco.
"Once customers download the mobile banking app onto their tablet or smartphone, they can take photos of the front and back of the check and then follow a few simple steps to complete the deposit," Riess says.
If you're already a fan or ready to try it, here are 5 things you should know.
1. Your bank can cap how much you can deposit
While banks' policies differ, it's not unusual for mobile deposits to be subject to daily or monthly limits — or both. Pew found monthly limits ranged from $2,500 to $750,000 among the banks it examined.
Riess says "it's primarily a measure to ensure there is no fraudulent activity."
If you want to deposit more than your bank's mobile limit, you'll need to do it one of the old-fashioned ways.
2. Your bank can return a deposit even after you receive a confirmation
Smartphones haven't yet solved the problem of checks that bounce due to insufficient funds in the account they're drawn against. If there's not enough money and the account doesn't have overdraft service, you won't receive the funds.
"It's the same as why a check might be rejected if it's deposited through other means," Riess explains.
3. Your bank can place a hold on mobile-deposited funds
Funds that are deposited before the bank's evening cutoff usually will be available the next business day, regardless of how they're deposited. Miss the cutoff and you'll have to wait.
4. Banking apps don't store check images on your smartphone
"For added protection, the images of the check are stored securely at the bank, not on the customer's mobile device," Riess explains.
The benefit is that if your device is lost or stolen, it won't be full of pictures of checks you've deposited.
5. Your smartphone can help you capture check images
While older apps might have difficulty recognizing checks, newer versions generally are more adept and may have on-screen guidelines to show you where to position your check and smartphone.
"When the app gets a good image," Riess says, "it automatically snaps the picture."