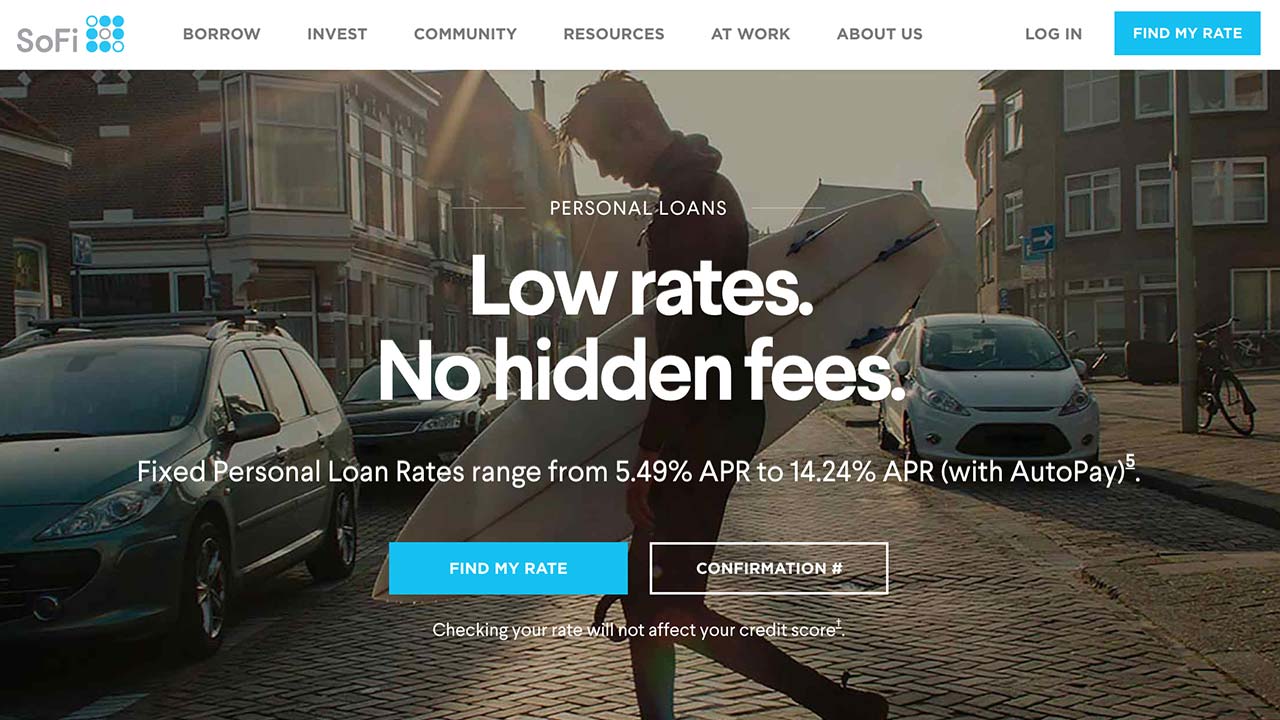 Social Finance Inc., known as SoFi, was founded in 2011 as a niche loan company offering student loan refinancing to recent graduates with above-average incomes and short credit histories.
The lender since has expanded into other financial sectors including mortgages and personal loans, but might be better known for the extras it provides — like exclusive singles events, career counseling and home-buying workshops.
Who is this loan good for?
Lending terms
Minimum borrower requirements
Fees and penalties
How to apply
What to do if you're turned down
Because this lender caters to students and graduate students, the screening process for unsecured personal loans is entirely virtual, and there are fewer loan underwriting costs, which means SoFi may be able to offer better interest rates and quicker turnaround times than brick-and-mortar lenders.
Who is a SoFi personal loan good for?
Anyone with good to excellent credit. SoFi borrowers have an average credit score of 730, although credit scores range from 680 to 850, according to the company. Check your credit score for free before you apply.
High-income earners. SoFi borrowers have an average annual income of $114,000. Real median household income in the U.S. is about $56,500.
Someone who has a short credit history. SoFi has no minimum requirement for how long you've used credit, but rather looks at how responsible you've been at paying bills.
Someone who doesn't need a co-borrower. SoFi, like many other online lenders, does not allow joint borrowers on a single loan. If your credit or income aren't good enough to qualify on your own, you may want to consider using a different lender.
Someone who doesn't mind an entirely online experience. The entire process takes place virtually — from applying for a loan to receiving approval to having the money deposited in your bank account if you are funded.
Who should not accept a loan
Anyone with fair or poor credit. If you have less-than-stellar credit, SoFi may not approve your loan request.
Consider applying for a balance transfer credit card or a home equity loan if either of those offer more favorable terms.
Lending terms
SoFi offers both fixed- and variable-rate personal loans that range from $5,000 to $100,000 and are repayable over three, five or seven years. Minimum loan amounts are higher in four states: Arizona, Kentucky, Massachusetts and New Hampshire.
For most borrowers, SoFi fixed-rate personal loans carry an annual percentage rate of between 5.74% and 14.24%.
Variable-late loans, based on the benchmark LIBOR interest rate index, ranges from 4.78% to 10.88%. Should the LIBOR rate increase, your top interest rate would be capped at 14.95%.
Maximum fixed or variable interest rates are lower in 12 states that SoFi serves: Alaska, Colorado, Connecticut, Hawaii, Illinois, Kansas, Maine, Oklahoma, South Carolina, Texas, Virginia and Wyoming.
SoFi borrower snapshot

| | Borrower average |
| --- | --- |
| Loan size | $14,739 |
| Annual percentage rate | 8.5% |
| Income | $114,000 |
| Credit score | 730 |
SoFi is one of the few online lenders that doesn't charge an origination fee. There are also no prepayment penalties for paying off your loan early.
Once approved for your loan it takes about three to five business days before you receive the funds.
Minimum borrower requirements
SoFi has no minimum credit score it considers, but borrowers tend to have a credit score above 700. There's also no maximum debt-to-income ratio and no minimum credit history or income. The typical borrower earns $114,000 on average and is likely to maintain a high income.
Whether you choose a fixed- or variable-rate loan, the quote you receive is based on multiple factors. "Our underwriting aims to evaluate a more comprehensive view of a borrower's creditworthiness by assessing factors like free cash flow in addition to a history of responsible bill payment," according to the company.
Unlike many other lenders who base loan terms on your credit history, SoFi considers your financial future, too.
SoFi will not approve a personal loan for residents of Mississippi and Nevada.
Fees and penalties
SoFi doesn't charge an origination fee.
Late payment fee is either 4% of the unpaid installment amount or $15, whichever is less.
You won't be penalized for paying off your loan early.
SoFi stands out among other lenders by offering unemployment protection. If you lose your job, you can apply to have your loan payments suspended, without affecting your credit. You can pause your loan payments for up to 12 months, although you'll continue to accrue interest on the balance.
To enact this payment pause, you have to prove that you're receiving unemployment benefits, that you're actively seeking a job and you have to agree to work with SoFi's career strategy services to help you in your search.
How to apply
SoFi breaks it down into a few steps: First, you'll create a username and password, and then you'll fill out some basic identifying information like education and employment status to see if you pre-qualify.
SoFi only does a "soft" credit check at this point so it won't impact your credit rating.
After processing your information, the site shows what loans you're eligible for and the terms. You can choose a fixed-rate or variable-rate loan. The actual rates you're offered will depend on SoFi's analysis of your financial standing. Signing up for the automatic electronic withdrawals from your bank account will give you a discount of 0.25 percent off your rate.
You have to upload supporting documentation, like your driver's license and a paystub to complete your application, as well as choose a bank account to receive the money.
The last step is signing the loan agreement.
How SoFi compares

| | SoFi | Prosper |
| --- | --- | --- |
| Loan amounts | $5,000 to $100,000 in most states | $2,000 to $35,000 |
| APR range | 5.70% to 14.24% in most states | 5.99% to 35.9% |
| Origination fee | None | 0.50% to 4.95% |
| Minimum credit score | None | 640 |
| Time to funding | Several days | 3 to 5 days |
| Soft credit check with application? | Yes | Yes |
Although the application process itself is pretty painless, it will take several days for the funds to be transferred.
Before finalizing your loan, SoFi, like all lenders, will do a "hard" credit check, which can adversely impact your credit score.
What to do if you're turned down
If SoFi rejects your application and you believe your financial standing is strong enough, consider asking for clarification. The explanation could be as simple as a processing error. Or there may be a negative mark on your credit report that you need to investigate.
If your credit is lower than 700, consider applying for a personal loan at Avant, OneMain Financial or a credit union. You may find more favorable rates and fewer lending restrictions.