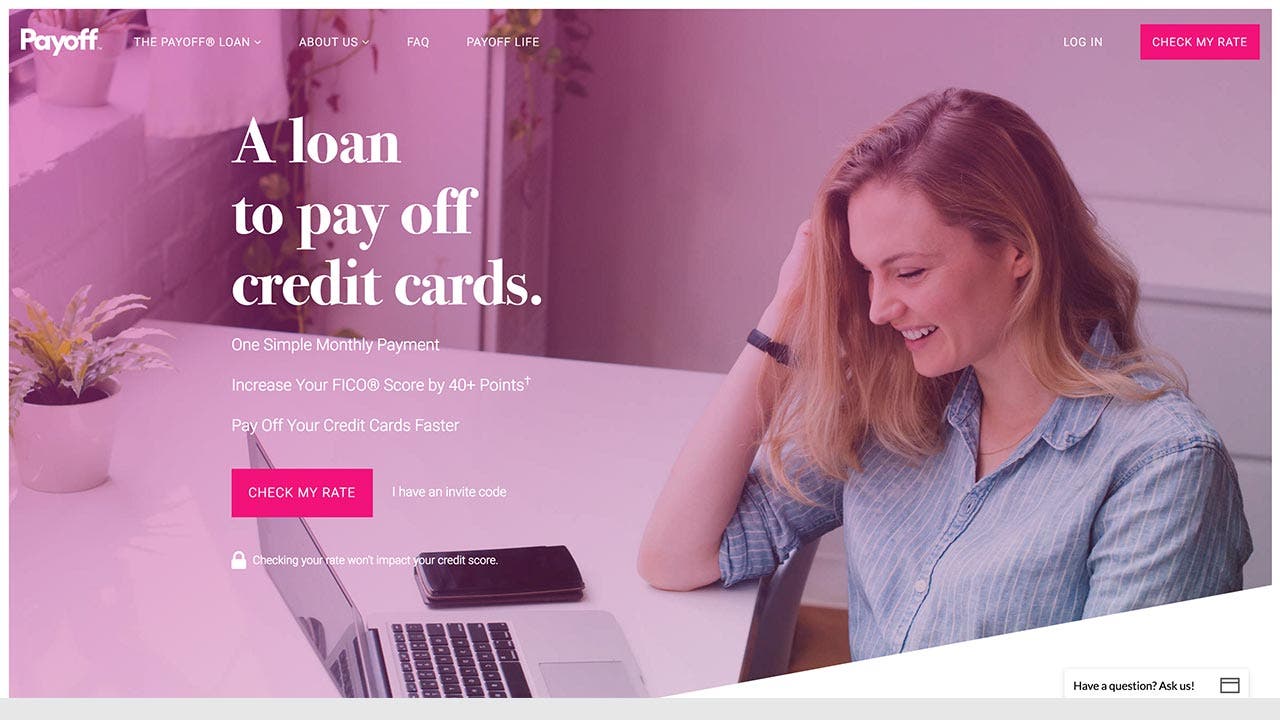 Unlike other personal loan platforms, Payoff loans are meant to be used for just one purpose: eliminating high-interest credit card debt. These loans are designed for consumers with good credit — meaning you should not have any current delinquencies when you apply and no delinquencies greater than 90 days within the past 12 months.
Because the screening process for its unsecured personal loans is entirely virtual, there are fewer loan underwriting costs, which means Payoff may be able to offer better interest rates and quicker turnaround times than brick-and-mortar lenders.
But not all borrowers will qualify — even if they have pristine credit.
The Costa Mesa, California-based company offers loans in nearly every U.S. state. But you can't get a loan through Payoff if you live in these five states: Massachusetts, Mississippi, Nebraska, Nevada or West Virginia, however.
What type of borrower is a Payoff personal loan good for?
Anyone with fair to excellent credit. The minimum credit score required is 640, according to the company. That's lower than the national average FICO score, which hit a high of 704 in fall 2018. Check your credit score for free before you apply.
Consumers with a low debt-to-income ratio. Your debt-to-income (DTI) ratio is the amount of debt you owe each month compared to your gross monthly income. It's a good idea to calculate your DTI before applying. Payoff says your DTI must be 50 percent or less.
Anyone looking to improve their credit score. Payoff reports to the three major credit bureaus: Experian, Equifax and TransUnion. A Payoff study found customers who paid off at least $5,000 in credit card debt saw an average FICO score increase of 40 points within four months of receiving their personal loan.
Anyone who wants to improve their financial literacy. Payoff gives its borrowers a "financial personality" test created by the former chief scientist of dating site eHarmony.com. The test is intended to help empower borrowers to make better financial decisions in the future. The company also offers first-year, quarterly support calls with its "Member Experience Team."
Anyone who wants to consolidate all of their existing credit card debt into one monthly payment. A Payoff personal loan may give a borrower a lower interest rate and monthly payment than what they had been paying to the credit card companies. You also get to make just a single monthly payment instead of multiple payments to various credit card companies.
Another plus: Payoff personal loans are easy to apply for compared to a home equity line of credit or a mortgage.
How Payoff compares
One advantage of going with Payoff is that the company offers quarterly check-ins to see how you're doing with your monthly payments. This is a good time to raise any issues you're having. It's also a good way to keep track of your payments.
The financial tools Payoff offers to help you better manage your finances and debt are an added bonus. These can be a great help if you need assistance staying focused and disciplined with regards to managing your money. You can also use Payoff's online chat to discuss your financial goals.
Payment flexibility is a huge benefit, too. If you miss a payment, for example, a late fee won't be applied. You can speak with a Payoff representative to discuss a payment deferral, skipping a payment, or even changing your payment date.
There are no application fees. This is a great incentive for people who are already overwhelmed by debt. However, Payoff does charge a one-time upfront origination fee of 0 percent to 5 percent.
Payoff's disadvantages? Some of Payoff's competitors offer faster funding.
| | Payoff | Prosper | Avant | FreedomPlus |
| --- | --- | --- | --- | --- |
| Loan amounts | $5,000 to $35,000 | $2,000 to $40,000 | $2,000 to $35,000 | $7,500 to $40,000 |
| APR range | 5.99% to 24.99% | 6.95% to 35.99% | 9.95% to 35.99% | 5.99% to 29.99% |
| Origination fee | 0% to 5% | 2.4% to 5% | Up to 4.75% | 0% to 5% |
| Minimum credit score | 640 | 640 | 580 | 650 |
| Time to funding | 3 to 7 days | Up to 5 days | 24 hours | 48 hours |
| Soft credit check with application? | Yes | Yes | Yes | Yes |
| Late fees | No | $15 | $25 | $15 |
| Loan terms | 2-5 years | 3-5 years | 2-5 years | 2-5 years |
Who should not accept a loan?
Payoff loans are useful if you're consolidating loans. If not, you should consider paying off your debt by other means. Here is a list of borrowers who shouldn't accept a Payoff loan:
Anyone with bad credit. If you have less-than-stellar credit and you're quoted a sky-high double-digit annual percentage rate along with a steep origination fee, you may be better off with a different type of loan. Consider applying for a balance transfer credit card or a home equity loan if either of those offers more favorable terms.
Anyone planning to refinance student debt. You may be better off getting a new student loan. There are advantages to refinancing this way, such as getting a better percentage rate and consolidating multiple loans into one payment. You may also be able to remove a co-signer from your original debt.
Anyone financing a new car. An auto loan is a secured debt that is guaranteed by collateral, which is usually the car you purchase. Auto loans have less risk for the lender, so they typically carry lower interest rates than a personal loan, and they're easier to qualify for.
Anyone hoping to fund home renovations. If you have just bought a house and you'd like to do some renovations before moving in, a Payoff loan won't be of help. You'll probably have to shop elsewhere to secure money for your home-renovation project.
Lending terms
When you get a loan from Payoff, you're not actually getting the money from Payoff. Instead, the company acts as a broker, screening and matching would-be borrowers with four lenders, including FDIC-insured First Electronic Bank, based in Sandy, Utah.
Payoff charges an origination fee ranging from 0 percent to 5 percent for its matchmaking services. Think of it as an application fee or a processing fee — an upfront cost that may or may not seem reasonable, but it's non-negotiable. Most, but not all, lenders charge this fee.
It offers loans that range from $5,000 to $35,000. Its personal loans carry a fixed interest rate of between 6 percent and 25 percent. The quote you receive is based on multiple factors, including credit history, the amount you're asking for, and whether you want 24, 36, 48 or 60 months to pay the loan off.
Payoff's origination fee is an upfront cost taken off the top of the loan. For example, if you are approved to borrow $10,000 and you're charged a 3 percent origination fee, you'll only receive $9,700. Keep in mind, though, that you'll be making payments on the entire $10,000. You should factor in the origination fee when calculating the total amount you're looking to borrow.
The origination fees are based on the repayment terms of your loan. A 24-month loan has a 2 percent origination fee, a 36-month loan has a 3 percent origination fee, a 48-month loan has a 4 percent origination fee, and a 60-month loan has a 5 percent origination fee.
Once approved for a loan, it takes three to seven business days to receive the funds in your bank account.
Minimum borrower requirements
The minimum credit score to borrow is 640, but that's not the only factor Payoff considers in evaluating an application. Would-be borrowers also must have:
A debt-to-income ratio of 50 percent or less
At least three years of good credit history
At least two open lines of credit in which you've made on-time payments
Fees and penalties
Payoff, in general, charges an origination fee of 2 percent to 5 percent depending on the length of the loan that you choose.
You won't be penalized for paying off your loan early.
There are no fees for paying by check or missed payments.
How to apply
The application process is straightforward and fast. Enter basic information including your name, address, income, and if you rent or own. You'll also be asked how much your monthly housing costs are, if any.
Payoff then will conduct a "soft" credit check, which won't impact your credit rating. Then, they'll tell you how much they suggest you borrow to pay off your credit card debt. You can sort through loan offers by monthly payment amounts or by APR.
If you select one of the displayed offers, Payoff will direct you to a more detailed application where you'll have to provide your employment information, Social Security number and bank account information. You'll also have to upload two recent pay stubs, a copy of your ID, and a recent bank statement.
Before finalizing your loan, Payoff, like all lenders, will do a "hard" credit check, which can adversely impact your credit score.
What to do if you're turned down
If Payoff rejects your application and you believe your credit and financial standing is strong enough, consider asking for clarification. The explanation could be as simple as a processing error, or there may be a negative mark on your credit report you need to investigate.
If your credit is weak, consider applying for a personal loan from a lender that works with borrowers with even lower credit scores, such as OneMain Financial.
How Bankrate Rates Payoff
| Overall Score | 3.6 |
| --- | --- |
| Availability | 3.6 |
| Affordability | 4.0 |
| Customer Experience | 2.7 |
Editorial disclosure: All reviews are prepared by Bankrate.com staff. Opinions expressed therein are solely those of the reviewer and have not been reviewed or approved by any advertiser. The information, including rates and fees, presented in the review is accurate as of the date of the review. Check the data at the top of this page and the lender's website for the most current information.