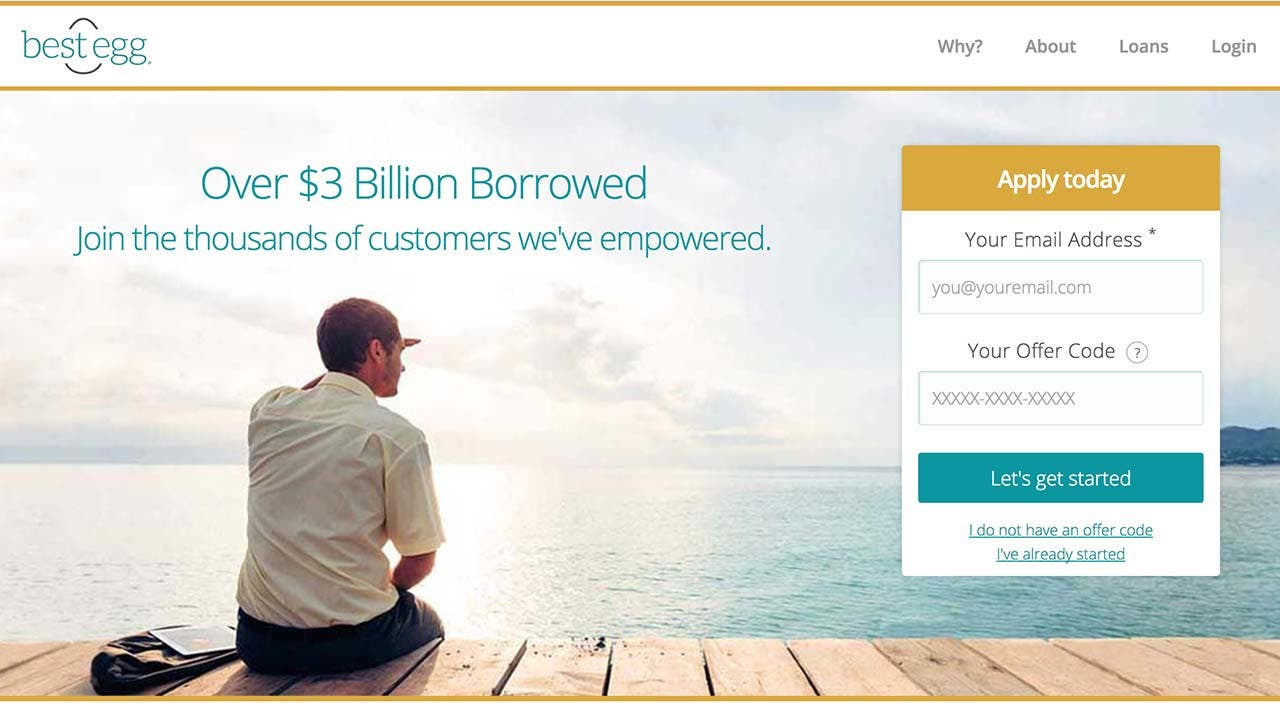 Best Egg offers unsecured personal loans to high-income borrowers with good to excellent credit. Qualifying borrowers will receive quick funding, often in as little as one day. Because the process is entirely virtual, there are fewer underwriting costs. As a result, Best Egg may be able to offer better interest rates and fewer fees than other lenders.
Best Egg's loans are ideal for consolidating debt or funding major expenses. (Borrowers cannot use loans towards educational expenses.) High-income borrowers looking for quick loans will find a competitive lender in Best Egg.
Who is a Best Egg personal loan good for?
Lending terms
Minimum borrower requirements
Fees and penalties
How to apply
What to do if you're turned down
Who is a Best Egg personal loan good for?
Anyone with good to excellent credit. Best Egg borrowers have an average credit score of 700, slightly better than the national average FICO score of 695. Check your credit score for free before you apply.
High-income earners. Best Egg seeks borrowers with an average annual income of at least $100,000. Real median household income in the U.S. is about $59,039.
Someone who may not qualify for a traditional bank loan. Even if you have significant debt, Best Egg might be able to find a loan for you that a traditional bank may not. Calculate your debt-to-income ratio before applying.
Someone who doesn't mind an entirely online experience. The entire process takes place virtually — from applying for a loan to receiving approval to having the money deposited in your bank account if you are funded.
Who should not accept a loan
Anyone with fair or poor credit. If you have less-than-stellar credit, Best Egg may not approve your loan request.
Anyone who prefers a personal experience. Since the process is virtual, you won't be able to speak face-to-face with a Best Egg representative.
Anyone looking for a loan over $50,000. Best Egg borrowers cannot have an outstanding balance totaling over $50,000.
Consider applying for a balance transfer credit card or a home equity loan if either one of those offers more favorable terms.
Lending terms
Best Egg offers fixed-rate personal loans that range from $2,000 to $50,000.
The quote you receive is based on multiple factors, including:
Credit history
Debt-to-income ratio
Loan amount
Repayment term (36 vs. 60 months)
Best Egg's issues loans in partnership with Cross River Bank, a New Jersey-based bank that's a member of the FDIC.
Best Egg borrower snapshot

| | Borrower average |
| --- | --- |
| Loan size | $15,000 |
| Credit score | 700 |
| Income | $100,000 |
Origination Fees
The lender acts as a broker, matching investors with would-be borrowers and charging an origination fee for its services. Think of it like an application fee or a processing fee — a sunk cost that may or may not seem reasonable, but it's non-negotiable. Some, but not all lenders, charge this fee.
Best Egg origination fees vary from 0.99% – 5.99%. Origination fees on 5-year/60-month loans are a minimum 4.99%.
Best Egg's origination fee is an upfront cost taken off the top of the loan. For example, if you are approved to borrow $10,000 with a 3.5% origination fee, you'll only receive $9,650. Keep in mind, though, that you'll be making payments on the entire $10,000. You should factor the origination charge when calculating the total amount you're looking to borrow.
The company says that once approved, it funds about half of its loans within the same or next business day.
The following states require minimum loan amounts:
Residents of Massachusetts must borrow over $6,000
Residents of New Mexico and Ohio must borrow over $5,000
Residents of Georgia must borrow over $3,000
The Best Egg website is notably lacking in the free financial education tools offered by some other lenders. Both LendingClub and OneMain Financial, for example, have a robust library of articles and other tools to help consumers learn more about debt and loans.
Minimum borrower requirements
To be eligible, you need to be a U.S. citizen and at least 18 years old (19 in Alabama and Nebraska) and have a valid bank account. You need a minimum FICO score of 700 and an individual annual income of at least $100,000 to qualify for the best rates, though it's possible to score a loan with higher rates even if you don't meet that criteria.
Fees and penalties
Best Egg charges an origination fee of 0.99% to 5.99% depending on creditworthiness.
Possible $7 fee if you pay by check or Western Union wire transfer.
Late payment fee and returned payment fees are $15.
You won't be penalized for paying off your loan early.
How to apply
The application process is straightforward and fast. Enter some basic information in the online application, including the loan amount you want, your annual individual income and your annual household income.
Here's what you'll need to apply for a loan with Best Egg:
Loan amount
Annual gross annual income
Annual household income
Home type
Debt information (includes credit card cash advances, and monthly housing payment)
Personal information (includes address, phone number, and SSN)
Best Egg then will conduct a "soft" credit check, which won't impact your credit rating. The whole process should take just a few minutes and, if you're approved, the screen will display your offers for a both a 36-month and a 60-month loan.
Note that Best Egg will do a hard credit check before finalizing the loan, so, as with all hard credit pulls, your credit score could be affected.
If you agree to the terms of one of the displayed loans, you'll have to enter your checking account routing number so Best Egg can transfer the funds to your account. You may be asked to upload proof of identity and/or income.
Best Egg vs. SoFi

| | Best Egg | SoFi |
| --- | --- | --- |
| Loan amounts | $2,000 to $50,000 | $5,000 to $100,000 |
| APR range | 5.99% to 29.99% | 5.70% to 14.24% |
| Origination fee | 0.99% to 5.99% | None |
| Minimum credit score | 700 for the best rates | None |
| Time to funding | Next business day | Several days |
| Soft credit check with application? | Yes | Yes |
The lowest rates offered by Best Egg are significantly better than that of most credit cards, so this could save you money over time if you're using a Best Egg loan to pay off high-interest credit card debt.
What to do if you're turned down
If you're unable to qualify, or if you only qualify for one of Best egg's highest-rate loans, (which could be close to 30%), consider the following:
If Best Egg rejects your application and you believe your financial standing is strong enough, consider asking for clarification. The explanation could be as simple as a processing error. Or there may be a negative mark on your credit report that you need to investigate.
A brief history of Best Egg
Best Egg was created in 2014 by a team of former Barclay's executives. Since then, it has funded over $5 billion dollars in loans. Best Egg also enjoys an A+ rating with the Better Business Bureau.