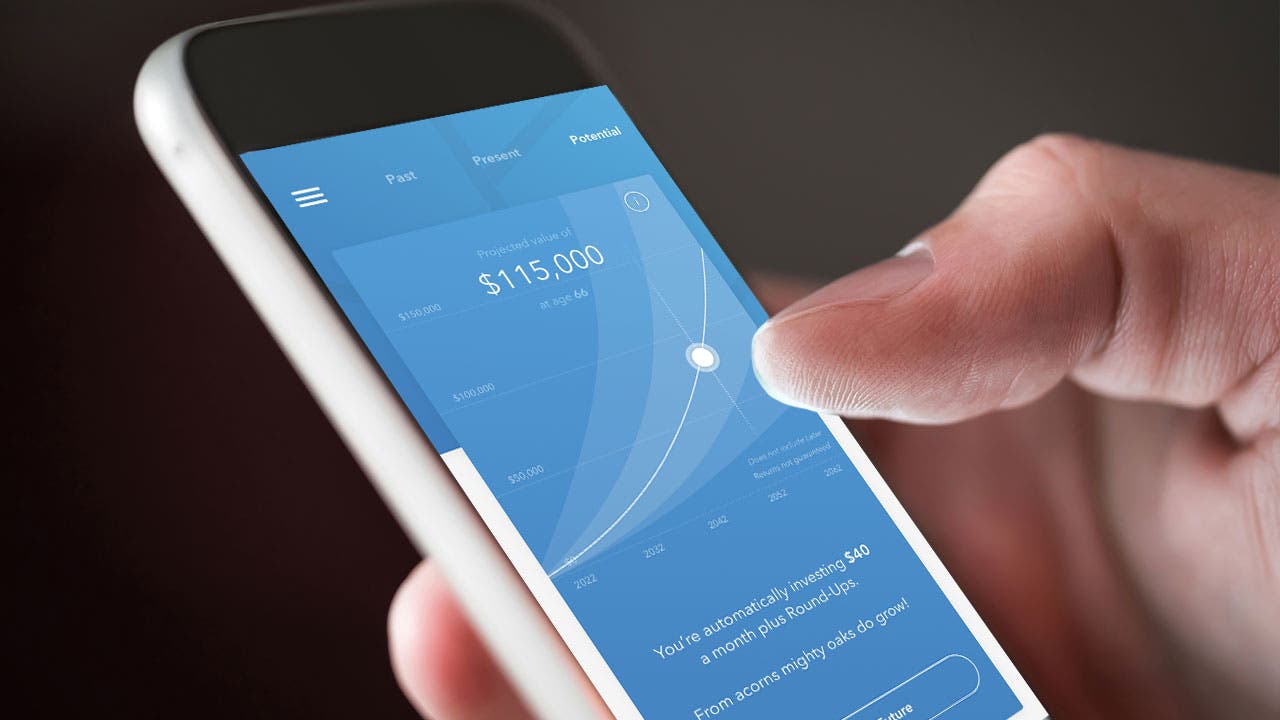 Some people are really good at saving, while others might just need a little help.
Over the past few years, a number of apps have popped up that help people save money. Each has its own bent, but at their core they offer the same service: collecting small amounts of money that add up over time. They are digital piggy banks, essentially.
Here are six smartphone-friendly saving apps to help you easily set aside your spare change.
1. Acorns
Launched in 2014, Acorns was the first of these apps and invests your spare change in a basic investment portfolio. It reportedly has 3 million customers.
If you make a debit card purchase for $3.35, Acorns withdraws $0.65. It invests the money in $5 increments in one of five portfolio options ranging from aggressive to conservative, all with varying mixes of equity and bond exchange-traded funds.
The app charges a $1 monthly service fee for accounts with less than $5,000. ETFs also have their own expenses ranging from 0.05 percent to 0.20 percent, which are deducted from dividends.
You also can set up automatic deposits on a daily, weekly or monthly basis.
The company also partners with various retailers, like Apple, Jet and Dollar Shave Club on its Found Money feature. When you buy something from those retailers with the same account you have linked to your Acorns account, the retailer adds a percentage of the total back into your Acorns account.
Your Acorns account is an investment account, therefore it is not insured by the FDIC, so market forces could chip away at your principal.
2. Digit
Digit uses algorithms to analyze what goes into and out of your bank account, then makes small withdrawals in a way it says you "won't notice."
Digit can save more than the other apps because it's not based on transactions but on your balance and spending habits. So, while Acorns can't save more than $1 per transaction, Digit could potentially save up to $50 at a time.
Digit used to be free, but in April 2017 announced it would start charging $2.99 a month. The company said at the time that it would rather charge its customers a fee rather than sell their data or serve as a lead generator. You can still try Digit for free for 100 days.
With the introduction of the fee, the company boosted how much it pays customers for their deposits from a 0.2 percent "annualized savings bonus" to 1 percent when you save with Digit for three consecutive months. The funds are FDIC-insured up to a balance of $250,000.
If Digit determines you can't spare any money, it won't withdraw anything and backs it up with a "no overdraft guarantee."
Within the app you can set goals to help you save for day-to-day expenses, such as rent and bills, as well as major purchases.
You can also text Digit "withdraw" with the amount and the set amount will be transferred back into your checking account in one business day.
3. Chime
Acorns and Digit are stand-alone apps intended to help you save outside of your checking account. Chime wants to give you a better banking experience overall.
Chime offers customers checking accounts, savings accounts and a debit card. Chime works with The Bancorp Bank, so your money is insured by the FDIC up to $250,000 per person per account.
The Chime savings account has two basic levers — it helps you save when you spend by rounding up your purchases and when you get paid by automatically moving 10 percent of your check into savings.
One of the advantages of apps like Acorns is that your money is tucked away elsewhere. Chime CEO Chris Britt says some customers have asked for ways to make it harder to dip into savings. The company is looking into it.
The Chime savings account carries a nominal interest rate, but Britt says the point is more about getting people — particularly millennials — into the rhythm of saving. Once they figure that out, then they can chase rate.
Chime doesn't charge a fee. It makes its money from debit card transactions.
4. Qapital
Qapital is a rules-based account that does round-ups like the others, but also lets you do things like move money into your savings every time your favorite football team wins.
5. Clarity Money
Clarity Money, which is primarily a budgeting tool that identifies where you might be wasting money on things like forgotten subscriptions, partners with Acorns and offers its own savings app.
6. Long Game
Long Game is trying to redirect some of the money people spend on lottery tickets into savings by giving you a chance to win money by saving. It's called prize-linked savings, and the more you save, the more chances you have to win. Don't worry — the account is FDIC-insured, and you're not playing with your principal.
Learn more: