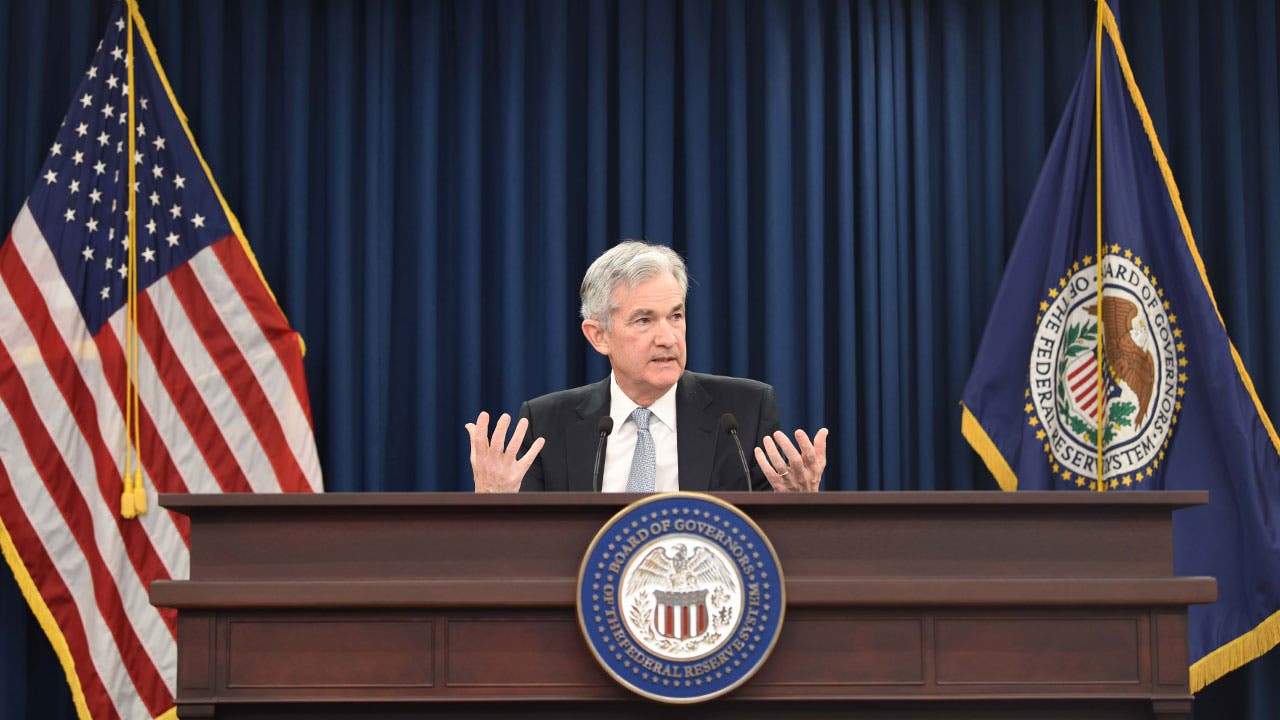 Fed Chair Jerome Powell has gotten the hang of this.
For the second time in 2018, and the seventh time since the Federal Reserve began to tighten monetary policy in December 2015, the Fed hiked a key short-term rate after concluding its two-day meeting Wednesday, this time to a target rate between 1.75 percent and 2 percent.
The move is a boon for savers eager to cash in on higher yields on savings accounts and CDs, and a gut punch to borrowers, especially those whose debt is tied to adjustable rates, such as credit card borrowers.
For the second consecutive meeting, the Federal Open Markets Committee was unanimous in its decision to increase its key benchmark rate.
The Fed is expected to increase rates two more times in 2018, representing a quicker pace than from earlier meetings, and three times next year.
"The Fed forecasts, the so-called 'dot plot,' make it very clear that we've got another two interest rate hikes in store for the back half of 2018," says Bankrate chief financial analyst Greg McBride.
Why the Fed raised rates
The Federal Reserve has two jobs: maximize employment and keep prices stable, which has been defined recently by a target inflation rate of 2 percent.
The first front is going swimmingly. The unemployment rate ticked down to 3.8 percent in May, the lowest level since April 2000, as employers added an average of 179,000 workers per month over the past quarter.
Other employment gauges tell a similar story, including the one that takes into account those who want a job but have given up looking and those working part-time but want a full-time salary, which has dropped by 0.8 percentage point to 7.6 percent over the past year.
There's currently one job opening for every unemployed worker. Compare that with the end of the recession in 2009 when there were 6.7 unemployed persons per available job.
Meanwhile, the number of Americans filing for unemployment came in below expectations last week, corporate profits were boosted by the recent GOP tax cut package, and the stock market has found its footing after a soupy winter.
All of this means the Fed can continue its plan of slowly increase borrowing rates and reducing the size of its unprecedented balance sheet, which was built up in the aftermath of the recession to boost economic growth.
"The Fed's path of gradual rate hikes and slow sheet reduction seems well-established at this point," says Aaron Anderson, senior vice president of research at Fisher Investments. "The trajectory of U.S. inflation or the broader U.S. economy would likely need to change materially for (the central bank) to deviate from that path."
Whither inflation
The most persistent caveat to the improving economy narrative, though, has been relatively slow income growth, especially in recent years as the jobs market has tightened.
Wages gained 2.7 percent in May over the past year and have not risen by more than 3 percent a year since April 2009. In fact, unexpected raises in January were the catalyst for the ensuing stock market correction.
A new Bureau of Labor Statistics report showed that hourly inflation-adjusted pay actually decreased over the past 12 months for production and nonsupervisory employees, despite claims the GOP tax bill would hike pay for average Americans.
Prices overall, though, appear to be picking up. All consumer goods rose 2.7 percent in May, continuing a three-year trend and putting to rest deflation fears. Much of that gain was powered by gasoline, which can be volatile. When you looked at so-called core inflation, which strips out energy and food, prices gained only 2.2 percent, pretty much unchanged over the past six years.
The Fed's preferred inflation metric points to inflation hitting the central bank's 2 percent target this year.
Fed officials, however, are eager to get out in front of inflation before prices take off too dramatically.
"In raising rates, the Fed increased their estimates for both inflation and where interest rates are going – but not economic growth," says McBride. "Gone from the statement is the word 'gradual' and the Fed's use of 'symmetric' shows they expect inflation to be run above 2 percent before settling back down. They're also prepared to raise interest rates as necessary to make that happen."
Trade concerns
While the Fed is always on the lookout for possible international events that could disrupt economic growth, a fight with Canada must have felt unexpected.
In what was once a routine meeting among friends, the G-7 summit between many of the world's most important economies devolved into verbal spats between the United States and otherwise friendly nations over trade barriers.
In recent months, the Trump administration has tacked on tariffs to imported good from Canada and the European Union, including on steel and aluminum, which has resulted in retaliatory sanctions by those nations.
America is also in the middle of renegotiation the North American Free Trade Agreement with Mexico and Canada, two of its biggest trading partners, and those talks have not yielded much progress as of yet.
The effects of the trade barbs on overall economic growth have been limited so far. But a more aggressive trade fight between America and its allies could impact economic growth, which would cause the Fed to reconsider just how many hikes the economy can bear.
What this means for you
Let this be a call for you to put more money in your savings account or enjoy a higher yielding certificate of deposit.
Online banks tend to pass on higher rates to customers faster than traditional brick-and-mortar lenders, according to Bankrate data. If you're eager for more return, start there.
"For the average American carrying any kind of debt — credit card, auto, home, or student loans — Fed rate hikes have a considerable impact," says Steve Allocca, President at LendingClub.
Credit card interest rates have ticked up 17 percent since the last Fed hike, so expect higher rates after this one, too. If you're responsible for a large IOU, consider a balance transfer card with a healthy 0 percent interest introductory period of at least 12 months. Cards typically charge around 3 percent of the transferred balance as a fee, but some, like the Chase Slate, don't if you make the move within a certain period of opening the card.
Make sure you establish a budget and game plan to pay off the debt. This will not be the Fed's last rate hike.