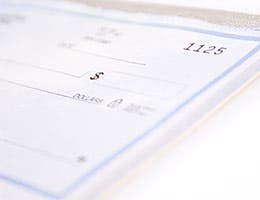 Checking accounts are quickly morphing
In 2001, paper checks accounted for 60 percent of noncash bank payments. By 2011, they were only 20 percent and the decline shows no sign of slowing, according to the St. Louis Federal Reserve. So as the U.S. moves deeper into the cashless economy, checking account features like mobile banking and online bill pay are becoming must-haves, several experts say.
Henry Israel, managing director of New York-based consulting firm Novantas, warns against getting caught up in the features race when choosing a checking account. Having accounts in one spot and getting good security are important, too, he says.
Tried-and-true features like free checking and being able to access lots of free ATMs also still rule, says Greg McBride, Bankrate senior financial analyst.
When shopping for a new checking account, put these six features on your must-haves list.
Find the best checking accounts at Bankrate.com.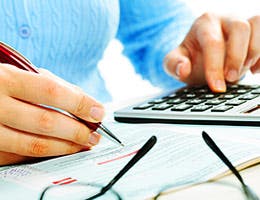 Look for no minimum balance requirements
Near the top of the must-haves list is a checking account with no minimum balances, McBride says.
"Tying up money in checking accounts is inefficient," he says. "You could be earning higher interest elsewhere."
For now, credit unions are still a good place to look, since 74 percent of them don't have minimum balance requirements, according to a 2014 Bankrate survey. However, some banks still sock you with high minimums. For example, one megabank's checking account will ding you with a $12 monthly fee if you go below the $1,500 minimum balance requirement.
Interest-bearing accounts also carry high minimum balances. The average is a hefty $5,802, according to a 2013 Bankrate survey on checking accounts. Yet, the yield is a measly 0.05 percent.
For these reasons, treat your checking account like a gas tank, McBride says. Keep the account's dollar amount within a constant range. Then add to your emergency reserve with any overage.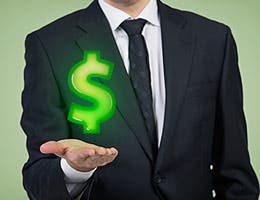 Search for accounts with no — or avoidable — fees
There are still lots of free checking accounts, and they're worth looking into, McBride says.
McBride recommends looking at online banks, community banks and credit unions when hunting for fee-free checking accounts. Only 38 percent of all banks offered free checking that's noninterest bearing in 2013 versus 76 percent in 2009, according to Bankrate.
And a Consumer Financial Protection Bureau study shows that big banks generally charge higher fees.
However, 72 percent of all credit unions still offer free checking, according to Bankrate. Big online banks like Ally and ING Direct also dish out free online checking.
And there's one more alternative: Bank accounts that aren't free can become free with direct deposit, McBride says.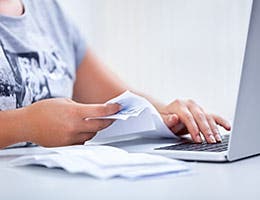 Free online banking and bill pay are available
As banks hit the digital highway, online banking and bill pay are must-haves.
Using these digital perks, you can bank from anywhere and check up on recent transactions. Even better, many banks and credit unions offer this service for free. For example, the 115-branch FirstBank offers free bill pay that lets you pay bills online and even receive e-bills.
"Free online bill pay helps consumers save money on stamps," says Tom Feltner, director of financial services at the Consumer Federation of America. "And online banking helps save time by making basic transactions."
Israel says some banks also offer valuable tools for managing money so you don't get overdrawn. For example, PNC has a cash-flow forecast called Danger Days that warns you when you're about to overdraw your account. And Wells Fargo has its My Money Map, which tracks your spending and sets up budget goals.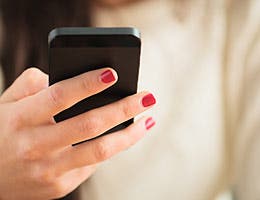 Catch this growing trend — mobile banking
Americans are turning to mobile banking in droves.
One-third of mobile phone users have used mobile banking during the 12 months ending in December 2013, according to a Federal Reserve study. The most common use: to check account balances or recent transactions. Consumers merely download a free app to tap into mobile banking features.
Also, most big banks such as Bank of America and JPMorgan Chase & Co. are now offering mobile deposits, where you simply take a picture of the check to deposit it. Several credit unions such as Redwood Credit Union and Digital Credit Union also have jumped onto this fast, free feature.
"In the old days, our bank lobby would be packed on Fridays with people trying to cash checks," says Ken LaRoe, CEO of First Green Bank in Florida. "Now, mobile banking is becoming a bank branch."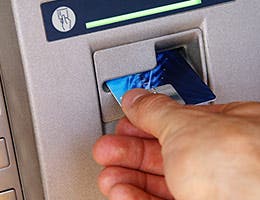 Use ATMs for free
Free ATMs are readily available nationwide, says Bankrate's McBride.
McBride says that a number of smaller community banks belong to large ATM alliances like Allpoint. It offers more than 55,000 surcharge-free ATMs around the country and in other countries such as the United Kingdom and Canada.
Some statewide credit unions also have banded together. More than 400 credit unions in Pennsylvania formed the ATM Surcharge-Free Alliance, with access to more than 1,200 ATMs. Nationwide, credit unions forged the Alliance One network of more than 4,700 fee-free ATMs in 42 states.
There's good reason to avoid fees. ATM surcharges already are inching up to $2.60, according to Bankrate's 2013 Checking Survey, so ATMs with surcharges can quickly add up. When you tack on out-of-network fees, the total charge averages $4.13 per withdrawal.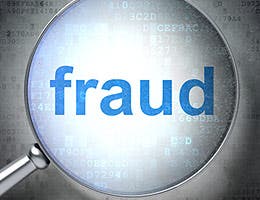 Protecting yourself from fraud
Protecting your money is the first line of defense.
So, make sure your bank has good security, says Shirley Inscoe, senior analyst at Aite Group, a research and advisory firm. One must-have is the fraud alert that your bank sends.
"That way, consumers are notified when there's fraud activity," she says. Other alerts, such as ones that notify you if your balance goes under $50, also are valuable. You can choose to be contacted by text, email or phone.
Inscoe has one more security tip: Only download bank apps from a well-known store, such as Google Play, or from your financial institution.
"There's a ton of malware in apps," so be careful, Inscoe says.