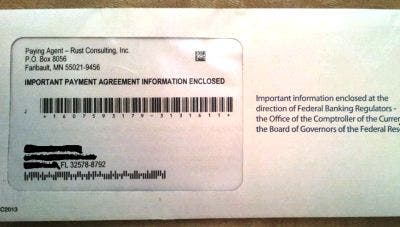 This is what the envelope looks like when you receive a check resulting from the foreclosure settlement between the federal government and more than a dozen big banks.
I don't know about you, but I frequently get junk mail that looks like this: letters from private companies that are designed to fool you into thinking that they're from the government. In this instance, it's a letter from a private company that truly is working with the federal government.
Caution: Contents are not as described
The return address is from "Paying Agent — Rust Consulting, Inc." in Faribault, Minn.
Below the return address, the envelope reads: "Important payment agreement information enclosed." But from what I hear, the letter contains almost no information. It doesn't explain how the payment amount was decided.
Nearly random amounts
In my blog post describing how some of the initial checks bounced, a reader comments: "I received a check for $500, with no explanation as to how they came up with that amount." And, she adds, $500 is inadequate to recompense her for what the bank did.
The settlement was between the banks and two federal agencies: the Office of the Comptroller of the Currency and the Federal Reserve. These regulators are coddling the banks and aren't protecting borrowers, as Sen. Elizabeth Warren, D-Mass., noted last week during a committee hearing.
The payouts vary from $300 to $125,000, with most people getting payments of $300 or $500. That's pennies on the dollar, Warren complained during the hearing. Regulators had let banks hire "independent" consultants to investigate irregularities in foreclosures in 2009 and 2010, but the consultants were slow, so the foreclosure reviews were scrapped. Instead, borrowers will get checks, whether or not their banks did something wrong. The borrower's actual financial loss doesn't enter into the equation.
Where to call
If you want to confirm that you qualify for payment, or if you need to update your address so the check is sent to the right place, call Rust Consulting at (888) 952-9105. You can talk to a representative after listening to automated messages for several minutes.
Follow me on Twitter @HoldenL.