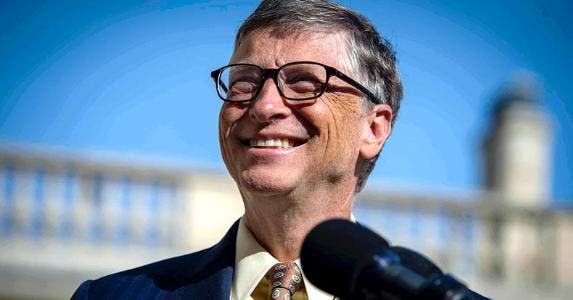 © Chen Xiaowei/Xinhua Press/Corbis
Bill Gates
Net worth: $76 billion (as of September 2015)
Year of birth: 1955
Education: Harvard University (1973-1975)
---
How Bill Gates' net worth was built
Bill Gates began programming computers in 1968 with Paul Allen in the computer center at Lakeside School in Seattle. In 1973, he entered Harvard University. Just 2 years later, in 1975, Gates started a computer company with Allen — Microsoft. The company rose to be a behemoth in the tech industry. It's now recognized worldwide as a software giant and is known for its role in helping to make PCs a staple in homes. Gates made billions off of his company. As of September 2015, the net worth of Bill Gates was a staggering $76 billion.
You can use our net worth calculator to see how you compare.
---
What he's up to now
In 2014, Gates left as the chairman of Microsoft. His stake in the company is now less than 3% and accounts for just 13% of his estimated fortune. But this self-made man still stays busy.
These days the world's richest man focuses much of his time on the Bill and Melinda Gates Foundation, a foundation supporting education initiatives, world health and population, and community giving. The foundation is working on eliminating polio completely, and 2 companies supported by the Gates Foundation developed the world's first malaria vaccine in 2015.
Gates also helped to launch TerraPower in 2006, a company that aims to provide the world with affordable, secure and environmentally friendly nuclear energy.
---
Accolades and awards
As a technologist, business leader and philanthropist, Bill Gates' net worth keeps climbing. He made the Forbes List of richest billionaires in the United States, the richest in tech and the richest person in every state in 2015.