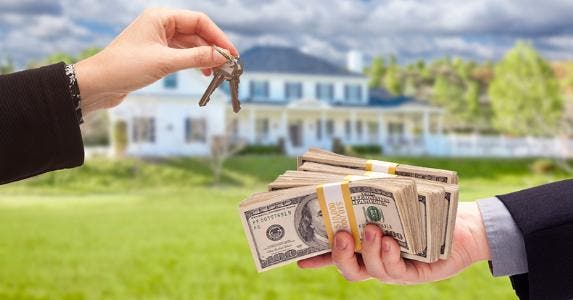 Dear Real Estate Adviser,
Which of those "buy your house for cash" companies would you recommend?
— R. Lartey
Dear R.,
None of them. No offense to the erstwhile owners and operators of such businesses, but they are the lowest of lowball buyers and are in the express business of making a fast buck off of you. Their aim is to buy at an average of about 65 cents on the dollar but they may pay even less, depending on the health of the market and repairs needed. They'll then quickly flip the property for a profit to a landlord or owner-occupant who will be more than happy to buy at, say, 85 percent of market value. While some buy in higher price ranges, most focus on homes less than $125,000, where there's the fastest resale potential.
Basing offers on what you owe
Considered "opportunity investors" today, such quick cash-purchase specialists used to be called EPs, short for "equity purchasers," because they use the seller's equity position, or lack thereof, as a starting point for negotiations. If you tell them, "I owe $75,000," then that's probably what they'll offer. They'll take title subject to your existing mortgage so you'd still be on the hook for that loan, of course, until it's paid in full.
There's a better way
Unless a fast close is really worth tens of thousands of dollars to you, there are better ways to extract more value from your property. It's a virtual certainty you'd net more by hiring a veteran listing agent, even with commission. You don't say whether you've tried this route already, but even if you have and had no success, a new "motivated seller" listing with a carefully chosen agent, coupled with a few needed repairs and staging techniques and some cheap and easy cosmetic touches should move it for a lot more money.
More possibilities
Other options include renting your home outright or on a lease-to-own option. A short sale, where you negotiate with your lender to accept less than you owe, is a possibility, but such sales are notorious for falling apart at the last minute. A short sale will blemish your credit.
Advantages of fast-cash buyers
Sure, there are a few advantages to selling to opportunistic investors. The companies pay cash, meaning you won't be sweating out the buyer mortgage contingency, and they purchase as is, eliminating the repair headaches. They close fast because they aren't waiting on financing approvals, inspections, appraisals and the like, and they typically pay some or all closing costs.
What to watch for
But be wary. Some may ask for "application fees" and other upfront payments, meaning they're probably just trying to scam you. Legit real estate businesses take their cuts at the end.
Additionally, if you're already near foreclosure, some of these companies may try to stall you until you're really desperate in hopes you'll take even less. Get online and check out a company's Better Business Bureau rating, and surf around for customer reviews and rip-off reports before you contact them.
But if you have the patience and wherewithal to sell conventionally, I heartily recommend that instead.
Good luck!
Ask the adviser
To ask a question of the Real Estate Adviser, go to the "Ask the Experts" page and select "Buying, selling a home" as the topic. Read more Real Estate Adviser columns and more stories about real estate.
Bankrate's content, including the guidance of its advice-and-expert columns and this website, is intended only to assist you with financial decisions. The content is broad in scope and does not consider your personal financial situation. Bankrate recommends that you seek the advice of advisers who are fully aware of your individual circumstances before making any final decisions or implementing any financial strategy. Please remember that your use of this website is governed by Bankrate's Terms of Use.