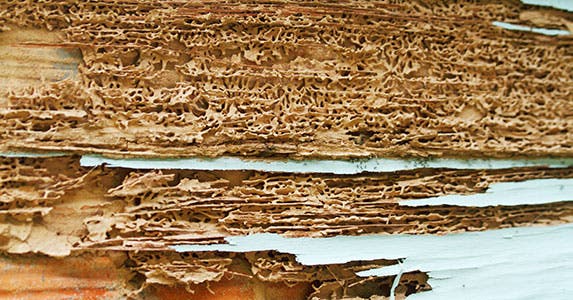 Beware the house munchers!
Most homeowners are familiar with termites, which are known for their ability to eat through wood, whether it be window frames, doors, stairs or other components of a house.
But other creatures can devour wood, too. Some even gobble stucco.
It might seem tempting to ignore the presence or evidence of these house-eating beasts. But certain types of termites, snails, beetles, ants and even bees can be destructive. The longer you wait, the more damage they'll cause and the more costly it will be to repair.
"The motto in entomology is: If you build it, they will come," says Roger Gold, a professor and chair of the Center for Urban and Structural Entomology at Texas A&M University in College Station, Texas.
Here are seven creatures that are the stuff of your house's nightmares. Wait till you get to the snails.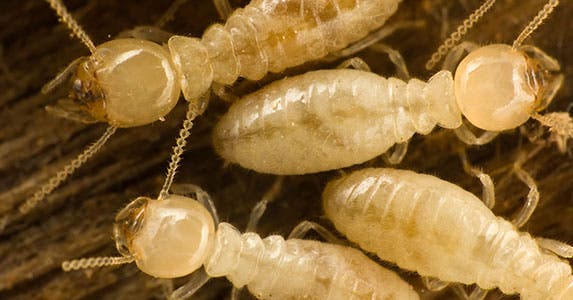 Subterranean termites
Subterranean termites are so pervasive and aggressive that they cause billions of dollars of damage each year.
Unlike their drywood cousins, subterranean termites nest in the ground and forage through the soil in search of damp wood, Gold explains.
"They explore their environment and once they find sources of that cellulose — the wood — they begin to consume it as food," Gold says.
Poisons and barriers
The average cost to control a household population of termites is in the neighborhood of $1,000, Gold estimates. The process can involve ground treatment with liquid termiticide or termite bait.
Many builders today use wood that's been treated with pesticides to discourage termites. Mesh or plastic barriers can also help to protect a home from this destructive species.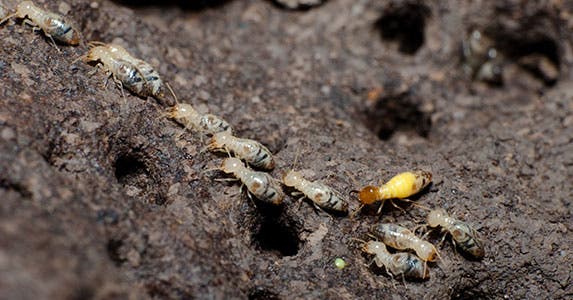 Formosan termites
The worst of the worst when it comes to termites is the Formosan subterranean termite, a specific type of subterranean that's classified as an invasive species in the United States.
Species are considered invasive if they aren't native to the area where they're found and they cause harm, explains Chris Dionigi, deputy director of the National Invasive Species Council at the U.S. Department of the Interior. The fact that a destructive species isn't native gives it a distinct advantage because it likely has no native predators.
"New Orleans is believed to have the densest populations of C. formosamus in North America. However, it has been found also in San Diego, (as well as in) Texas, Louisiana, Hawaii, Mississippi, South Carolina, North Carolina, Georgia and Tennessee," Dionigi says via email.
They even eat insulation
The Formosan termite can infest more than 50 types of plants and has been known to chew through the insulation on buried electrical and telephone cables, as well as wood, according to the council.
"If you're looking for something that actually eats your house, you'd be hard-pressed to find (a species) worse than the Formosan subterranean termite," Dionigi says.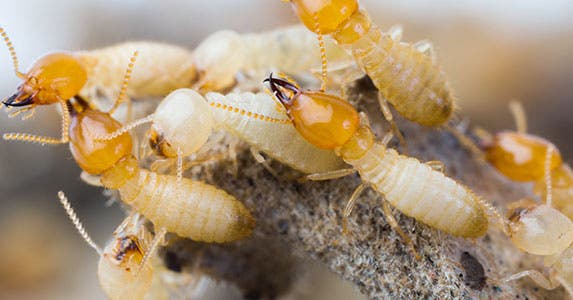 Drywood termites
Drywood termites usually live above ground and in the wood itself, unlike subterranean termites, which initially set up shop in soil.
The drywood variety "spread out swarming, usually in the summer months, and gain entrance to a structure through vents or holes," Gold says.
Tent them!
Once they're in, they begin to eat that wood, gradually causing considerable damage.
Control of drywood termites usually involves removal of the infested wood, tent fumigation or both. Tent fumigation involves placing heavy plastic sheeting over the entire home and pumping in pesticides.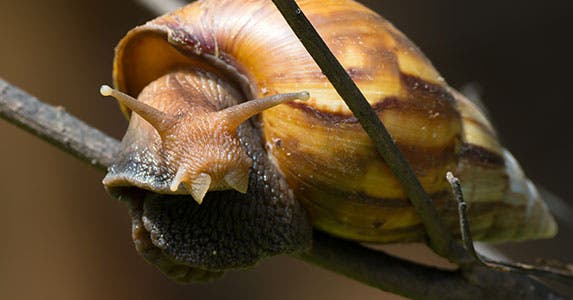 Giant African snails
The idea that a snail could eat part of your house might seem ludicrous.
But in fact, the giant African snail, an invasive species, has been known to eat up to 500 types of plants and can damage plaster and stucco, according to the Animal and Plant Health Inspection Service of the U.S. Department of Agriculture.
This type of snail is so destructive that it's illegal to possess or transport this species without an APHIS permit, according to the agency's website.
It all started in Florida
The giant African snail first appeared in South Florida in the 1960s. It took 10 years and $1 million to eradicate. In 2011, the snail returned to Florida and is still a menace there, according to APHIS.
APHIS has also seized giant African snails on New York's Long Island and in Indiana, Pennsylvania, Los Angeles and Albany, New York.
In a statement, Wendy Beltz, director of the smuggling interdiction and trade compliance program at APHIS, said collectors and hobbyists shouldn't buy these snails.
"When released into the backyards and in communities, they cause extensive and expensive damage," Beltz says.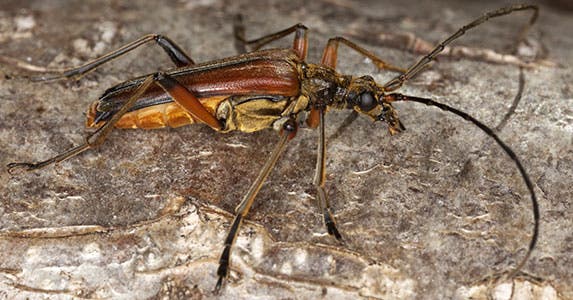 Wood-destroying beetles
Wood-destroying beetles can enter a home when it's constructed, getting a free ride on wood the builder brings to the site. But these pests can also show up if you introduce new wood into your home, Gold warns.
Building a wood-framed vegetable bed in your backyard, using recycled railroad ties in your garden or repairing a hardwood floor are just three examples of how that might happen.
"Because wood is shipped all over the place, you're never free from a potential beetle infestation. In the higher-end house with fancy wood cabinets, doors and furniture, there's a higher probability that you'll have a beetle issue," Gold says.
Their enemies: Heat and chemicals
To keep wood-destroying beetles at bay, use only good-quality lumber and veneers that have been dried in a kiln or treated with chemicals, or stick with prefabricated or engineered wood products that are manufactured at high temperatures.
"That can actually help to control the beetles," Gold says.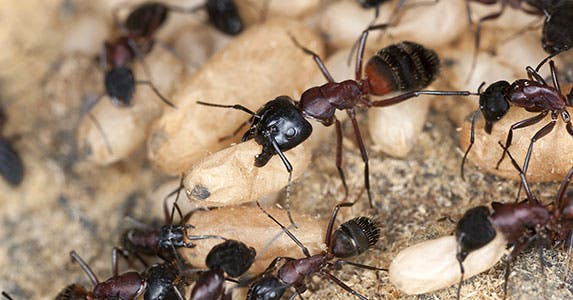 Carpenter ants
Unlike termites, carpenter ants don't eat wood. But they do remove it to form nesting sites for themselves.
"The end result is that the wood is being excavated," Gold says.
Various species of carpenter ants are specific to certain regions of the country, and they prefer to be outdoors near trees and woods.
How they invite themselves in
They can enter a house if they're foraging for food or materials they want. Door frames and windows, which may have moisture from condensation and may already be hollowed out, can be "very attractive to some types of wood-destroying ants," Gold says.
Barriers or pesticides can help manage these pests.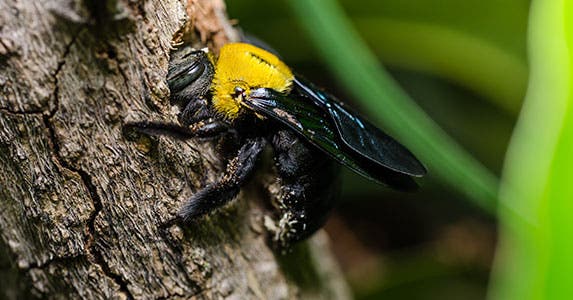 Carpenter bees
Carpenter bees have a special love for unfinished wood as a place to lay their eggs.
"The female burrows into the wood with her mandibles and cuts a channel. Then she fills that hole or canal up with pollen and lays her eggs in there, and then carpenter bees will emerge," Gold says.
Shabby chic — eek!
That preference for unfinished wood means woods that are painted or varnished might not appeal as much to these invaders. The shabby chic style of raw wood, or a fireplace woodpile inside or outside a home, can be carpenter bee magnets.
"Bringing wood indoors has a certain risk associated with it," Gold says. "Certainly we don't want people stacking wood against their house or garage. It needs to be out in the yard."