The best cities for recent college grads
Deciding where to start your career after college can be overwhelming.
Alan Michael, who moved to New York after earning an architecture degree from the University of Tennessee, remembers starting with a set of preferences and making a short list of cities. He wanted a strong job market and enough public transit so he wouldn't need a car. Even then, he needed a push from a friend.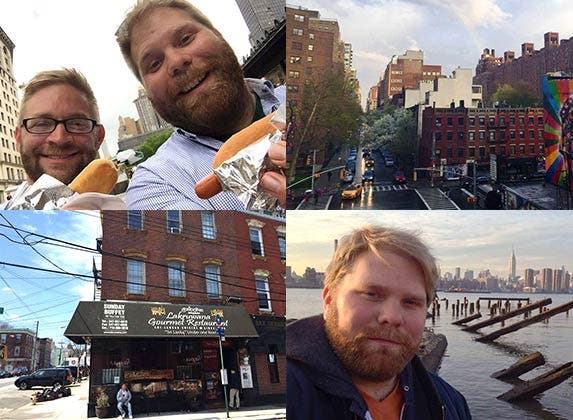 "He was sort of a cheerleader for me and said, 'You need to be in New York, because that's where things are happening,'" Michael says. "So I just … hoped for the best, and ended up staying."
College graduates are uniquely positioned to make a deliberate choice of where to move, says David Albouy, associate professor of economics at the University of Illinois.
"They're building their careers, and they're also in this kind of exciting period in their lives when they don't have a lot of responsibilities," he says.
For recent graduates, Bankrate has determined the top 100 American cities for launching a career, based on jobs, pay, quality of life, career advancement and social factors.
Here, in ascending order, are the top 10 cities for launching a career. 
RATE SEARCH: Already found your dream job location? Apply for a personal loan to help get you there.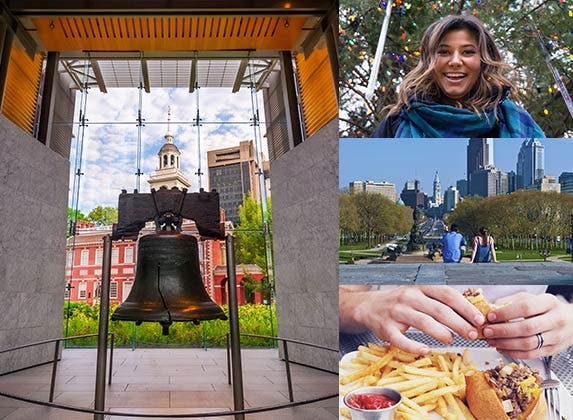 No. 10: Philadelphia
David Zanzinger/Photodisc/Getty Images, Lovely Ember Photography/Moment/Getty Images, Zave Smith/Image Source/Getty Images, joe Daniel price/Moment Open/Getty Images
Philadelphia may not immediately come to mind as a hotbed of young urban professionals, but the city has a lot to offer recent college grads. The city ranks 7th out of 100 cities in both career advancement prospects and youthfulness, and is in the top 25 for earnings potential.
It does less well in terms of the availability of jobs, as represented in unemployment rates for young and college-educated workers, falling to No. 73 in that category. Overall quality of life, which includes things like local amenities, weather, crime and housing affordability, is another sore spot, with Philadelphia ending up near the bottom in that category.
Even with those issues, though, young people will likely continue to move to Philadelphia as an alternative to larger and much more expensive cities like New York, rather than to smaller towns or suburbs.
"I don't think (young grads) want to live in the suburbs," says Albouy. "I think that might explain a lot of why we're seeing a lot of what people might consider '2nd-tier cities' growing."
Philadelphia has its fair share of attractions for recent grads, including hundreds of bars and restaurants and, of course, the only really authentic cheesesteaks on Earth.
RATE SEARCH: Ready to move? Start building your savings today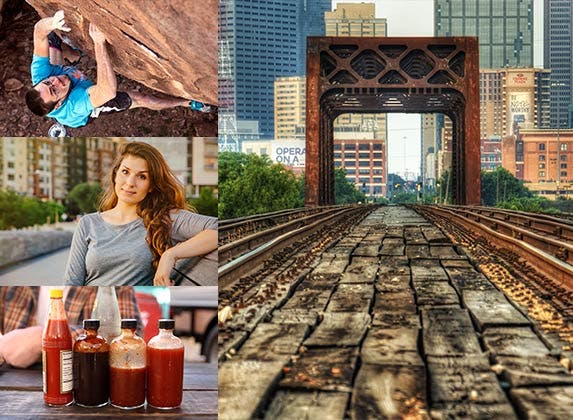 No. 9: Dallas
Inti St Clair/Blend Images/Getty Images, Alexandra Kahn/Getty Images, Dan Huntley Photography/Moment/Getty Images, jennifer m. ramos/Moment/Getty Images
Dallas has been a major beneficiary of population growth in the Lone Star state. The population of Texas grew by nearly 500,000 between 2014 and 2015, and greater Dallas absorbed about 145,000 of the newcomers.
In part, because of those new arrivals, Dallas scores high for social opportunities, coming in 5th out of the 100 cities in that category, thanks to its large population and above-average percentage of college grads.
Younger workers there will also likely find plentiful opportunities, as the city scores 8th overall for career advancement.
On the downside, the city's quality-of-life score falls near the bottom of our rankings, at 93rd overall. And its unemployment rates for young people and for those with a college degree have contributed to a lackluster score for job prospects.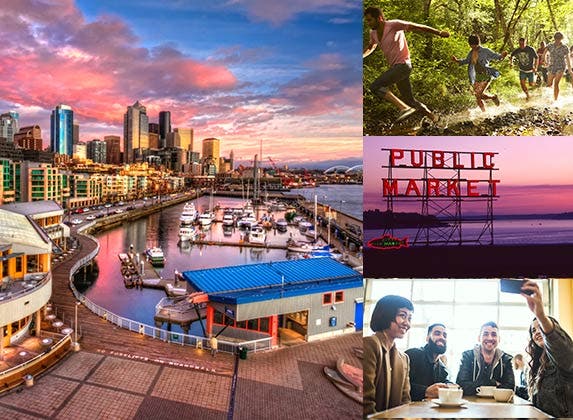 No. 8: Seattle
Thomas Northcut/DigitalVision/Getty Images, RyanJLane/E+/Getty Images, Photo by David R irons Jr/Moment/Getty Images, TJC/Moment Open/Getty Images
Young professionals can hope to earn plenty of cash to spend on omnipresent Seattle coffee, thanks in part to a burgeoning tech sector in the area.
Seattle ranks 5th for pay prospects, thanks to high pay levels supported by a high per-capita gross domestic product, or GDP, a measure of local output. A higher per capita GDP suggests workers in Seattle are creating products and services that are in demand in the region, giving companies in the area potentially more motivation to offer higher wages to workers.
Seattle also ranks in the top 10 in the quality of life category, thanks to both natural amenities, like beautiful nearby mountains and coastline, as well as man-made amenities, such as restaurants and bars.
However, it may take a while to get a job. Seattle is in the middle of the pack when it comes to job prospects, with not-so-great levels of unemployment among young adults.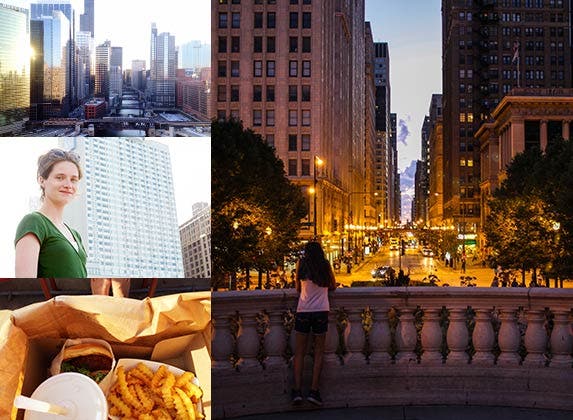 No. 7: Chicago
Daniel Odyssey / EyeEm/Getty Images, Chris Tobin/Photodisc/Getty Images, Masako Kozawa / EyeEm/Getty Images, Hamid Ahang / EyeEm/Getty Images
Grads who go to Chicago may find themselves quickly ascending the corporate ladder faster than an elevator in Willis Tower. The Windy City scores 4th overall in career advancement potential, with high levels of income and employment in management, business, science and arts occupations.
It's probably no surprise to people familiar with the city's outgoing, friendly character, but graduates should find plenty of social opportunities in Chicago as well, thanks to Chi-Town's massive population and above-average percentage of college grads.
Where the city falls down somewhat is in its entry-level prospects. With a nearly 17% unemployment rate among 20- to-24-year-olds, competition may be fierce.
The city also scores less high on its quality of life than it does in other categories, coming in at 33rd out of 100.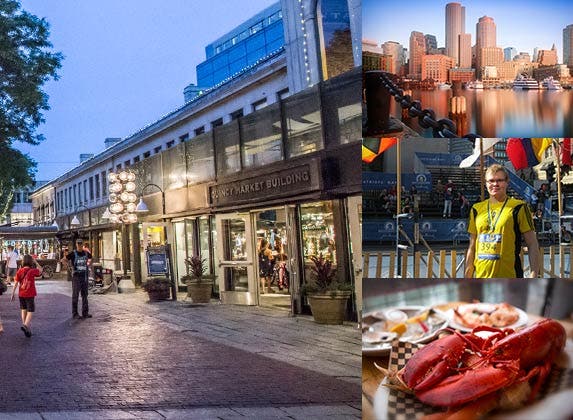 No. 6: Boston
Photo courtesy of Rauno Peets, Stephanie Hager – Hager Photos/Stockbyte/Getty Images, image by WMay/Moment Open/Getty Images, Sebastian Schlueter (sibbiblue)/Moment/Getty Images
Boston is a strong all-around choice for new college graduates.
Ambitious young professionals can hope to earn some of the highest salaries in the country. Boston ranks 3rd overall in prospects for high pay, thanks to a median income per-capita GDP  near the top among U.S. cities.
The city also does well in terms of career advancement, placing 6th overall — a result you'd expect in a place with one of the highest concentrations of management jobs in the country. And Boston's educated population and higher-than-average share of 20- to 29-year-olds mean new arrivals should find plenty of social opportunities.
"I went to grad school in Boston and I knew I wanted to stay here to launch my career. Besides the fact that Boston is a very international city, there are so many things for young professionals to do," says 32-year-old Rauno Peets, a software engineer originally from Estonia.
Boston scores among the top 25 cities in all categories, save one important one: a young person's ability to land a job. Boston's lackluster unemployment rate among 20- to 24-year-olds suggests you may have some trouble finding an entry-level position.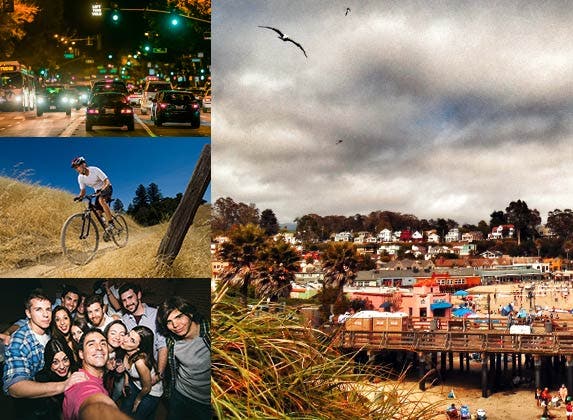 No. 5: San Jose, California
Scott Markewitz/Photographer's Choice RF/Getty Images, Inuk Studio/Blend Images/Getty Images, Christina Havis / EyeEm/Getty Images, Eric Raptosh Photography/Blend Images/Getty Images
If you're looking to one day earn a huge salary, San Jose might be the place for you. Located at the south end of famed Silicon Valley, the city boasts the highest median income, GDP per capita and per-capita income among all cities in our rankings.
With its beautiful weather, scenic surroundings and lots of state parks nearby, the city also sports a high score for overall quality of life, coming in at 2nd place. Prospects for career advancement are also good, with thousands of jobs in management, business, science and arts occupations.
A starter job may not be as easy to find, however. The city ranks in the bottom 25% for job prospects for grads, with an above-average unemployment rate for 20-to-24-year-olds and one of the highest jobless rates in that nation for people with bachelor's degrees.
Another issue: Social opportunities may not be as plentiful as in other cities on our list. San Jose is No. 31 in that category, in part because of a higher-than-average median age.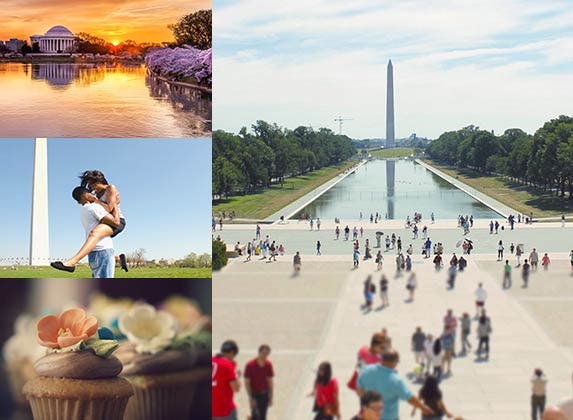 No. 4: Washington, D.C.
Jess Escribano / EyeEm/Getty Images, Dave and Les Jacobs/Blend Images/Getty Images, Kevin Voelker Photography/Moment/Getty Images, Jeff Thatcher / EyeEm/Getty Images
The nation's capital is known as a magnet for the ambitious, so it's only fitting that we found Washington is a top place for graduates to get ahead.
The city ranks 3rd overall for career advancement, due in large part to its ample supply of jobs in management, business, sciences and the arts.
College grads who aspire to make a lot of money may find the D.C. area the place to be. The city has the 4th highest prospects for achieving a big paycheck, boasting a median income and per capita GDP that are among the highest in the U.S.
And the city's younger-than-average median age and educated population help push the city into the top 5 for social opportunities.
On the downside, Washington's quality of life ranks in the bottom half of the cities considered in the rankings.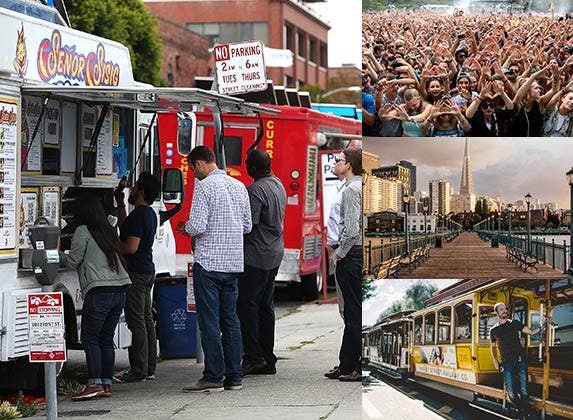 No. 3: San Francisco
Douglas Mason/Getty Images, Alexander Spatari/Moment/Getty Images, Justin Sullivan/Getty Images, Daniel Viñé Garcia/Moment/Getty Images
San Francisco is in the midst of a boom that pumped up the area's population by more than 50,000 from 2014 to 2015, and factors that are drawing newcomers in droves have helped to push the city into our top 3 overall.
For starters, young graduates who move to San Francisco will find the best quality of life in the country, according to our research. And, in addition to scenic vistas and a vast array of restaurants and bars, they'll also have excellent prospects for a big payday, driven by very high per-capita income, median income and per capita GDP.
San Francisco also ranks No. 5 for career advancement, with large swaths of the population, as you'd expect, involved in lucrative management, business, science and arts occupations.
To top it off, the city's large, concentrated population and high percentages of 20- and early-30-somethings will give grads plenty of friend-making opportunities.
The City by the Bay isn't perfect, however. The intense competition for jobs can leave entry-level positions hard to find, as evidenced by the city's high unemployment rate for the college- educated and those in their early 20s.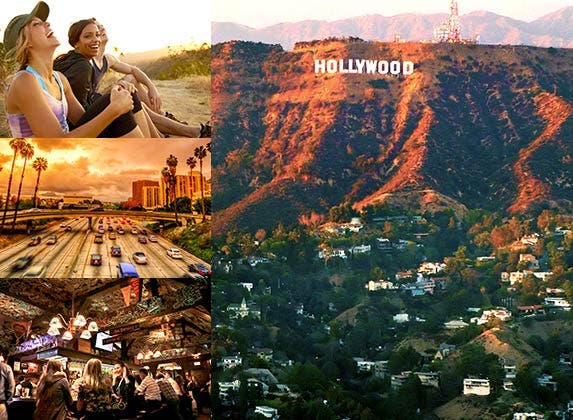 No. 2: Los Angeles
Kevin Kozicki/Image Source/Getty Images, Chris Sattlberger/Blend Images/Getty Images, Ricardo DeAratanha/Los Angeles Times/Getty Images, Albert Valles/Moment/Getty Images
For college grads who want both a great social life and speedy career advancement, Los Angeles may be a great landing spot.
L.A.'s high percentages of 20-somethings and college graduates push it near the top for social opportunities. In addition to a potentially thriving social life, new grads will benefit from a quality of life that's ranked 6th in the nation.
The city boasts a huge range of employment options for workers and is 2nd in the nation for the numbers of jobs in management, business, science and arts occupations, as well as office-centered occupations. Because of that, L.A. scores 2nd overall when it comes to career advancement potential.
Finding that first job may be tough, however. L.A.'s ranking for job prospects is near the bottom of the 100 cities that Bankrate looked at, because of above-average unemployment rates for those in their early 20s and those with a bachelor's degree.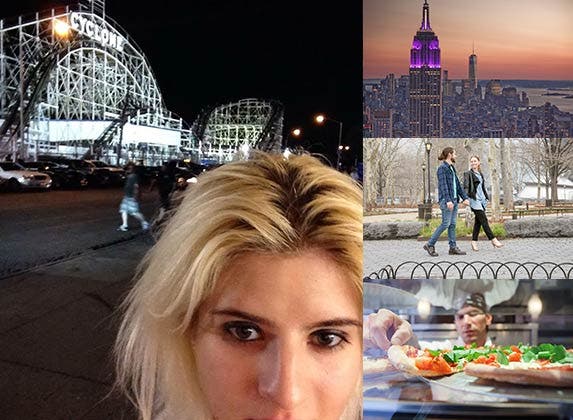 No. 1: New York
db2stock/Getty Images
In the song that's a staple at New York Yankees games, Frank Sinatra sings, "If I can make it there, I'm gonna make it anywhere."
That sums up the challenge that New York poses for young college grads. The city's devilishly competitive job market — it has the 18th highest unemployment rate for those in their early 20s and the 12th highest for graduates — makes the prospect of landing that first job daunting.
But the rewards can be enormous for those who manage to gain a foothold. New York comes in No. 1 for career advancement potential.
"I don't think I would live anywhere else, especially for my career. I work in finance, (and) few places have as many opportunities as New York City," says 28-year-old accountant Ken Okrend. "No matter what your profession, there will be more varieties of jobs here for it."
A high percentage of 20-somethings and a very educated population mean you're sure to find other college grads to hang out with. And the city's high quality of life ranking — No. 14 overall — suggests you'll find plenty to do together.
RATE SEARCH: Moving is expensive. Apply for a personal loan to help with moving costs.