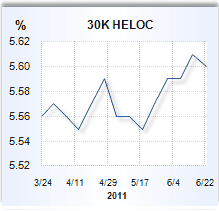 Interest Rate Roundup
Home Equity
5.60% (line of credit)
6.93% (loan)
Loans backed by home equity showed little movement in the latest Bankrate survey.
The typical home equity loan had an interest rate of 6.93 percent, up 1 basis point from a week earlier. A basis point is one-hundredth of 1 percentage point.
On a typical home equity line of credit, or HELOC, the interest rate was 5.6 percent, down 1 basis point.
— Gregg Fields