Of Americans polled in a recent Bankrate survey, 4 percent say they owe more than their homes are worth. If that number is accurate, it means 3 million of the nation's 75 million homeowners are "upside down" in their home loans in a time of declining home prices, putting these homeowners in a severe financial vise.
"I'm encouraged that only 4 percent have mortgage debt greater than the value of their home, but 4 percent is still a significant number."
— professor Richard DeMong
Upside down in a home means you can't borrow from your home equity in case of emergencies because there isn't any equity to borrow against. You can't even sell your home unless you can come up with a check to cover the shortfall. People land upside down on their houses in a few ways: the house loses value, the loan balance rises or both.
Bankrate commissioned GfkRoper to survey the nation's homeowners to reveal how they regard and use their home's equity as part of our yearlong Financial Literacy series. While we are encouraged that the overall results show most homeowners seem to understand the value of home equity, the 4 percent who admitted to owing more on their home than it is worth is significant. And, another 4 percent weren't sure if they were upside down or not.  
How would you pay for an unexpected expense of several thousand dollars that you needed to pay immediately?
Source: Bankrate.com 2007
"I was generally encouraged by the findings that only 4 percent have mortgage debt greater than the value of their home," says home equity researcher and University of Virginia professor Richard DeMong. "However, 4 percent is still a significant number. I wonder whether this is a function of declining home prices or whether it's a function of taking out a first and second mortgage loan that exceeded the value of their home."
Unfortunately, home prices are expected to fall 0.7 percent in 2007, recent projections from the National Association of Realtors indicate, making this the first time since the Great Depression that the nation's median home prices have fallen.
Equity is an asset
Despite some homeowners' lack of equity, on the whole the respondents seem to understand the value of home equity and say they are reluctant to draw on it.
When asked how they would pay for "an unexpected expense of several thousand dollars," slightly more than half respond that they would pay for it with savings, a result that seems to fly in the face of statistics and shocks our people in the know.
Bankrate talked to a couple of experts who spend their days talking to people on different ends of the financial spectrum: Nancy Flint-Budde, a Certified Financial Planner, and Dave Ramsey, host of a financial call-in radio show and best-selling author. Both agree these results may be the result of wishful thinking.
"Statistically, 70 percent of Americans are living paycheck to paycheck and have no savings," says Ramsey, author of "The Total Money Makeover." "How they answer on a survey and what really happens are two very different things."
Flint-Budde agrees. adding that perhaps "the respondents said what they felt the interviewer wanted to hear."
Though the majority of the people surveyed said they would handle a financial crisis by tapping their savings, nearly half can't. Some (18 percent) would turn to home equity borrowing; an equal number to credit cards and 13 percent don't know what they would do. The plight of this last group becomes more interesting in light of our next question.
Borrow from home equity or charge it?
Getting back to the home equity vs. credit card debate, we asked which of these two forms they consider to be "a more cost-effective way of borrowing." Overwhelmingly (73.5 percent), people judge home equity to be the smarter economic choice, while 13.5 percent say credit cards are better and another 13 percent say they don't know which is wiser.
Flint-Budde points out what she sees as a discrepancy: "It doesn't make sense that the same percentage of people would use a credit card to finance an unexpected expense as would use a home equity loan, going back to the first question, while 73 percent see the home equity as the more cost-effective way of borrowing money."
Which is generally a more cost-effective way of borrowing?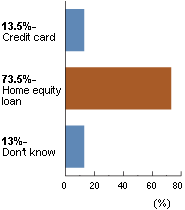 Source: Bankrate.com 2007
One explanation, proffered by DeMong, is that their responses may indicate a reluctance to use home equity loans. "They may be aware that the penalties for defaulting on a credit card are far less than defaulting on a home equity loan, which could cause them to lose their home."
How do you treat your home equity?
When asked a behavioral question, how they treat their home equity, the largest group (but not the majority at 41 percent) of respondents call it their "Holy Grail." The next largest groups at less than half that (17 percent) use home equity as an emergency savings account. Interestingly, DeMong points out, the savings account response just about matches the 18 percent who say they would fund an immediate need with a home equity loan in the first question.
How do you treat your home equity?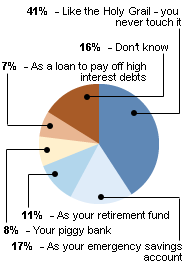 Source: Bankrate.com 2007
Only 7 percent of respondents say they tapped their home's equity to pay off other debts. Yet, when asked, "Is borrowing from your home's equity a smart financial move," 29 percent think it's a good idea, which it is, says DeMong, provided they don't run up new credit card balances.
He also points out that while 41 percent claim they treat their home equity as a Holy Grail, a majority of the respondents said they would use this Holy Grail for home remodeling, debt consolidation, college education expenses, automobile purchase and a family vacation.
Home equity borrowing is never a smart move, in the opinion of 37 percent of respondents, a rate very close to the number who think home remodeling is a smart use.
Ramsey says this question elicited the most honest answers. "From people I talk to every day on the radio, the percentages here are a more accurate portrayal of behavior than the other answers. The responses in the earlier questions represent how people believe they should behave but from the people we talk to —  it isn't how they are behaving," he says.
In which cases is borrowing on home equity a smart money move?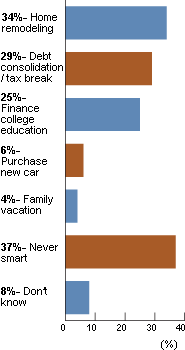 Source: Bankrate.com 2007
Function of economics and life stage
When the responses are broken down by demographic information, another story emerges. As is healthy, attitudes toward home equity usage shift with income levels.
As Flint-Budde points out, the lowest income households don't think it's a good idea to tap home equity, judging it "never a smart move," (at 63 percent), though 69 percent recognize it as a more cost effective way of borrowing.
"Perhaps the lowest income households feel the least secure about finances," she suggests. Because they have fewer assets, they are more nervous about leveraging their homes. But with little in savings and tight finances, Flint-Budde says, lower income homeowners may have to turn to their home equity to meet expenses.
Home equity attitude depends on individual circumstances, says Greg McBride, Bankrate's senior financial analyst. "For a high income household, home equity borrowing can be attractive. They may have a 5.5 percent after-tax cost. This group tends to have more diversified assets and are not in a situation where they're 'betting the farm' like the low income groups. For those with lower incomes, where the house is their only asset, they need to have the hands-off mentality and focus on saving and building wealth in other areas."
He says there may also be a correlation between overall financial literacy and income.
Economics is often partially a function of life stage. The following box shows a quick breakdown of different group home equity behavior, as indicated by the poll results.
Reflects life
50 years or older are the least likely to tap home equity. Reflects generational attitude: Pay off your home before retirement and never touch the equity.
Midcareer respondents are the most likely to use home equity as part of an overall strategy of debt management, using it to consolidate and finance education. This group is stretched with family obligations.
20-somethings may never have seen a real estate market go down so they are willing to tap home equity for short-term needs.
"My overall reaction is that this data is much more positive than what has been reported in the popular press," says DeMong. "These respondents are looking at the home equity loan as a secondary source of funding rather than the first source and are using it in a financially responsible manner (only 4 percent said they would use it for a vacation)." 
Susan Keating, president of the National Foundation for Credit Counseling (NFCC), was also heartened by respondents' conservative view in terms of how they would like to use home equity loans and lines, but says the results show there is still work to be done in terms of financial education and financial literacy.
This national random-digit-dialed phone study of 1,004 adults 18 or older was conducted for Bankrate by GfK Roper Public Affairs & Media. The surveys were conducted from May 4 through May 6, 2007. The sample was weighted by demographic factors including age, gender, race, education and census region to ensure reliable and accurate representation of adults in U.S. households. Results based on the sample of 765 adult homeowners are projectable to the entire adult population in the United States, with a sampling error of plus or minus 4.3 percentage points.