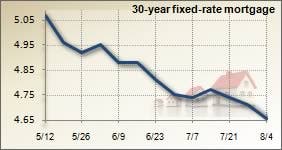 For the third week in a row, mortgage rates reached modern-day record lows.
The benchmark 30-year fixed-rate mortgage fell 5 basis points this week, to 4.66 percent, according to the Bankrate.com national survey of large lenders. A basis point is one-hundredth of 1 percentage point. The mortgages in this week's survey had an average total of 0.42 discount and origination points. One year ago, the mortgage index was 5.65 percent; four weeks ago, it was 4.74 percent — at the time, a record low.
The benchmark 15-year fixed-rate mortgage fell 6 basis points, to 4.11 percent. The benchmark 5/1 adjustable-rate mortgage tumbled 12 basis points, to 3.95 percent. The benchmark 30-year fixed-rate jumbo mortgage fell 9 basis points, to 5.34 percent.
All of those rates — the 30-year fixed, the 15-year fixed, the 5/1 ARM and the jumbo — are record lows in Bankrate's survey. Records from the National Bureau of Economic Research suggest that the 30-year fixed hasn't been this low since the mid-1950s.
Weekly national mortgage survey
Results of Bankrate.com's Aug. 4, 2010, weekly national survey of large lenders and the effect on monthly payments for a $165,000 loan:
Get in the pool
More than three-quarters of mortgage applications are coming from homeowners who want to refinance their home loans, according to the Mortgage Bankers Association.
The rate on the 30-year fixed has been below 5 percent since May, and it seems remarkable that some people haven't jumped into the refi pool until now. But that's because low mortgage rates aren't exactly the top item on the evening news.
People are "very focused on rates when it's time to go out and buy a house," says Jim Sahnger, mortgage consultant for Palm Beach Financial Network, in Stuart, Fla.
And people often keep an eye on mortgage rates when there's a lot of sales turnover in their neighborhoods, he adds.
"But if you don't have a lot of sales that are taking place, you might not be thinking about lower rates," Sahnger says.
Appraisal surprise
Another thing that discourages potential refinancers is the perception that their homes can't appraise at a level that would justify a refi. However, sometimes an appraisal can deliver a pleasant surprise.
"The last three or four appraisals that I've gotten back have actually surprised to the upside," says Michael Becker, mortgage banker for Happy Mortgage, in Lutherville, Md.
The homebuyer tax credit, which expired at the end of April, helped today's appraisals, Becker theorizes. The tax credit stimulated home sales and supported prices, Becker believes, citing recent upticks in the Case-Shiller and other home price indexes.
Appraisers also have fresher home sales to use as comparables, reducing the need to make "declining market adjustments."
"The appraised values on a lot of properties have come in a little higher," Becker says. "I haven't seen that in a couple of years. If someone is thinking of refinancing because rates are so good, and if they think that they're on the borderline (as far as appraised value), this might be their chance."
Sahnger notes that appraisals sometimes are waived for homeowners applying under the Home Affordable Refinance Program, or HARP, especially homeowners who don't have mortgage insurance and who owe less than 105 percent of the home's value.
Sahnger says: "The big thing is pick up the phone, have a conversation with your loan officer and say, 'Can you run this to see if I'm going to need an appraisal?' And you may not."
How long can these low rates last? Dick Lepre, senior loan officer for Residential Pacific Mortgage in San Francisco, cites recent economic research that shows waning consumer spending, implying the possibility of a double-dip recession. That would be bad for the overall economy, Lepre says.
On the other hand, "it's something that will keep mortgage rates low for a prolonged time," he says.