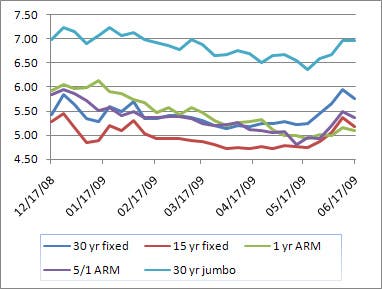 The federal funds rate, from which the prime rate is derived, is the target rate set by the Federal Open Market Committee. Since December 2008, the rate has been at a range of 0 percent to 0.25 percent.
If the federal funds rate isn't moving but interest rates on various products are, what's driving rate changes? Below, Bankrate shows you what is causing rate changes in mortgages, home equity loans, auto loans, CDs and money market accounts, and credit cards.
Mortgages
The Federal Open Market Committee once again left the federal funds rate unchanged at its June 23 to June 24 meeting. The rate has not budged in more than six months.
Mortgage rates have not been so placid during that time. After falling to near historic lows in the spring, they recently shot up almost three-quarters of a percentage point over three weeks before settling back a bit.
"It's been kind of a roller coaster," says Bob Walters, chief economist for Quicken Loans.
Today, mortgage rates are substantially higher than they were just a few weeks ago. As a result, mortgage activity has plunged, according to the Mortgage Bankers Association.
Then and now
Product
Rate on

Dec. 18, 2008

Rate on

June 17, 2009

30-year fixed mortgage
5.42%
5.76%
What do mortgage shoppers need to know about rates as they look into the future?
"The general trend of interest rates is higher," Walters says. "I think people who are waiting for some kind of nirvana rate are going to be disappointed."
The Fed vs. Mr. Market
It's impossible to pinpoint a single factor that causes mortgage rates to move up or down. Still, mortgage experts often have observed that fixed-rate mortgage rates typically follow the direction of long-term Treasury rates.
Late last year, mortgage rates hovered near 6.5 percent. Then, on Nov. 25, the Federal Reserve announced plans to buy up $500 billion in mortgage-backed securities in an attempt to drive mortgage rates lower.
Mortgage rates immediately plunged more than 30 basis points. A basis point is one-hundredth of a percentage point. But a funny thing happened to Treasury rates not long after the Fed's November announcement.
"If you look at a chart, ever since then, Treasury rates have been rising," Walters says.
Mortgage rates continued to decline for most of this year, widening the spread between sinking mortgage rates and climbing Treasury rates. The Fed then pressured mortgage rates further in March by announcing plans to buy up an additional $750 billion in mortgage-backed securities and up to $300 billion in Treasury securities. Mortgage rates slid again, with the 30-year, fixed-rate mortgage hitting a low of 5.13 percent April 1.
At the same time, Treasuries stubbornly kept climbing, recently rising as much as 160 basis points over their late-2008 record lows as investors have grown increasingly nervous over the growing U.S. debt load and the threat of future inflation.
Mortgage rates reversed course in late May, surging to six-month highs despite the Fed's best efforts to contain them. Walters believes the uptick reveals the limits of the government's power to control market forces.
"I think people sometimes miss that the mortgage market is an $11 trillion market," he says. "The mortgage market is a monster, and there are many participants in that arena. So, as powerful as the U.S. government is, it's not as though they set those interest rates in stone."
Trends and opportunities
While it's impossible to predict the direction of mortgage rates, smart consumers can take advantage of trends and opportunities in today's market.
Dan Green, a Cincinnati-based Certified Mortgage Planner with Mobium Mortgage Group, has noticed a recent mortgage rate pattern he calls the "plunge and surge." He describes the sequence as follows: "Mortgage rates fall to unfathomable levels, stay there for a few hours and then surge higher."
This pattern has occurred six separate times since September 2008, Green says. Each episode lasts about four days and presents an opportunity for well-prepared mortgage shoppers, he says.
"The key is for consumers to be ready for the 'plunge' part so they can lock their rate before the 'surge' starts," says Green, who also writes The Mortgage Reports blog.
New possibilities also abound for consumers locked out of the market during the recent housing boom, according to Jeff Lazerson, president of Mortgage Grader, a mortgage broker based in Laguna Niguel, Calif.
"A lot of those people were responsible — they didn't want to buy or couldn't buy a few years ago," Lazerson says. "So they were just waiting till they could, and now they can."
First-time homebuyers are particularly blessed right now, Walters says. A buyer's market and government incentives have combined to create a once-in-a-generation climate for entry-level buyers, he says.
"Take advantage of the $8,000 tax credit, take advantage of 5.5 percent interest rates, take advantage of home prices down 50 percent in many markets," he says. "It just doesn't get any better than that."
Nervous shoppers inclined to a wait-and-see approach should be aware that the $8,000 tax credit and the Fed's campaign of buying mortgage-backed securities are scheduled to expire by the end of the year. In particular, the end of the latter could send rates higher, Walters says.
"If the government wasn't in the market right now, mortgage interest rates would be 6.5 percent or higher," Walters says. Given that mortgage rates remain low by historical standards, shoppers still have plenty of good reasons to purchase now, Lazerson says.
"Rates are still good — not quite as good as they were, but they're still very good," he says. "So if you have an opportunity to buy that house that you are just dying to buy, don't wait."
If you're dealing with other money problems, Bankrate can help. Read "How to solve 5 money problems."
Mortgage rates since Dec. 16, 2008
Back to the Federal Reserve coverage main page.
You can find mortgage rates using Bankrate's search tool.