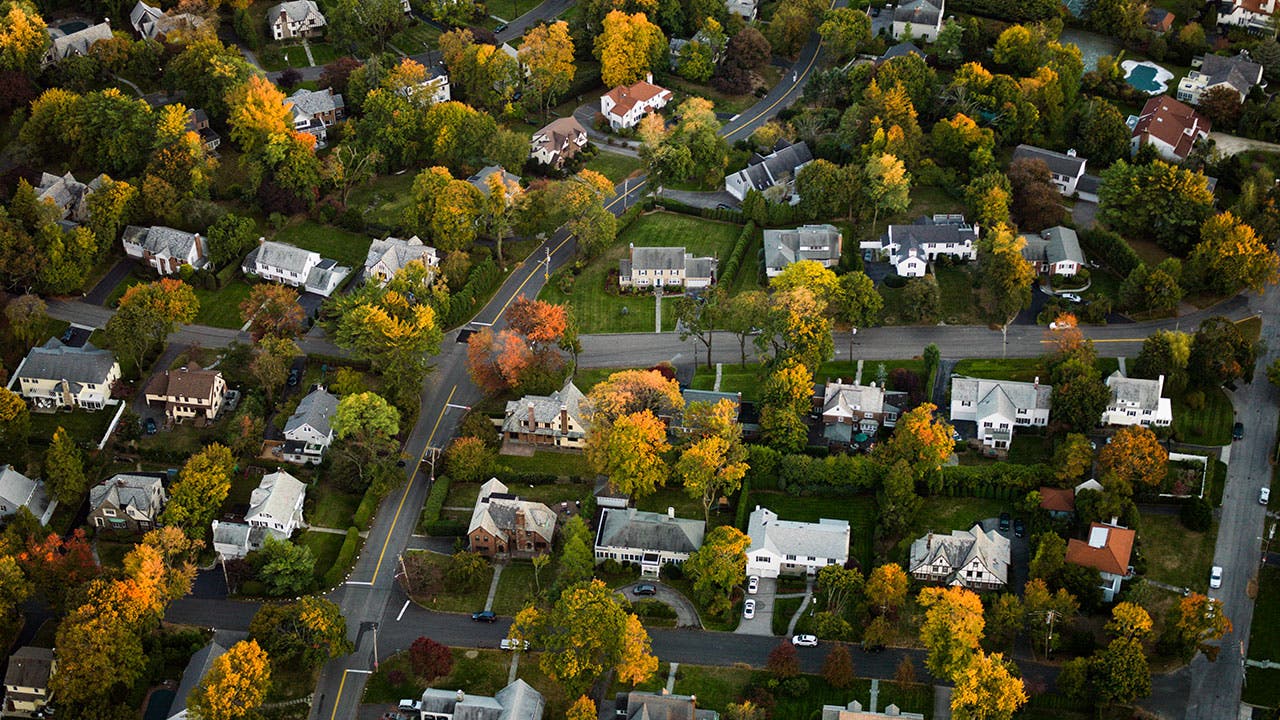 Buying a home is one of the biggest, and longest-term, investments you'll make — so it's important to choose wisely.
Sometimes, especially if you're moving into an unfamiliar area or relocating to a new city, it can be hard to get to know the neighborhood before you move in. Plus, thanks to the Fair Housing Act of 1968, real estate agents are restricted in what they can share with potential home buyers in an attempt to curbs discrimination based on race, national origin, religion, sex, disability or family status.
"The information we can offer is pretty limited to the house itself. You have to be careful about what you say in order to follow the rules," explains Holly Leonard, owner and agent at Atlanta-based Haven Real Estate Brokers. "The responsibility is really on the homeowner to do their due diligence on the neighborhood and the area."
There are, however, many resources that can help prospective homebuyers scope out a new neighborhood. Before you sign on the dotted line, use these helpful tips to make sure you're happy for the long-haul.
1. Safety first
Safety is probably at the top of your list, and fortunately, there are plenty of ways for you to do your research. Make some time for good, old-fashioned legwork by calling or visiting the local police department to gather information on crime in the precinct. It's also smart to check community newspapers since they often have police blotter sections filled with everything from recent petty theft to more serious crimes.
If you're researching from afar, you can check one of the many online resources available to prospective home buyers. Neighborhood Scout, for instance, lets you compare various crime rates (overall, property, violent) to other cities and states.
Similarly, Crime Reports works with more than 1,000 law enforcement departments nationwide to compile statistics and trends, searchable by geographic area. To get the scoop on nearby sex offenders, check the U.S. Department of Justice's National Sex Offender database or Family Watchdog, which also offers email alerts.
2. Schools that make the grade
According to a 2018 survey by Realtor.com, 73 percent of successful buyers surveyed said school boundaries were important to their home search — and rightfully so. Even if you're not a parent, buying in a good school district can impact your future home's resale value.
To scope out the best school districts, you can check out a few online resources such as Great Schools or School Digger. These sites allow users to explore and compare student test scores, rankings, student to teacher ratios and more for nearby elementary, middle, and high schools.
Moreover, while numbers and rankings are valuable, they don't always tell the whole story, so Leonard encourages prospective buyers to do some on the ground investigating like reading parent-teacher association newsletters or simply stopping by the local school to check it out.
3. Sample the commute
According to the U.S. Census Bureau, the national average for commute times tops 25 minutes each way, and thanks to high traffic volume, time in the car can be even longer in the nation's biggest metropolises.
To make sure your new home will have a workable commute, it's wise to drive to and from your prospective neighborhood a few times, or at least check the drive times in a GPS mapping system like Waze or Google Maps, both of which estimate travel times based on traffic.
4. Get the lay of the land
Almost any neighborhood can look welcoming on a sunny Saturday during an afternoon open house, but the character of an area can change when the sun goes down. To get an accurate picture, visit during different times of day and night, since a community that seems quiet on a weekday morning might be party central on a weekend night.
If you can, take time to chat with residents about what they like—and don't like— about the neighborhood and take note of whether or not surrounding properties are well maintained.
5. Walkability and transit
Leverage online resources like Walk Score, which includes more than 3,000 cities and 10,000 neighborhoods, to determine how walkable your prospective neighborhood is.
The algorithm studies traffic patterns, public transit access, commute times and proximity to restaurants, offices and retail, giving you a snapshot of how often you'll need to fire up your vehicle.
6. Interesting developments
If you view a home as a long-term commitment, you'll want to know what developments are in the pipeline for the area. Start by reading news reports for clues on planned commercial and residential builds, and scour social media sites like Twitter, Facebook and Next Door for chatter about upcoming changes and the corresponding community sentiment.
You can also call the city or county to inquire about new or widening roads and proposed redistricting. There's nothing worse than falling in love with a charming park nearby and having it converted to a massive development just as you're moving in.
7. Take your time
If you're not on a rushed deadline, Leonard recommends taking time to rent in the area you think you want to live before purchasing. "If you can avoid it, don't jump right into buying," she says. "It's important to learn the nuances of an area, and the best way to do that is to actually live in the community."
In the absence of that sort of time, you can do some research on websites like Area Vibes to help find the best place to live for the factors you prioritize. For instance, someone who wants lots of amenities like parks, restaurants and theaters might choose a different neighborhood than a buyer who values ultra-convenient public transit.