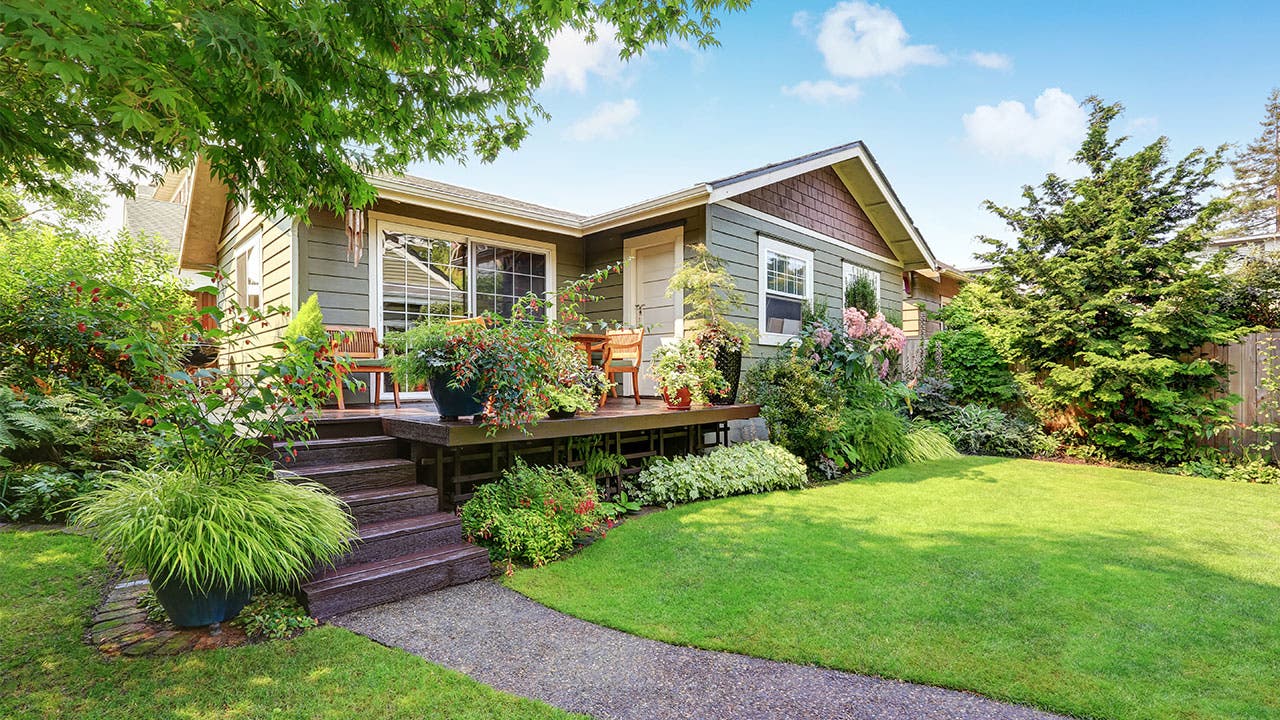 Home equity loans and other home equity products are appealing options if you're looking to consolidate debt. That's because they offer some of the lowest interest rates available, especially compared with personal loans or credit cards. With a lower interest rate, you'll pay less over the life of the loan and pay down your debt faster.
Debt consolidation with home equity loans and HELOCs is best if you have a stable financial history and know you can make payments on time. Home equity loans and HELOCs use your house as collateral, so if you fail to make timely payments, you risk losing your home.
If you're sure a home equity product is right for you, it's important to choose a lender that offers favorable terms. Our home equity lender reviews highlight our top five picks for debt consolidation:
View home equity rates
Tap into the value you have in your home to get the funds you need.
No. 1: Discover home equity loans
Best for: People who want flexible payment terms and few out-of-pocket costs
Discover home equity loans offer fixed interest rates, a variety of payment terms and fewer out-of-pocket expenses than other lenders.
With a home equity loan from Discover, you can expect:
Loan amounts from $35,000-$150,000
Zero application fees, appraisal costs or cash due at closing
No mortgage taxes
No origination fees
Flexible repayments terms: 10, 12, 15, 20 or 30 years
Keep in mind that Discover offers a fixed interest rate on home equity loans. While this rate might be higher than the low end of a variable interest rate, it's guaranteed to stay the same over the life of the loan. That means your monthly payment stays the same, too. This kind of predictability can be helpful when you're working to get out of debt.
No. 2: Third Federal home equity loans and lines of credit
Best for: People who want the lowest variable interest rate they can find
Third Federal Bank offers 5, 10, and 30-year home equity products with rates that tend to be lower than other lenders — often half a percentage point lower (think 4.5 percent when other lenders are offering 5 percent).
You can choose from:
Fixed and adjustable rates for a traditional home equity loan
Adjustable rate for a HELOC
Adjustable rate for a Third Federal 5/1 Adjustable Home Equity Loan
A Third Federal 5/1 loan offers a very low interest rate that could save you as much as $2,000 during the first five years of repayment. After five years, your rate will be adjusted to reflect the prime rate (an index used by banks to set rates for loans and other products) minus 1 percent.
The great thing about a Third Federal 5/1 loan is that your adjustable rate will always be lower than the prime rate, and you're guaranteed a low interest rate for the first five years of your loan. But after five years, if the prime rate spikes, expect your interest rate to spike, too.
No. 3: Lower home equity loans and lines of credit
Best for: People who don't have much equity in their home
Lower is a mortgage company that also offers home equity products. Its HELOC, or home equity line of credit, can be used to consolidate large amounts of debt — up to $350,000.
Your line of credit limit will be determined by your financial history, credit score and combined loan-to-value ratio, or CLTV.
Understanding your LTV vs. CLTV
Your LTV, or loan-to-value, is a percentage that reflects the difference between your home value and the amount you still owe on your mortgage.
Let's say your home is worth $350,000, you have only one mortgage, and you still owe $200,000 on that mortgage. Your LTV is determined by dividing the amount you still owe on your mortgage ($200,000) by the property value ($350,000).
200,000/350,000 = 0.57, or 57% LTV.
Your CLTV takes into account all loans or lines of credit that use your house as collateral, plus the amount you want to borrow. If you already have a second mortgage or HELOC, that will be taken into account when determining your CLTV for a lower HELOC.
Let's say your home is worth $350,000, you still owe $100,000 on your mortgage, and you want to borrow $50,000. In this case, your CLTV would be:
100,000 + 50,000 / 350,000 = 0.43, or 43% CLTV.
While most lenders look for a CLTV that's less than 80 percent, Lower offers its HELOC to borrowers with up to 95 percent CLTV.
So, if you have a high CLTV or you don't have much equity in your home, don't worry — you still may be able to get a HELOC through Lower.
With a CLTV above 80 percent, you may have to pay a higher interest rate to get a HELOC, however. Lower's interest rates for HELOCs typically range from 4 to 9 percent but can max out at 18 percent in rare circumstances.
No. 4: Figure home equity loans
Best for: People who like fast funding and hate paperwork
Figure offers a completely digital home equity debt consolidation loan. You can apply, get pre-qualified, verify your identity, notarize documents and get your funds — all without printing, mailing or faxing a thing.
With a home equity loan from Figure, you'll also get:
Approval in as little as 5 minutes
Funds in as little as 5 days
APR as low as 4.99 percent
Fixed monthly payments
No appraisal fees
Figure looks for a minimum credit score of 600 and a combined LTV (CLTV) of 95 percent or less.
If your CLTV is higher than 95 percent, or your credit score is lower than 600, you might want to consider:
Lower: No. 3 for debt consolidation and offers a HELOC up to 95 percent CLTV
Spring EQ: No. 5 for debt consolidation and is more flexible on credit scores
A personal loan for debt consolidation
A balance transfer credit card
No. 5: Spring EQ home equity loans
Best for: People who want a low monthly payment or need to boost their credit
With a Spring EQ home equity loan, you can get a low, fixed rate with a low monthly payment — even if your credit needs work. Spring EQ offers longer loan terms (up to 30 years) so you can pay less each month while rebuilding your credit.
Another benefit of Spring EQ is the more you borrow, the less you'll pay in fees. If you need to borrow a larger sum between $80,000 and $250,000, you'll pay less in application and closing fees than borrowers who borrow less.
Spring EQ also offers:
Free quote without a credit check
Pre-qualification in 5 minutes
Funding in about 14 days
No in-home appraisal
10, 15, 20 and 30-year loan terms
Spring EQ home equity debt consolidation loans come with fixed rates, so it's possible you'll pay more in interest than you would with a lower, adjustable interest rate. On the other hand, an adjustable interest rate could suddenly rise to even higher than the average fixed rate, so consider that risk before deciding which type of interest rate you want.
Factors to Consider When Choosing Your Loan
There are as many reasons to consolidate debt as there are loan products on the market. Because of this, it's a good idea to be able to understand your financial situation before going into a new loan. Your home's equity, your credit score, the timeline you need the money and whether you would rather start with an interest-only variable rate or a fixed-rate interest and principal loan will all factor into your final choice. Bankrate's home equity rates page can help you to compare the latest rates and find the right product for you.
Some of the benefits of debt consolidation include lower payments, a fixed monthly payment, and lower interest rates. In many cases, you can combine all the money you were using to pay multiple, high-interest debts and be debt-free much more quickly.
More interested in an adjustable rate home equity product? Try one of the other lenders featured in our home equity lender reviews.