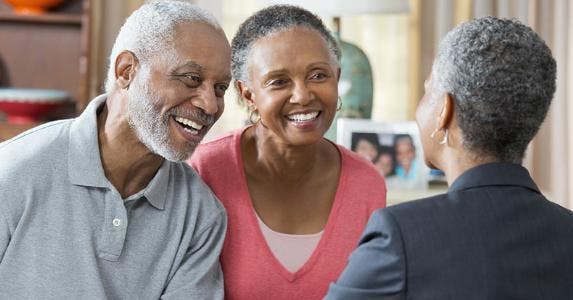 Dear Senior Living Adviser,
I need to know if I can change from my first reverse mortgage to another reverse mortgage. I am truly curious.
— Rebecca Refi
Ariel Skelley/Blend Images/Getty Images
Dear Rebecca,
Refinancing a reverse mortgage has always been an option, just like any other mortgage refinancing. However, the conditions when this is beneficial to the homeowner are fairly narrow. The litmus test is when the homeowner receives a substantial benefit compared to the closing costs incurred in refinancing the loan.
This generally happens if the home has substantially appreciated in value, interest rates have decreased or when changing the type of reverse mortgage makes economic sense, like a switch to a fixed-rate reverse mortgage in a rising interest rate environment.
SEARCH RATES: Get the best rate today on a mortgage refinance.
A reverse mortgage case study
Here's an example of when it may make sense. The homeowner did a reverse mortgage in the year 2000 when the home was worth $200,000 and the interest rate was 7%. There is a remaining line of credit of $50,000.
In 2015, the home is worth $350,000. If the homeowner did a reverse mortgage today, the lender would pay off the outstanding reverse mortgage balance, and the homeowner would have a lower interest rate and a new available line of credit of $98,000.
Assuming the closing costs are $8,000 and the increased line of credit benefit was $48,000, this would be a 6-to-1 ratio and fall within ethical guidelines for refinancing a home equity conversion mortgage, or HECM.
FREE TOOL: If you're planning on refinancing a mortgage, first check your credit score for free at myBankrate.com.
HUD cracks down
For most reverse mortgages originated after 2006, refinancing usually doesn't make sense. An unethical lender will push for a refinance even if the client spent $8,000 in fees and received $8,000 in benefits. The Department of Housing and Urban Development has cracked down on this type of "flipping" in its FHA-insured HECMs, the most commonly available type of reverse mortgage.
Thanks to Don Graves, principal of the HECM Mortgage Advisors Group, for his help in framing this advice.
Ask the adviser
To ask a question of Dr. Don, go to the "Ask the Experts" page and select one of these topics: "Senior Living," "Financing a home," "Saving & Investing" or "Money." Read more Dr. Don columns for additional personal finance advice.
Bankrate's content, including the guidance of its advice-and-expert columns and this website, is intended only to assist you with financial decisions. The content is broad in scope and does not consider your personal financial situation. Bankrate recommends that you seek the advice of advisers who are fully aware of your individual circumstances before making any final decisions or implementing any financial strategy. Please remember that your use of this website is governed by Bankrate's Terms of Use.