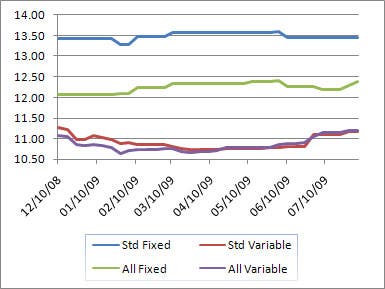 The federal funds rate, from which the prime rate is derived, is the target rate set by the Federal Open Market Committee. Since December 2008, the rate has been at a range of zero percent to 0.25 percent.
If the federal funds rate isn't moving but interest rates on various products are, what's driving rate changes? Below, Bankrate shows you what is causing rate changes in mortgages, home equity loans, auto loans, CDs and money market accounts and credit cards.
Credit Cards
The prime rate has been sitting at a record low since December, and yet credit card variable interest rates indexed to it have begun to inch north. The average variable rate for new customers sank as low as 10.63 percent in the first few months of 2009, and crept as high as 10.9 percent in the second quarter, according to Bankrate's weekly credit card surveys.
"Credit card rates bottomed back in the first quarter of this year," says Greg McBride, senior financial analyst for Bankrate.com. "Since then rates have begun to rebound as card issuers respond to mounting defaults and the passage of the CARD Act."
Then and now
Product
Rate on

Dec. 18, 2008

Rate on

Aug. 5, 2009

Variable rate credit card
11.04%
11.2%
The national credit card delinquency rate reached a record 6.50 percent in the first quarter of 2009, according to Federal Reserve data.
In addition, issuers are converting some of their fixed-rate cards to variable rate. Bank of America, JPMorgan Chase, Capital One and Discover Financial Services are among those issuers that have switched a portion of their portfolios to a variable rate. The trend is also showing up in credit card offers. New research from credit card mail tracking service Synovate Mail Monitor found that all of the direct mail credit card offers sent in the second quarter of 2009 were tied to variable-rate products. A year ago, 60 percent of mailed solicitations were for variable-rate cards.
The move to variable-rate cards is only partly explained by issuers wanting to position themselves for eventual increases in the prime rate. "This is indicative that card issuers are now reluctant if not completely unwilling to issue fixed-rate cards because of the provisions in the CARD Act," says McBride. "I expect it will remain this way until interest rates peak, presumably a few years from now."
Under the law, issuers don't have to notify variable-rate cardholders in advance of any rate hikes associated with upticks in the index. Such rate increases can apply to existing balances and can occur inside the first year after account opening, a period during which rates are supposed to remain unchanged. Someone with a fixed-rate card would get 45 days advance notice before their interest rate went up and would enjoy a rate freeze during the first year. The 45-day notice requirement goes into effect Aug. 20, while most of the provisions take hold in February.
The difference between the current prime rate of 3.25 percent and the average rate of 11.92 percent on the offers also leaves an attractive margin for issuers, says Anuj Shahani, director of competitive tracking services for Synovate's Financial Services Group in New York. "This is the time that issuers have to jump in and lock that nice, sweet margin for themselves."
Credit card interest rates since December 2008
You can compare credit card rates using Bankrate's search tool.
Back to the Federal Reserve coverage main page.