Bankrate's latest high-yield checking survey finds that account holders can expect to make a few hundred dollars' worth of interest on many accounts, provided they have the cash necessary and meet a few basic conditions.
MASTERING YOUR MONEY: Make this the starting point on your money road map.
What is a high-yield checking account?
A rewards checking account that offers an unusually high interest rate on your checking deposits as long as you meet certain conditions every month. Any month you don't meet those conditions, you'll earn a much lower interest rate.
The promise of higher interest with little hassle and no additional risk is exactly what attracted Lou Panacciulli, a teacher who lives in Nassau County, New York, to high-yield checking. Panacciulli was recently offered a high-yield checking account at his credit union.
'An easy decision'
After taking a close look at the terms, he signed up for a Go Green Checking account at the Nassau Educators Federal Credit Union which, in most months, pays him an interest rate of 3%.
"It just looked like one of those deals you can't pass up," he says. "It just seemed like an easy decision."
So far, he has no complaints. He already had a mortgage through NEFCU, so meeting the conditions to earn the highest rewards rate, which include keeping a minimum balance and making $250 a month in debit card purchases, hasn't been a problem, Panacciulli says.
"My financial adviser always told me, make sure you have a few months' salary in the bank just for emergencies," Panacciulli says. "I enjoy great interest, I have financial security because I know I have cash on hand. What could be better?"
RATE SEARCH: Find an interest-paying checking account near you today.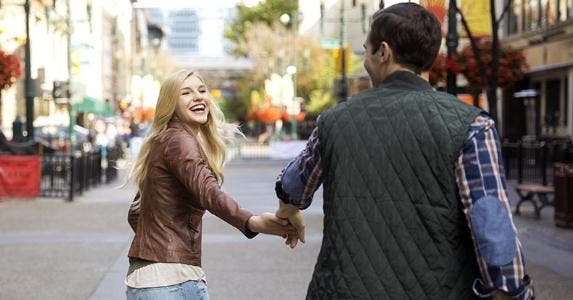 In the few months when his balance has dipped below the threshold needed to earn the top rate, he has still earned a good rate of return compared with other accounts, he says. And while the account does require Panacciulli to get e-statements, he says he prefers to do his banking online anyway because he finds it more convenient.
RATE SEARCH: Compare online checking accounts today.
Substantial earnings from a checking account?
Consistent with Panacciulli's experience, our survey finds that the right kind of account holder can earn interest that far exceeds the few fractions of a point most savings accounts are offering these days. For example, if you keep $10,000 in a Consumers Credit Union Free Rewards Checking account in good ol' Waukegan, Illinois, and earn the rewards rate, you'll rack up $309 a year in interest.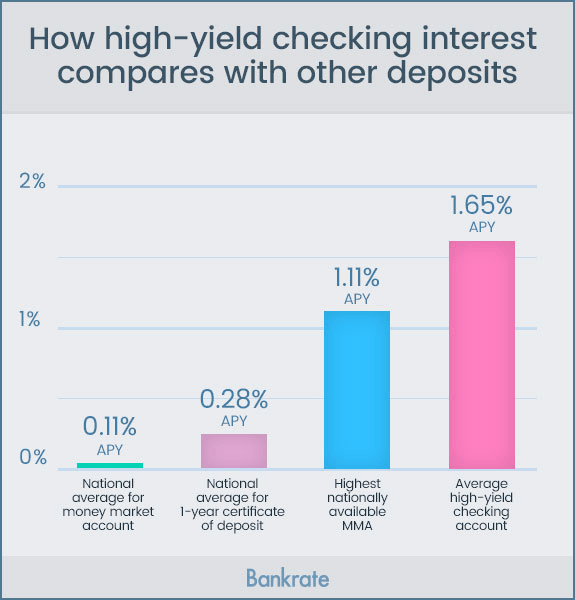 The average yield on high-yield checking accounts in our survey was 1.65%, down a tick from 1.66% we found last year.
That may not seem like much, but at a time when you'd be hard-pressed to make enough off a $10,000 savings account balance at a major bank to buy a burrito at Chipotle (sorry, no guac) during the year, it's not bad. And if you were going to keep that money in a conventional, non-interest-bearing checking account anyway, it's essentially free money.
A caveat about balances
Most banks cap the account balance you can earn that high rate on, with caps ranging from as little as $500 to $25,000, the most common limit. (Overall, the average balance cap was $16,336, down from $16,639 last year.)
That means if you're shopping for high-yield checking, you have to make sure your account balance won't exceed the cap, says Greg McBride, CFA, chief financial analyst for Bankrate.
"You're not compensated for staying above that balance cap," McBride says, which can significantly affect what you ultimately take home. For example, he says, among the accounts we surveyed, "if you're looking to deposit $25,000, the best account is actually only the 12th-highest APY."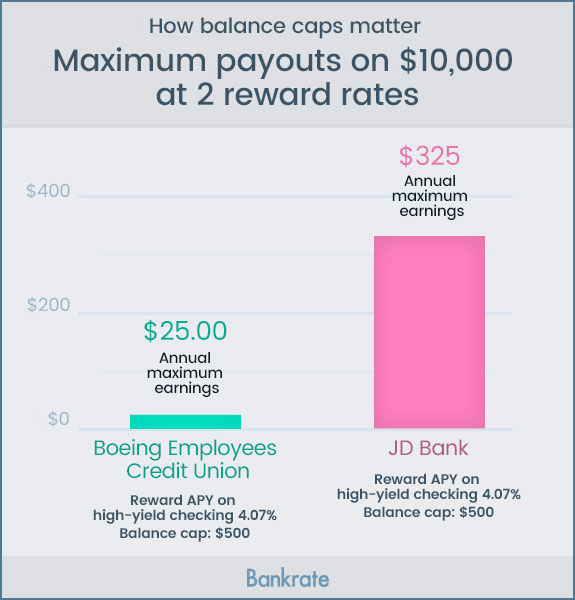 Frequent debit-card use pays off
To earn that high interest rate, the most typical requirement is frequent debit-card usage.
Of the accounts we surveyed, 93% required you to make a certain number of debit card transactions to get the maximum annual percentage yield, or APY, and about 14% required those transactions to be the "sign and swipe" type, rather than the PIN type.
The most common number of transactions required to meet that monthly requirement is 10, but it ranged as high as 15.
If you're a credit card rewards junkie, that may not work for you, says McBride. But many Americans, especially millennials, aren't exactly crazy about credit cards (In a 2015 Bankrate poll, 64% of those age 18 to 29 said they didn't have a major credit card).
For them, making 10 debit transactions in a month probably isn't a big deal, especially as average monthly debit transactions have grown.
"You're seeing average (monthly) debit card transactions probably close to 20," says David Giesen, a managing director with Navigant Transaction Advisory Services , a bank consulting firm. That makes monthly targets at most banks fairly easy to hit, Giesen says.
For the bank, those debit transactions serve multiple purposes, Giesen says: keeping customers engaged, generating interchange fees charged to merchants, which help finance the high interest rate, and discouraging account holders from writing paper checks.
"You don't have paper issues the way you would with checks," Giesen says. With debit, he says, "you're not scanning and moving paper; you're just watching the signal go back and forth."
Mostly electronic access
In order to pay you that nice, fat interest rate, banks have to keep their expenses low on these accounts. The debit card requirement helps accomplish that through a number of cost-saving requirements, including receiving electronic statements. A whopping 98% of the high-yield checking accounts we surveyed require you to get your statements electronically to earn the rewards interest rate.
"It's a behavior-changing approach to pricing," says Jay Coakley, a banking consultant and president of Coakley Strategic Solutions. "The bank is saying, 'We'll pay you a higher interest rate if you'll conduct business in a way that will save us money.' "
You'll also likely need to sign up for either an automatic bill pay or a direct deposit to earn the rewards rate. Among those accounts we surveyed, 80% require you to pick one or the other.
One sticking point may be ATMs, says McBride. Unless the bank is part of a larger ATM network, or provides a monthly allowance for ATM charges, you may end up seeing ATM fees eat away at your balance, McBride says.
Lower 'default rate' awaits some
If you fail to meet the conditions to earn that high rewards rate, you'll earn a paltry "default APY" that ranges from 0% to .25%, with the most common being .05% (although more than you'd likely have earned in a conventional checking account).
Banks that offer high-yield checking accounts know that a certain percentage of account holders won't meet conditions each month to control costs says Coakley.
While you may see a high-yield checking rate that looks unaffordably high from the bank's perspective, "the effective rate was about half that, because about 50% of the people don't qualify," Coakley says.
Basically, non-qualifying account holders end up helping to subsidize the larger interest earnings of qualifying account holders; the trick is making sure you fit into the 2nd category, rather than the 1st.
Still, even the default rate on these accounts may be better than what you're getting on your savings. According to Bankrate's weekly survey, the average APY for a money-market account in the U.S. is 0.11%, lower than the default rates of 6 of the high-yield checking accounts we surveyed.
Not available at your friendly neighborhood megabank
Of the accounts we surveyed, less than half were offered nationwide, with many requiring account holders to reside in a certain area to be eligible.
That's in part because many of these accounts are being offered by smaller banks and credit unions trying to grow their deposit base in their core area of operation, says Giesen.
"If I'm a bank in Duluth, Minnesota, for example, do I really want core customers in Albuquerque, New Mexico? Probably not," he says. "It's a function, in some ways, of where a bank is trying to market, where a bank is trying to cross-sell, where it's trying to grow its deposit base."
If you can find an account that fits your location and profile, though, you may find it getting more appealing as time goes on. It's likely that high-yield checking accounts will be among the first to increase interest payouts as the Federal Reserve raises rates, McBride says.
"What limited rate hikes we see on deposit products over the next year are going to be on some of these accounts and the top-yielding online savings accounts," McBride says.
RATE SEARCH: Search today for an