Before you decide to take out a home equity line of credit, it's smart to know whether the interest on your HELOC might be tax-deductible. The federal tax law that was passed in December 2017 changed the rules on mortgage interest deductions. Make sure you understand how those changes could affect you before you borrow home equity.
People who borrow against their home equity — the difference between how much the house is worth and any debts against the home — can still deduct the interest on their loans if they opt to itemize instead of take the standard deduction. There are limits, however.
New limits on deductibility
The tax law says borrowers must use the HELOC money to "buy, build or substantially improve the taxpayer's home that secures the loan."
Stephen B. Bacon of Connecticut-based Bacon and Gendreau Tax Preparation says, "Now people have to really track how that (HELOC) money is being used and show it to us." He recommends saving receipts from contractors and others who make home improvements.
Borrowers who use home equity to buy a vacation home or invest in other real estate they're not borrowing against won't be able to deduct the interest paid against their taxable income.
The same goes for those who use HELOCs to consolidate student loans or high-interest credit card bills, or to pay for a wedding or vacation.
This is a big change from previous years, when HELOC borrowers were allowed to deduct the interest, even if they spent the loan on things that had nothing to do with their homes.
Home improvements and repairs are, by far, considered the best reason to borrow against home equity, according to a 2018 Bankrate survey.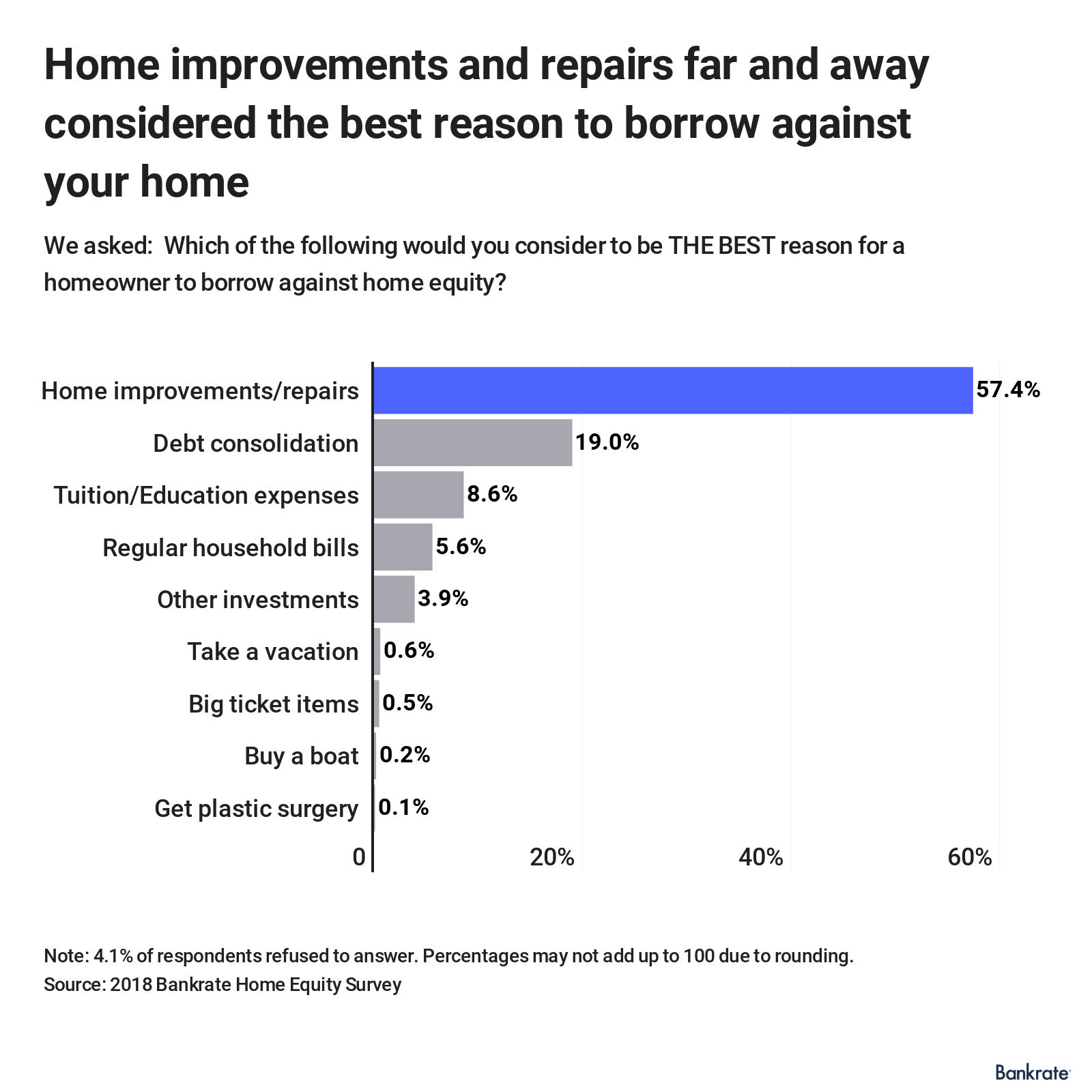 Lower cap on deductible mortgage debt
Another tax change HELOC borrowers should know about: The Tax Cuts and Jobs Act lowered the cap on the amount of home loan debt that qualifies for the interest deduction from $1 million to $750,000.
Interest on home loan debt above $750,000 is not deductible. The good news is that the $1 million limit still applies to any mortgage taken out before Dec. 15, 2017.
The tax changes around home equity loan deductions won't help homeowners who owe more on their mortgage than the home is worth, also known as being underwater.
Under prior law, the combined balance of the loans, including HELOCs, cannot exceed the value of the home. Put another way, a homeowner shouldn't borrow $300,000 against a $250,000 home and expect the taxman to give them a break on the interest from the loans that exceed the maximum allowed.
Higher standard deductions
The new, higher standard deductions are another factor that will influence your tax strategy. The new tax law nearly doubled the standard exemptions. For married couples, it went from $13,000 to $24,000; for single filers, it rose from $6,500 to $12,000.
After totaling your itemized expenses, including your HELOC interest, and comparing them to your standard deduction, you have to decide whether itemizing is to your advantage.
Nearly 90 percent of taxpayers were projected to take the standard deduction when filing their 2018 taxes, according to the policy research organization the Tax Foundation.
If you do end up deducting your HELOC interest, it would be claimed on IRS tax form Schedule A, Itemized Deductions.
Gendreau says residence loans (i.e., home equity loans, HELOCs and mortgages) must meet three criteria for the interest to be deductible. The debt must:
Be secured by a qualified residence(s).
Not exceed the value of the residence(s).
Be used to acquire or substantially improve the residence(s).
Loans that are secured by your main home or a second home qualify for the home mortgage interest deduction. These include a mortgage to buy your home, a second mortgage, a HELOC or a home equity loan.
What to expect for the next tax year
The Tax Cut and Jobs Act went into effect for the 2018 tax year. One of the crucial changes for homeowners who have taken out HELOCs is that they can deduct the interest only if those loans were used to buy, build or renovate their homes.
Even if you have spent your HELOC money on your home, you still may not qualify for an interest tax deduction. If you have added on a room, you will probably qualify. If the renovation is purely cosmetic, you may not. "Repairs that maintain your home in good condition, such as repainting your home, aren't substantial improvements," the IRS states.
Bottom line
If you're looking to deduct HELOC interest on your taxes, you must be aware of the tax changes. Your loan is tax-deductible only if it was used toward your home. If you have used the loan to buy a second home or renovate a home and you qualify for a tax deduction, figure out whether itemized deductions will be higher than the standard deduction.
It's possible borrowers still need to learn about the new rules, Gendreau says. "One of the biggest problems is most people don't talk to us until tax season comes around."
View home equity rates
Tap into the value you have in your home to get the funds you need.
Learn more: