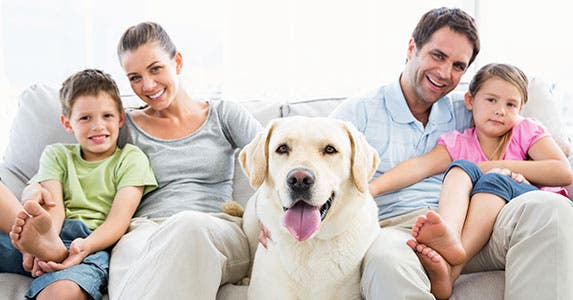 6 pet-related tax write-offs
Almost every pet owner will tell you that their animal is a member of the family.
The IRS disagrees. That's why the taxman won't let you claim your dog, cat, guinea pig or whatever critter brightens up your life as a dependent.
That means you get no tax exemption for all the love and care you provide your pet. And that care can be expensive.
Best Banks for Savings — View Today's Rates!
Market research by the American Pet Products Association found that U.S. pet owners spent more than $58 billion on their animals in 2014. The group estimates that amount will grow to more than $60 billion in 2015.
Many of those dollars go each year to veterinarians. But again, the IRS says "no" at tax time. You can't count those bills as itemized medical deductions.
However, the Internal Revenue Code does allow a few instances where you can write off some pet costs.
When you move your pet, deduct it. When you put a pet to work, deduct job-related expenses. And if your love for animals translates philanthropically, you can write that off, too.
Take a closer look at these 6 pet-related tax write-offs.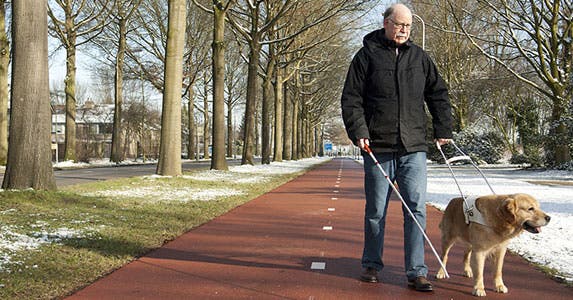 Medical deduction
© Jeroen van den Broek/Shutterstock.com
Medical expenses have gotten harder to claim. If you're younger than 65, you now must have enough health care costs to exceed 10% of your adjusted gross income.
It sure would be nice if you could add in your furry child's veterinary charges. Sorry, that's not going to happen. But the IRS does say in Publication 502 that if you need a guide dog, either to compensate for your reduced vision or hearing, you can include the costs of buying, training and maintaining that animal in medical expenses.
In general, this includes such things as food, grooming and veterinary care that is necessary to make sure the animal is healthy enough to perform its assistance duties.
If you've been diagnosed with a physical or mental condition that benefits from the attention of a trained therapy animal, those costs also count as a medical expense.
Note, however, this doesn't cover your loving cat that comforts you when he curls up in your lap. The animal must be trained or certified as treatment for a diagnosed illness or condition for the IRS to approve the deduction.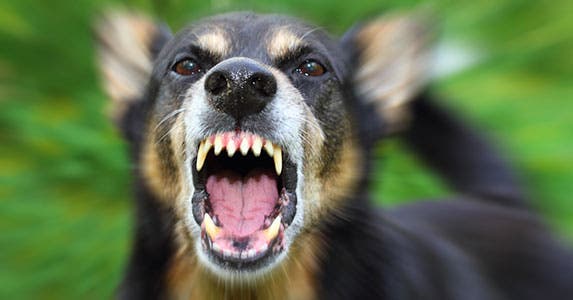 Business animals
© Verkhovynets Taras/Shutterstock.com
That "Beware of dog" sign in your business's window is no idle threat. Break-ins have stopped since you set up a place for your Rottweiler to stay overnight.
In this case, the IRS would likely be amenable to business deduction claims of the animal's work-related expenses.
Standard business deduction rules still apply, notably that the cost of keeping an animal on work premises is ordinary and necessary in your line of business. Once you show that, the dollars spent each year keeping your pooch in good guard condition — food, vet bills and training — would be deductible as a business expense.
As with all deductions, be prepared to provide full and accurate records of your animal's hours on the job. You'll also find your tax claim more acceptable when you demonstrate how the animal protects your livelihood's inventory. In addition, as is often the case with business property, the dog must be depreciated, a way of allocating its cost over its useful life for IRS purposes.
Keep in mind, too, that your claims carry more weight when your pet is a breed that's typically used for such jobs. So even though your Chihuahua has a loud bark, your tax claim is more credible if your guard dog is a German shepherd, Doberman pinscher or a similar imposing breed.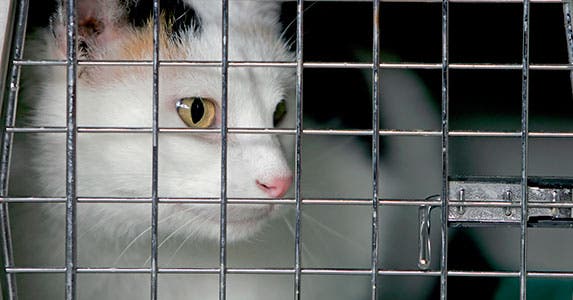 Moving costs
© Lincoln Rogers/Shutterstock.com
Moving can be tough on humans and pets alike. If you are not equipped to cart your cat or dog cross-country, consider sending the pet to your new home via special transportation.
You can even deduct the costs.
That's right, the IRS says in Publication 521 that you can deduct the cost of shipping your household pets to your new home.
Even better, you don't have to itemize deductions to claim moving costs, including those spent on getting Fido or Felix to your new place.
The write-off for moving costs is an above-the-line deduction. You'll need to fill out a work sheet and file the long Form 1040 and Form 3903 to claim it. But the work is generally worth it. The deduction could help pay for your pet's relocation costs.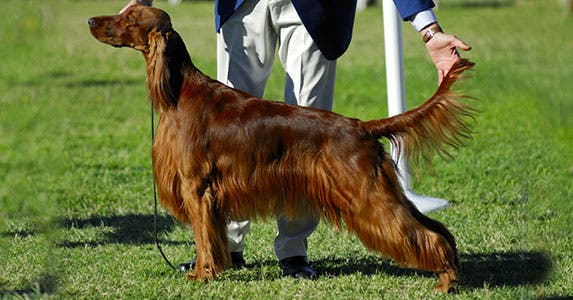 Hobby expenses
© Richard L. Paul/Shutterstock.com
Your mutt is the best dog in the world, but you know there's no way he would win at the Westminster Kennel Club show. Still, you and Fido enjoy participating in your local pet expos. And occasionally, your pooch takes home a trophy and a cash prize.
Or perhaps, like former President George W. Bush, you relax by painting portraits of your pet. A few of your canvases even netted you some extra cash at the local sidewalk art show.
Technically, those hobby-related earnings are taxable income. You can, however, use your hobby's expenses to offset your hobby earnings.
But there is a catch. Your hobby expenses are itemized with other miscellaneous deductions on Schedule A, and that total must exceed 2% of your adjusted gross income before it's deductible.
Still, it might be worth hanging on to the receipts, just in case. And if your pet-related hobby starts raking in big bucks on a regular basis, you might want to consider turning it into a business, where you can write off even more expenses.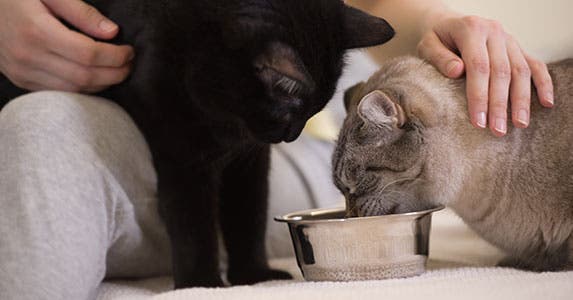 Charitable deductions
© Hasloo Group Production Studio/Shutterstock.com
You got your cat from a shelter, where she was dropped off by a previous owner who couldn't care for her any longer. If no one had adopted her, she might have faced euthanasia.
Such rescue animals hold a special place in your heart. And besides donating to these animal-shelter nonprofits, you also volunteer your time.
Be sure to keep track of your pet protection expenses. They could count as a charitable donation.
Unreimbursed expenses for fostering a pet for an IRS qualified 501(c)(3) adoption organization can be deducted. This includes the usual costs for pet food, supplies and veterinary bills. You can also deduct 14 cents per mile for trips made to further the shelter's work.
Add up the costs, along with direct donations to a rescue group, and itemize them under the charity section of Schedule A.
Make sure, though, that you keep good records. In 2011, an Oakland, California, woman won a tax court judgment that allowed her to claim many cat rescue expenses on her 2004 tax return, including the usual care costs, a portion of her utility bills and even such things as paper towels and garbage bags.
But her $12,068 deduction was reduced because she didn't have all the related receipts, especially for items costing $250 or more. She also lacked a valid letter from the feline charity acknowledging her volunteer work.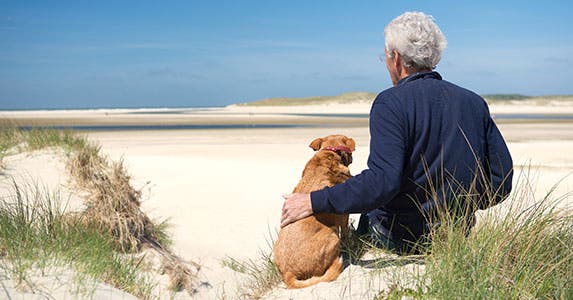 Pet trusts
© Ivonne Wierink/Shutterstock.com
Pet owners' love for their animals often lives longer than they do. Many include their pets in their wills. Others opt to establish trusts for their pets' care.
Texas Tech University School of Law professor Gerry W. Beyer specializes in estates, wills and trusts. Since he wrote his first legal treatise on pet trusts 15 years ago, Beyer has seen the field go from an obscure legal move that very few folks talked about to a "pretty well-accepted" part of estate planning.
Best Banks for Savings — View Today's Rates!
Most states have laws that allow for pet trusts, says Beyer. But even if your state lacks specific statutory language, it's still possible to set up a pet trust.
You don't have to be wealthy to set up a pet trust. Beyer does advise, though, working with an attorney who specializes in these types of legal final wishes.
And note that a trust doesn't mean zero tax concerns. Beyer says that depending on how the trust is structured, the responsible tax party could be the pet owner in the case of a living trust; the trust beneficiary, who typically is the pet's caregiver; or the trust itself.
Still, a trust is a dependable way to ensure your pet gets the care you want the animal to have after you're gone. "You get certainty," says Beyer.