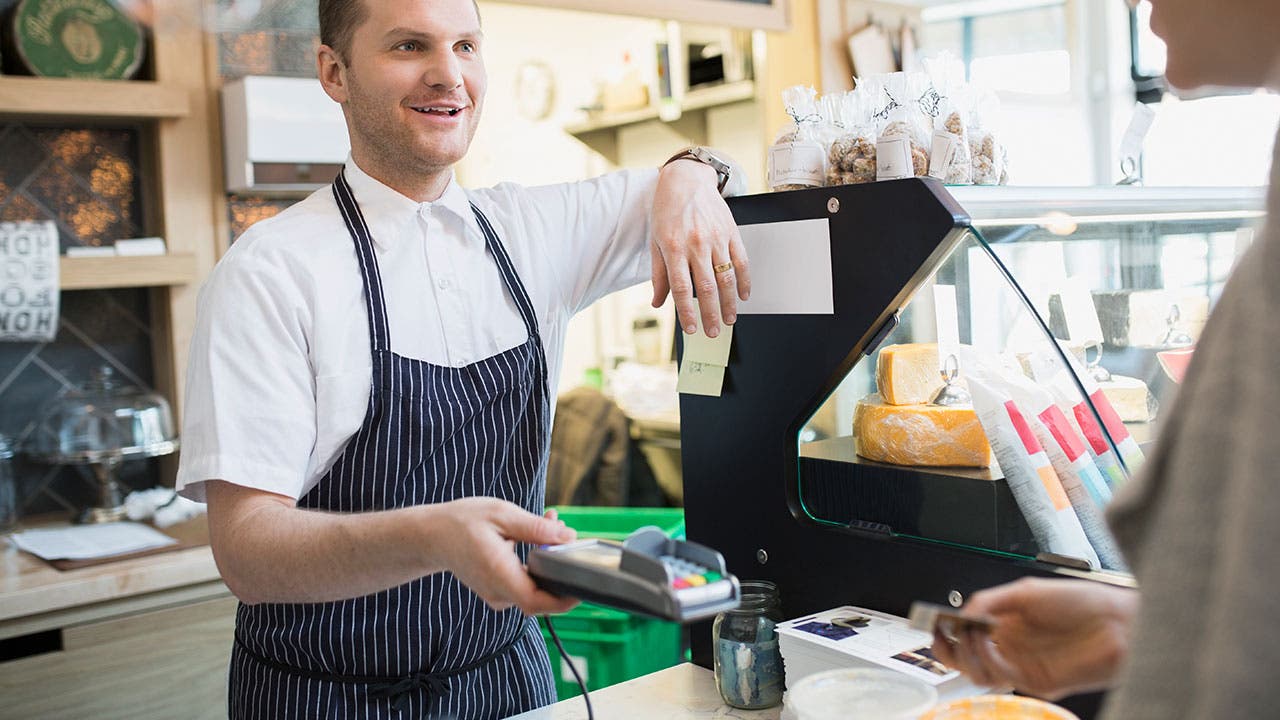 Getting a charge reversed on your credit card — called a chargeback — keeps getting easier. Now you can dispute a charge with the click of a button — online or via the card issuer's app.
That makes the process a lot simpler for consumers and card issuers, but it's not a welcome change for retailers, who increasingly are footing the bill.
Eight of 11 card issuers CreditCards.com spoke with now allow consumers to dispute a charge online. Four out of 11 also let cardholders dispute a charge via their mobile apps. Other issuers revealed they are looking into adding a button online or on the issuer's app to initiate a chargeback.
"Originally, chargebacks could only be initiated through snail mail," says Matthew Katz, CEO and chairman and founder of Verifi, a company that helps clients reduce fraud and chargebacks. "Then we started to allow chargebacks over the telephone. Then in 2010, you could start a chargeback through some card issuer websites," he says.
"The next evolution is mobile apps. No matter where you are, you can initiate a chargeback using your cellphone," he says. "That's having a very dramatic effect."
Which banks allow chargebacks online or via app?

| Issuer | Can file charge dispute online | Can file charge dispute via app |
| --- | --- | --- |
| American Express | Yes | No |
| Bank of America | Yes | No |
| Capital One | Yes | Yes |
| Chase | Yes | No |
| Citibank | Yes | Yes |
| Discover | Yes | No |
| Navy FCU | Yes | No |
| PNC Financial Services | Yes | No |
| TD Bank | No | No |
| USAA | Yes | Yes |
| Wells Fargo | Yes | Yes |
Chargebacks increased 25 percent for the first half of 2016, according to a report by Aite Group. Figures for 2017 are not yet available.
"Consumer awareness of their chargeback rights has increased over the past five years," says Julie Conroy, research director for Aite Group. "We've seen a doubling of the term 'chargeback' on Google for the past five years."
With credit cards, your rights to dispute a charge when you have a billing error or other problem you can't resolve with a seller are spelled out in the federal Truth in Lending Act and the Fair Credit Billing Act.
Chargebacks protect cardholders from fraud and give them recourse if goods or services aren't as advertised.
Why it is getting easier to dispute a charge
Conroy says there are two reasons card issuers are streamlining the chargeback process. "One is a continued focus on improving the customer experience. No one likes getting on a 13-minute call with their bank to dispute a charge," Conroy says. "If you can allow them to do this digitally, you're providing a better customer experience.
"The other is cost. The average call is 13 minutes. For some of these disputes, the consumer could be on the phone for 30 minutes," she says. "That's really expensive. The aggregate cost for U.S. issuers alone for call centers to field these calls is $2 billion a year."
The shift to EMV chip cards, which are harder to counterfeit, played another role. After Oct. 1, 2015, in-store counterfeit fraud liability shifted to the party — either the card issuing financial institution or the merchant — that had not yet adopted chip technology.
More than half of all U.S. point-of-sale credit card transactions are now processed by EMV chip technology, Conroy says. And according to Aite Group, 60 to 70 percent of chargebacks are cases of legitimate fraud.
Ease of ordering contributes to jump in chargebacks
Another driver for an increase in chargebacks is the ease of ordering online. Online merchants store your credit card information, making it easy to get the latest book, computer or music with just a few clicks.
The problem? In some cases, you don't even have to click to buy, and it doesn't even have to be the cardholder making the purchase.
"You have all these voice-controlled devices," Katz says. "There are all these amazingly nonconventional new ways for people in my house to spend money that I won't know about it. The problem is when my 5-year-old son unlocks my phone, plays a game, makes a purchase.
"Before the Internet, I went to a store and my credit card is in my pocket," Katz says. "Now my credit card isn't just in my pocket. It's digitally stored to make my shopping experience easier. It's everywhere."
When someone else in the home makes an accidental purchase using your card, you can dispute the charge via the card issuer's website or app to begin the process of getting your money back.
Buyer's remorse and gaming the system
Sometimes, though, a buyer doesn't like the item when it arrives or when he or she gets home from the store. Sometimes a customer wants to keep the product and the money, so he initiates a chargeback claiming the item was never purchased or delivered (which is called friendly fraud).
"Customers have come to believe and use the chargeback process as a refund mechanism or for buyer's remorse. Banks lack info to validate the sale, which leads to more chargebacks and friendly fraud," Katz said. "Consumers have learned they can get their money back and keep their merchandise or service as well."
Friendly fraud is especially prevalent with digital purchases, such as games and music, accounting for as much as 75 percent of chargebacks with these items, according to Aite Group.
Filing a chargeback should be a last resort
The easier card credit card companies make it for cardholders to initiate a chargeback, "the more likely it is that there will be abuse that drives up costs for retailers and prices for consumers," says J. Craig Shearman, spokesman for the National Retail Federation. He says consumers should first dispute a charge with the retailer or service provider.
It's less expensive for the retailer to resolve any dispute directly with the consumer, Shearman says. Involving the credit card issuer drives up costs for merchants, which they in turn pass on to consumers, he says.
"Retailers have a lot of concerns about chargebacks because there has been a lot of abuse ranging from frivolous to proactively criminal," Shearman says.
"Most retailers are more than willing to work with their customers and do whatever it takes to make things right when a customer is not happy," Shearman says.
"Going to the credit card company should only be a last resort," he says. "Consumers need to realize that abuse of chargebacks drives up costs for retailers. Higher costs for retailers ultimately means higher prices for consumers."
How chargebacks work
With any chargeback, six players are involved, all with different motivations.  The six players in the chargeback process are:
The consumer: You bought it, but you don't like it.
The consumer's card issuer: This is the financial institution that issued the credit card to the consumer. Many issuers offer protection to the consumer beyond the minimums set under federal law, and an issuer may offer help or mediation in a dispute.
The merchant: Its return policies, its desire to keep you as a customer and its level of fear of the credit card giants will set the initial playing field.
The merchant bank: This is the bank the merchant uses to accept credit cards for transactions. Disputes are a hassle to the merchant bank.
The law: Under the Fair Credit Billing Act, credit card purchases get some protection.
The transaction processor: Visa, Mastercard, Discover and American Express all have giant networks that pass money along to make credit card transactions work. Each has its own rules for participating merchants, merchant banks and card issuers.
Initiating a chargeback does not guarantee you will get your money back. The interplay between all six players will determine whether you actually can return that defective gadget or get your down payment back. But in general, paying by credit card gives consumers an advantage in the game. That's because consumers may enlist their credit card issuers to help mediate or resolve disputes.
See related: 6 steps to getting a credit card chargeback, Chargebacks and how to dispute a credit card purchase, Online fraud surges after EMV chip cards hit the U.S., Infographic: Higher fraud numbers can mislead, 8 FAQs about EMV chip cards
Editor's note: This story, "Banks make chargebacks easier to initiate" originally was posted on CreditCards.com.