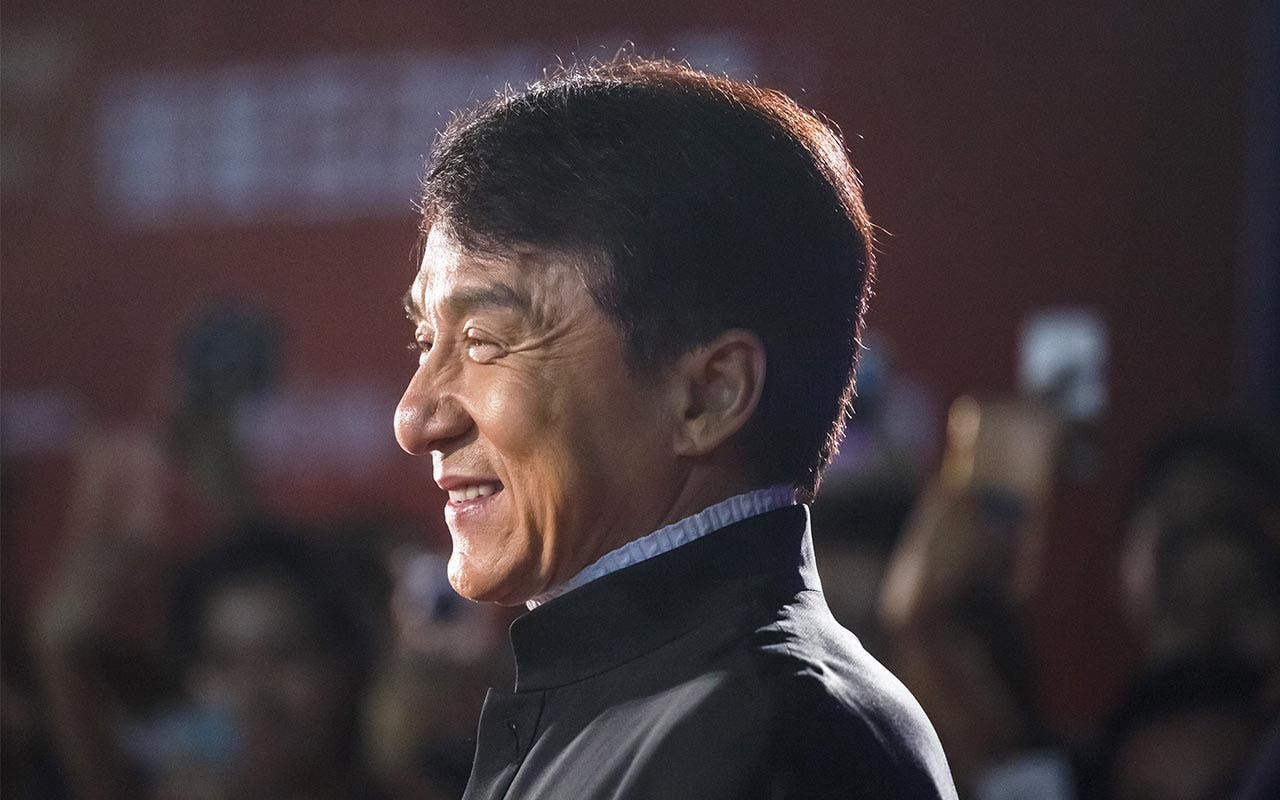 How Jackie Chan's net worth was built
Born Chan Kong-sang, Jackie Chan learned kung fu from his father. At age seven, he was enrolled in the China Drama Academy, where he learned martial arts, acrobatics, singing and acting.
In 1972 he appeared in "Fist of Fury" starring Bruce Lee. Chan developed a reputation as a fearless stuntman with extraordinary athleticism and inventiveness. This characterization has remained with the actor as he's acted, produced and directed more than 200 films.
When Chan brought humor to his martial arts films, his popularity in Asia soared. His first successful film was "Snake in the Eagle's Shadow," followed by "Drunken Master," both released in 1978. It wasn't until the mid-1990s that he became known in the U.S. After Quentin Tarantino presented him with an MTV Lifetime Achievement Award in 1995, American audiences clamored to see Chan's on-screen antics and prowess, beginning with "Rumble in the Bronx" (1996), followed by "Rush Hour" (1998), "Shanghai Noon" (2000) and "Rush Hour 2" (2001), among countless others.
Chan's net worth is compounded by his singing talents, mostly popular in Hong Kong, as well as his entrepreneurship. He founded the production company Golden Way, the modeling and casting agency Jackie's Angels, and the Jackie Chan Stuntmen Association, a stunt training academy.
Jackie Chan is worth $350 million, according to Celebrity Net Worth. You can use this net worth calculator to see your net worth.
Jackie Chan
Born: 1954
Birthplace: Hong Kong
---
What he's up to now
In 2016, Forbes listed Chan as the world's second-highest-paid actor. Chan continues to be very active in movies, both in the United States and China. Along with "Kung Fu Panda 3," in 2016 he starred in two action adventure comedies, "Skiptrace" and "Railroad Tigers," alongside his son Jaycee Chan. He was also in the animated feature "The Master: A LEGO Ninjago Short."
In 2017, Chan played the leading role in "Kung-Fu Yoga."  He is filming an adventure fantasy movie in Russia titled "Journey to China," and has four additional movies in post-production, including an action thriller called "The Foreigner."
Also announced are three of Chan's popular franchises: "Rush Hour 4," "Shanghai Dawn" and "The Karate Kid 2."
---
Accolades
Jackie Chan has won more than three dozen awards for his acting skills.  After more than 50 years in the film industry, he was presented with an honorary Oscar for his decades of work in film at the annual Governors Awards in November 2016.
Chan is an avid philanthropist as well, supporting causes including conservation, animal welfare and disaster relief.  In 2006 he announced plans to bequeath half of his assets to charity at his death. The Goodwill Ambassador for UNICEF has donated hundreds of thousands of dollars to disaster relief victims.