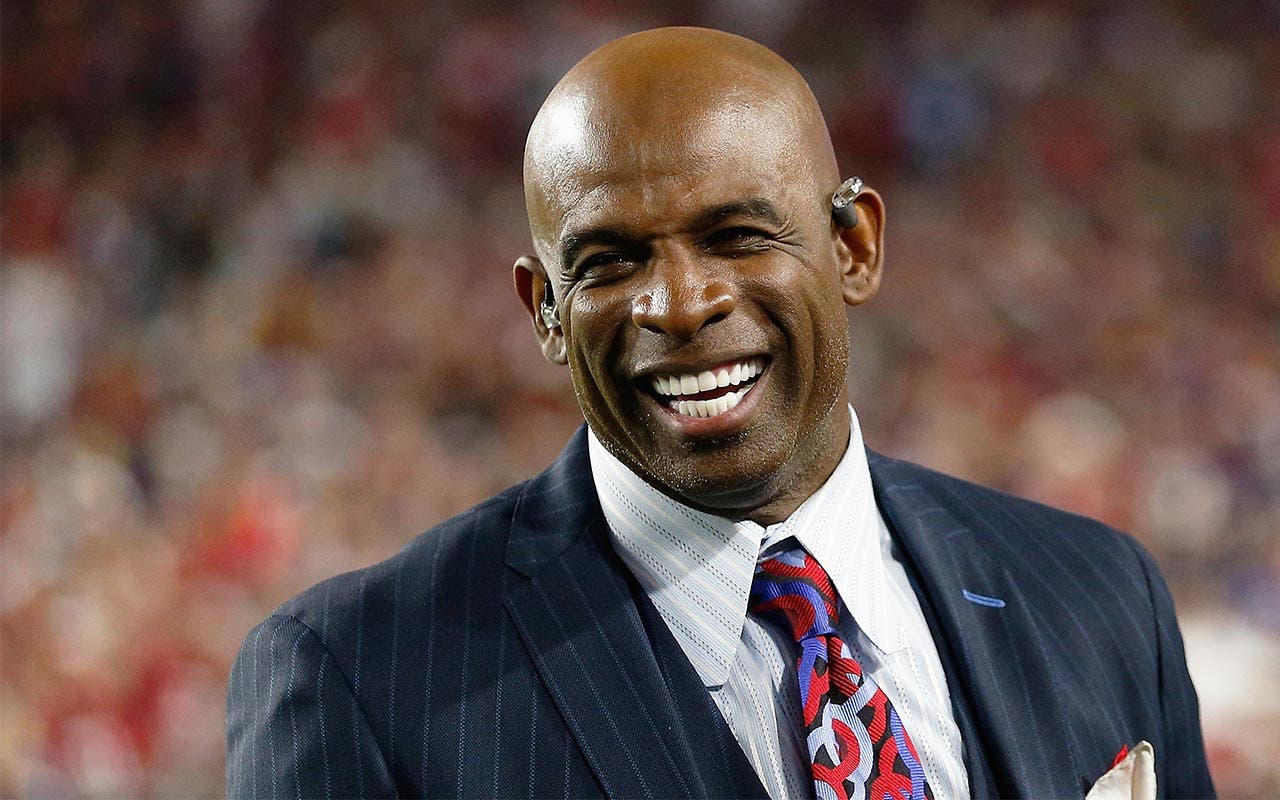 How Deion Sanders' net worth was built
Deion Sanders combined his natural athletic ability with flair as a multisport athlete.
Sanders, affectionately known as "Neon Deion" and "Prime Time," started his career by playing in the NFL and MLB, often in overlapping years.
After the Atlanta Falcons drafted Sanders in 1989, he also signed a contract with the New York Yankees. Sanders played nine MLB seasons playing for four teams and 14 NFL seasons playing for five teams.
Though Sanders was a solid baseball player, he quickly proved he would become a star in football, setting records and leading his teams to championships.
Sanders capitalized on his fame to amass more wealth by appearing in TV commercials and signing endorsement deals. As of May 2017, his net worth amounted to $40 million, according to TheRichest.
You can use this net worth calculator to see your net worth.
Deion Sanders
Birthplace: Fort Myers, Florida
---
What he's up to now
After retiring, Sanders took his talents off the field to the small screen. He was a pregame commentator with "The NFL Today until 2004.
He starred in a reality-TV show, "Deion's Family Playbook," in 2014-2015. The show followed Sanders as he raises 10 children. Fans of the show praised the program for its sincerity and realism.
Sanders currently works for the NFL Network as an on-air analyst, providing commentary for pregame, halftime and post-game coverage. He also regularly appears on "NFL GameDay Highlights."
---
Accolades
Sanders has the distinction of being the only athlete to compete in the World Series and the Super Bowl. After Sanders signed with the San Francisco 49ers for the 1994 season, he collected a slew of awards and honors. Not only did he tie the franchise record for the most interception returns for touchdowns, but the league named him NFL Defensive Player of the Year in 1994. He also led the team to a Super Bowl victory.
His time with the Dallas Cowboys also proved to be historical, as Sanders led the team to a Super Bowl win, adding consecutive Super Bowl victories to his accolades.
Sanders became only the second two-way starter in NFL in almost four decades, playing wide receiver as well as defensive back. In 2011, Sanders was inducted into the NFL Hall of Fame.
See how Deion Sanders' net worth compares with that of another multi-sport talent, Bo Jackson.