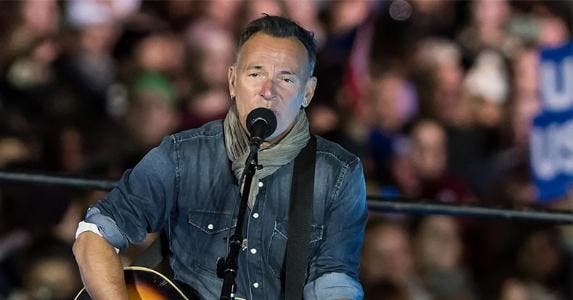 Bruce Springsteen
Net worth: $460 million (as of August 2017)
Year of birth: 1949
Education: Freehold Borough High School
---
How Bruce Springsteen's net worth was built
Bruce Springsteen's net worth is $460 million, according to Celebrity Net Worth. In 2016 alone, Springsteen earned $60.5 million, putting him on the Forbes Celebrity 100 list.
The bulk of Springsteen's wealth has come from his high-grossing tours and record sales. The New Jersey native has been a member of several bands, including The Castiles, Earth and Steel Mill.
After Columbia Records signed him in 1972, Springsteen gained acclaim for his first album, "Greetings from Asbury Park, N.J.," and for his second album, "The Wild, the Innocent and the E Street Shuffle." But it was his third album, "Born to Run," that made him a commercial success. The album earned an estimated $6.8 million.
His 1984 album, "Born in the U.S.A.," brought in an estimated $18 million in record sales and $80 million in ticket sales. His most recent tour in 2014 — the High Hopes Tour — earned an estimated $44 million.
You can use Bankrate's net worth calculator to see how you compare.
---
What he's up to now
The Boss hasn't slowed down in his fifth decade in the music business. In 2014, he released his 18th studio album, "High Hopes."
Springsteen will make his Broadway debut in the fall of 2017, with an eight-week solo concert series at the intimate Walter Kerr Theatre.
In addition to his music endeavors, Springsteen has two sons, a daughter and a wife.
---
Accolades
Springsteen has sold more than 120 million albums worldwide. He has been nominated for 49 Grammy Awards and has won 20. He has also won four American Music Awards, two Golden Globes and an Academy Award.
Springsteen was inducted into the Rock & Roll Hall of Fame in 1999 and was named the "MusiCares Person of the Year" in 2013.
RATE SEARCH: Saving up for tickets to the next Springsteen concert? Make your savings count and shop money market accounts right now!