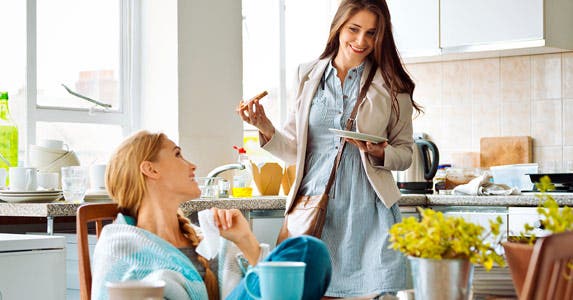 Share and share alike
Living with a roommate can be a rite of passage. While the experience can run the gamut from horror story to fairy tale, if you choose roommates wisely, it can provide a boost to your finances and social life.
"I'm very pro-roommate because housing is one of the biggest monthly expenses, if not the biggest," says Sophia Bera, CFP professional and founder of Gen Y Planning. "People who become financially successful often had roommates when they were in their 20s."
But it's not just 20-somethings who decide to share rent. In some cases, adults choose to have a roommate to ease the burden of their home's expenses or provide companionship, says Lauren Prince, CFP professional, financial adviser with Prince Financial Advisory.
"Older, retired people in college towns sometimes offer rooms to students who don't want to live in the dorm, for example," she says. "They like the company of college students, and the students like the wisdom of the landlord. And with the short-term nature of the arrangement, they won't get on each other's nerves."
Whatever your motivation for sharing living space, check out this list of famous roommates from Celebuzz, and learn a few tips from Prince and Bera on how to make the most of the experience.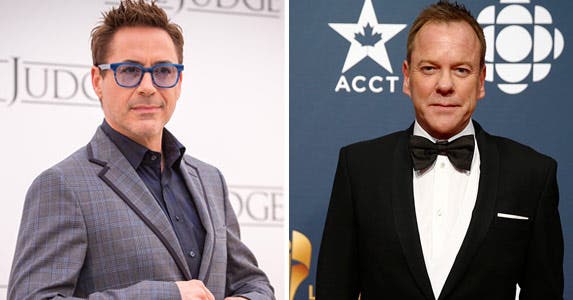 Robert Downey Jr. and Kiefer Sutherland
The celebs: Robert Downey Jr. and Kiefer Sutherland shared an apartment for 3 years in Los Angeles while they tried to make the big-time.
Real-world tips: It sounds obvious, but before you agree to live with someone, look into their financial health. "Don't be stupid," Bera says. "If someone has a lot of credit card debt, that person is probably struggling financially and will probably never pay the rent on time. That could ruin your friendship."
Prince says it's OK to ask for the other person's credit score or credit report. "Red flags financially would be things like bankruptcy and debt collections," she adds. "You want someone dependable."
Make a financial checklist, Prince advises. When you share the broad details of your own economic health with potential roommates and also review their situation, you both have a better understanding of how financially solid the living arrangement will be.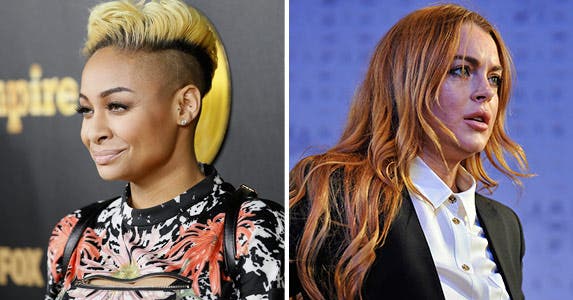 Raven Symone and Lindsay Lohan
Raven Symone: © DANNY MOLOSHOK/Reuters/Corbis; Lindsay Lohan: © DANNY MOLOSHOK/Reuters/Corbis
The celebs: Both child actors, Raven Symone and Lindsay Lohan decided to live together after high school. According to Celebuzz, Symone said Lohan became so busy with work that she never moved in, though she did pay rent for 14 months.
Real-world tips: Bera says it's best to spell out how rent and other expenses will be shared from the get-go. "You could be on the hook, legally, for the entire rent, so be clear on who pays for what," she says. "How do you split the cost of utilities, for example, if your roommate wants cable and expects to split it 50-50, but you're not interested in watching?" She also cautions roommates to be aware that the person whose name goes on the various services, such as utilities, is the one who ultimately will be responsible for the bill.
The best way to be clear on costs is to put it in writing, says Prince, because people have a tendency to forget.
As far as fixed monthly costs, such as utilities and rent, she says they should be negotiable. "If one roommate is in the smaller bedroom, for instance, maybe the costs are split 45-55."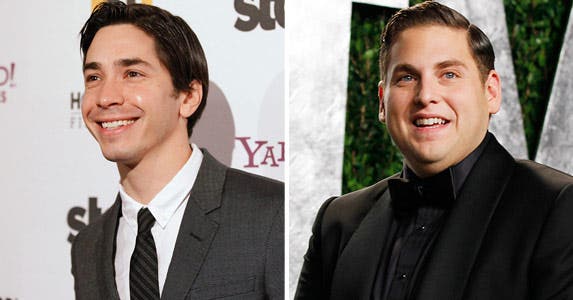 Justin Long and Jonah Hill
Justin Long: © MARIO ANZUONI/Reuters/Corbis; Jonah Hill: © DANNY MOLOSHOK/Reuters/Corbis
The celebs: Justin Long and Jonah Hill co-starred in the movie "Accepted," but as off-screen roommates, they fought over trivial things, according to Long. He moved out, but the 2 remained friends.
Real-world tips: It's not only the financial arrangement that needs to be clear from the start. Compatibility might not be as cut and dried as finances, but you need to determine, to the best of your ability, whether you can get along with your potential roommate, says Prince. "Play a sport together to see if the other person has anger issues or is honest," she advises.
Look for other clues in their day-to-day life, Prince adds. "How do they treat wait staff? If they are already living in a place, how neat is it? You don't want to turn someone off with a lot of interrogation and investigation, but you want to know what they're like. In some cases, you just have to use your gut intuition."
Just as they negotiate the various expenses, roommates should also work out the division of work, says Bera. Avoiding a blowup over something trivial such as who forgot to empty the trash comes down to communication and setting up expectations in advance. If you're a neatnik Felix Unger type and your roommate tends to be a sloppy Oscar Madison type, there could be trouble, she says. "Some people are driven nuts by dishes in the sink, and others don't even notice."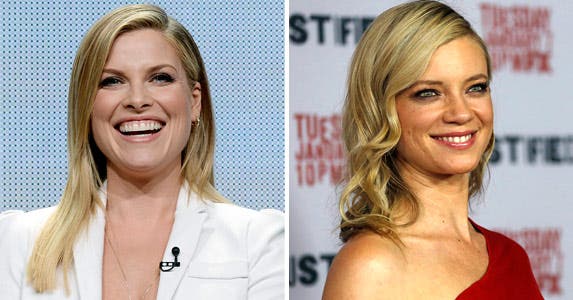 Ali Larter and Amy Smart
Ali Larter: © KEVORK DJANSEZIAN/Reuters/Corbis; Amy Smart: © MARIO ANZUONI/Reuters/Corbis
The celebs: Ali Larter and Amy Smart lived together in Los Angeles while earning their acting chops. They met when they had modeling jobs in Italy.
Real-world tips: Having a friend as a roomie, rather than a stranger, isn't necessarily a safeguard when it comes to protecting your identity, says Bera. "You're most likely to be a victim of ID theft from someone you know, but most people don't think about it," she adds.
Even if you'd trust your roommate with your life, a good practice would be keeping items such as credit cards, Social Security numbers and financial documents in a safe place, Bera says. Your roommate might be trustworthy, but how well do you know his or her acquaintances and friends? And if one of you throws a party, there's a chance you won't know everyone who comes in and out of the door.
Bera encourages potential roomies who don't know each other to start out slow, maybe with a 6-month lease or even a month-to-month lease. That gives them enough time to decide if they are compatible before signing up for a longer arrangement.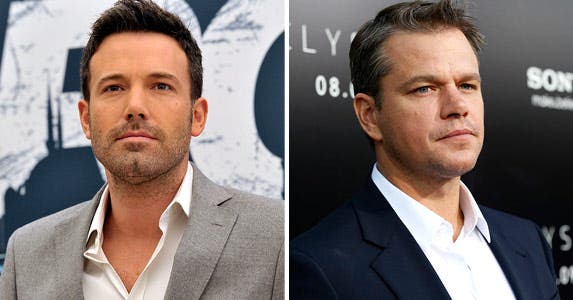 Ben Affleck and Matt Damon
Ben Affleck: © KEVORK DJANSEZIAN/Reuters/Corbis; Matt Damon: © MARIO ANZUONI/Reuters/Corbis
The celebs: As roommates, actors Ben Affleck and Matt Damon put their shared skills to work by writing the Academy Award-winning script for "Good Will Hunting."
Real-world tips: When you have a working relationship with the same person you're living with, it helps to know their quirks and to set a few boundaries. "It's really up to the individuals to figure out what works best for them," says Bera.
"Some people need that separation (between life and work), so maybe they establish a day or evening off," she adds. "Some people might be night owls."
Respecting work habits could mean taking it outside the house, perhaps renting part-time office space or even working a few hours at a cafe or in the library. Some workers use headphones to play soothing music or block out surrounding noise.
If you feed off the creative energy of others, Bera says co-working spaces can be an option for people who work at home but don't want to feel like they live at their office. Typically, you pay a monthly fee for space that includes a workstation, access to Wi-Fi and some equipment, such as printers.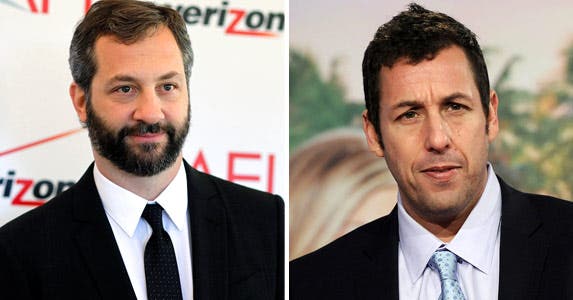 Judd Apatow and Adam Sandler
Judd Apatow: © FRED PROUSER/Reuters/Corbis; Adam Sandler: © Britta Pedersen/dpa/Corbis
The celebs: Judd Apatow and Adam Sandler were budding comics when they roomed together in an apartment near Los Angeles.
Real-world tips: Both of these famous roommates ascended in their profession, but it can be awkward if one is more successful than the other; or worse, if one loses a job and has no income.
Those possibilities have to be considered carefully before you sign a lease, says Prince. Ask each other what would happen in the event of job loss — would parents step in to help, or is there another source of money to tap? In the worst-case scenario, imagine what would happen if your roommate had to move out for any reason. "Think of as many what-if situations as possible," she adds.
Prince says you should never rent a place that you couldn't afford on your own. "The reason to share rent with a roommate should be because you want to spend the excess money elsewhere."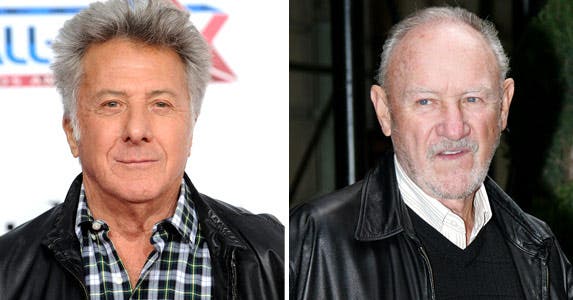 Dustin Hoffman and Gene Hackman
Dustin Hoffman: © PHIL McCARTEN/Reuters/Corbis; Gene Hackman: © Sharkpixs/ZumaPress
The celebs: Dustin Hoffman roomed with 2 famous actors. He shared a 1-bedroom apartment with Gene Hackman in New York and also lived with actor Robert Duvall in the 1950s.
Real-world tips: Living together can be tricky, but the experience can provide life lessons, as well as a lifelong friend, if done properly.
"It's all about negotiation and compromise," says Prince. "And tolerance is key. It's not something to be taken lightly or it could turn into a nightmare."
But despite the potential drawbacks of choosing the wrong living arrangement, having a roommate can be a wonderful life experience that also allows people to put the money they're saving toward other goals, says Bera. "When you do have a good connection with someone, it can be a great benefit to your friendship," she adds. "And financially, you can pay off debt, build your savings, save for fun things like travel and get a head start on retirement."