National auto loan rates for May 5, 2011
Interest Rate Roundup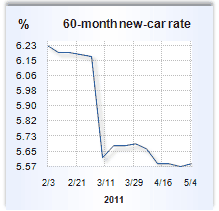 Auto Loans
5.58% (60-month, new car)
6.41% (36-month, used car)
Here's a look at the state of auto loan rates from Bankrate.com's weekly national survey of large banks and thrifts conducted May 4, 2011.
Auto loan rates were mixed again this week. The average rate for a 48-month new-car loan rose 2 basis points, to 5.53 percent. The 60-month new-car loan average rose slightly less, adding just 1 basis point, to 5.58 percent.
Rates for used-car loans, on the other hand, fell more noticeably. The average rate for a 36-month used-car loan dropped off 6 basis points, to 6.41 percent. Used car loan rates would have increased as well, in step with new car rates, if not for one lender discontinuing used car loans.
Car buyers appear to be in a frugal mood. April used vehicle sales were up 12.3 percent compared to the same time last year, and up 47.6 percent over March, according to new data from CNW Market Research. But high gas prices appear to be taking a toll on the market for used trucks. Since 2000, trucks have almost always made up over half of used-vehicle sales, but CNW finds they only made up 43 percent of total used-vehicle sales in April.
To find updated auto rates in your area, visit Bankrate's auto rate table.
— Claes Bell
More From Bankrate