National auto loan rates for June 30, 2011
Interest Rate Roundup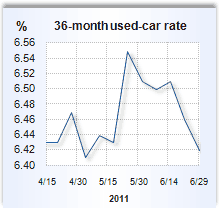 Auto Loans
5.45% (60-month, new car)
6.42% (36-month, used car)
Auto loan rates in our weekly survey fell back to a level at or near all-time lows. The average rates for 48-month new-car loans and 60-month new-car loans each were down 2 basis points, sliding to 5.42 percent and 5.45 percent, respectively.
Rates for used-car loans fell below last week's all-time low. The average rate for a 36-month used-car loan lost another 4 basis points, to 6.42 percent.
Johnson Controls, a manufacturer of millions of batteries for hybrid-electric vehicles, announced in an annual analysts meeting this week that it expects automakers to make almost 25 million vehicles with start-stop systems. Start-stop systems save fuel by stopping vehicle engines when the vehicle comes to a stop and restarting them when the accelerator is pressed. The company says automakers plan to turn to the systems to help boost fuel economy to meet higher mileage requirements set by the federal government.
— Claes Bell

More From Bankrate