National auto loan rates for July 14, 2011
Interest Rate Roundup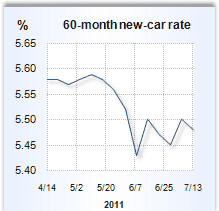 Auto Loans
5.48% (60-month, new car)
6.4% (36-month, used car)
Auto loan rates in our weekly survey were down across the board this week. The average rate for a 48-month new-car loan fell 1 basis point, to 5.45 percent. The average rate for a 60-month new-car loan also fell, dropping 2 basis points to 5.48 percent.
Used-car loan rates were also lower. The average rate for a 36-month used-car loan slid 2 basis points, to 6.4 percent.
This week, Chrysler recalled 243,000 Ram pickup trucks over a "loss of directional stability in the left-hand front wheel, increasing the risk of a crash." The trucks' loss of stability is connected to a faulty tie-rod assembly that can fail during low-speed parking. Owners will eventually be able to take their trucks in to a dealer for a free inspection and a tie-rod replacement as needed. For more information, owners can call the Department of Transportation's vehicle safety hotline at (888) 327-4236, or go to Safercar.gov.
More From Bankrate