Interest Rate Roundup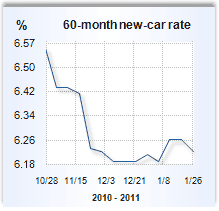 Auto Loans
6.22% (60-month, new car)
7.23% (36-month, used car)
Here's a look at the state of auto loan rates from Bankrate.com's weekly national survey of large banks and thrifts conducted Jan. 26, 2011.
Auto loan rates of all shapes and sizes were down this week. The average rate for a 60-month new-car loan was down 4 basis points, to 6.22 percent. The average for a 48-month new-car loan also fell, losing 3 basis points, to 6.18 percent.
Used-car loan rates were also down, although to a lesser degree. The average rate for a 36-month used-car loan, a popular option for auto loan refinancing, lopped off 1 basis point, ending up at 7.23 percent.
This week Toyota announced it's recalling 1.7 million vehicles worldwide for fuel leaks, according to a report by The Detroit News. While most of the affected models were sold in Japan, 245,000 were 2006-2007 Lexus GS300/350, 2006-2009 Lexus IS250 and 2006-2008 Lexus IS350 models sold in the U.S., with the IS making up the majority of those. Toyota says the cause of the fuel leak is insufficient tightening of the fuel pressure sensor connected to certain engine fuel delivery pipes.
To find updated auto rates in your area, visit Bankrate's auto rate table.
— Claes Bell
More From Bankrate