National auto loan rates for Dec. 23, 2010
Interest Rate Roundup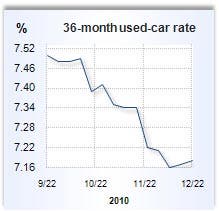 Auto Loans
6.19% (60-month, new car)
7.18% (36-month, used car)
Here's a look at the state of auto loan rates from Bankrate.com's weekly national survey of large banks and thrifts conducted Dec. 22, 2010.
Auto loan rates didn't move much this week. New-car rates were flat for the second week in a row, with the average rates for a 60-month new-car loans and 48-month new-car loans staying put at 6.19 percent and 6.22 percent, respectively.
In contrast, used-car loan rates inched upward for the second week in a row. The average rate for a 36-month used-car loan, a popular option for auto loan refinancing, rose 1 basis point, to 7.18 percent.
This week, the Insurance Institute for Highway Safety announced its list of Top Safety Picks for 2011. All in all, 66 vehicles, including 40 cars, 25 SUVs and one minivan, got the nod for meeting the group's safety standards, which were revised in 2009 to put more emphasis on surviving rollover crashes. Volkswagen and Hyundai tied for the most vehicles to receive the honor, with nine models each.
To find updated auto rates in your area, visit Bankrate's auto rate table.
— Claes Bell
More From Bankrate