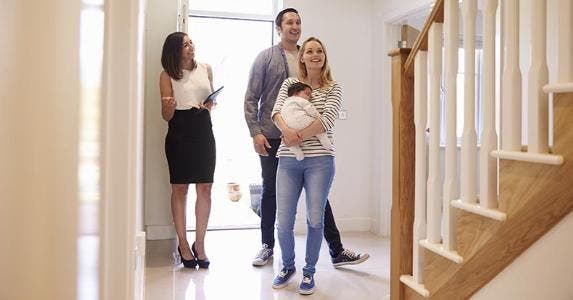 Buying a home is an exciting process, but it also can be a confusing and overwhelming one. Follow these steps to stay organized and make the homebuying process as manageable as possible.
When it comes to buying a home, there's no such thing as too much research. As soon as you decide that a new home might be in your future, start watching the market for current trends. Monitoring prices a few months in advance can give you valuable insight into reasonable prices when you commence an active search.
1. Get prequalified or preapproved
You don't want to start touring homes until you know how much you can afford to spend.
When you meet with a lender, you'll provide your financial information, including your income and any assets or debts. The lender uses those figures to determine how much you'll be able to borrow in a mortgage.
This gives you the ability to only target those homes that are in your price range, and it makes the process much easier when you want to make an offer on a house.
RATE SEARCH: Found the perfect house? See the latest mortgage rates at Bankrate.com today.
2. Find a buyer's agent
Through the homebuying process, you'll need a real estate agent to work for you. The agent not only alerts you to homes that may be of interest to you, but he or she also negotiates on your behalf when you are ready to make an offer.
Your agent has a responsibility to look out for your best interests throughout the buying process. Your agent is available to you free of charge; the seller pays your agent's commission.
3. Search for homes
Armed with your preapproval letter and with your agent's help, you can search for homes within your price range. This is often the most enjoyable part of the homebuying process, but it also can be overwhelming. Feel free to take pictures or jot down notes, so you can remember what you like and don't like about the homes you see.
4. Make an offer
Once you've settled on a home that you love, your agent will guide you in making a fair offer. When considering your offer amount, look at the value of comparable homes in the neighborhood. You may want to lead with a "lowball" offer, or one that's below list price, with the idea that the sellers might like to counter.
Alternatively, if you know that the home is in a hot real estate market and other buyers might be interested, you'll likely want to offer a competitive sum upfront. Once the sellers accept your offer, you make a deposit and enter what is called the escrow period, when the steps leading to closing on the home are completed.
5. Order a home inspection
When you make an offer on a home, it often is contingent on a successful home inspection.
After you enter escrow, your agent will help you schedule a time for a home inspector to walk through the property.
The inspector checks the home's structure and makes note of anything that may need fixing. Once you have the home inspector's report, you can agree to proceed or ask the sellers to fix things.
You'll have a chance for a final walk-through of your home right before closing the sale to make sure any requested changes were made.
6. Work with a lender
Once you make your offer, you'll need to work with a bank or mortgage broker to secure your mortgage. This does not need to be the same lender you worked with to secure a preapproval.
Don't be afraid to shop around. A mortgage broker can help you compare various rates and terms, so you can feel comfortable that you are getting the best deal when you do choose a lender.
RATE SEARCH: When you're ready to shop around, go to Bankrate to find the best mortgage rates.
Your lender will order an appraisal of the home, which is an independent estimate of the value of the property. This ensures that you are paying a fair price.
7. Close on the home
Once your mortgage is approved and the paperwork is in order, you're ready to close on your home. At closing, you often need to pay certain fees, known as closing costs, and you'll sign all the paperwork to finalize the purchase of your new home.